This post is part of a sponsored post series about the steampunk lifestyle. This campaign is sponsored by Steampunk Goggles. All opinions are totally my own. 
If you're rocking the steampunk look, or want to have fun with arts and crafts in the steampunk genre, you know it CAN be easy to find the cool stuff you need to make the neatest accessories. Of course, it can also be ridiculously hard…a pain in the ass to say the least, but I've got my own little tricks up my sleeve.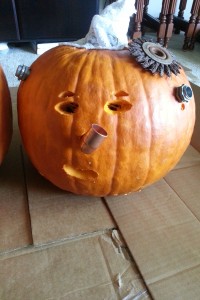 If you saw my steampunkins, then you know I found some SWEET stuff to play with. I've since run that shit through the dishwasher so that I can reuse it for fun artsy projects of joy.
I really liked the piece on the top right of "Jackie" – you know, the piece I used as a "flower" in her "hair." It was probably my favorite find the week I acquired that piece.
I digress…
So if you're into steampunk, odds are, you make a lot of your own sweet pieces. Or you shop on Etsy. Or specialty sites like Steampunk Goggles (the wonderful sponsors of this post.) Either way, you want unique accessories and accents that make your steampunk look your own. Sometimes a combination of the three can create the perfect ensemble or decorative piece. (And you know I've been working in retail copywriting too long when sentences start coming out like that. </cheese>)
I'm going to teach you my sweet secret.
Confession: I have a summer addiction. I spent nearly every Saturday morning from May through October digging through other people's junk. I'm a garage sailor (yes. sailor) through and through. I'm actually going to be talking about this a few times this week…but today is all about the steampunk finds.
Estate sales are my absolute weakness, and I've found some pretty amazing things for SUPER cheap. Not only is it fun to walk through someone's home, observing their things and their home, but also it's a bit like treasure hunting.
Take this one home I went to about a month ago. The gentleman who lived there was some type of builder or plumber. Piping, tubing, pieces tools galore lined the walls and floor of his garage. I spent several hours digging through all of the dusty boxes and bags to find pieces that I thought were interesting or usable. I came home a smelly disgusting mess. It was awesome.
The best part about my finds, was the fact that estate sale operators understand what I do. I walked up to the lady with a giant bag of stuff and said, "I have NO idea what any of this is."
And she looked at me knowingly, "Are you an artist?"
It was the first time that it had been asked of me by a stranger. And I never REALLY considered myself an artist. Until that moment.
"Yep."
"Well, I'll go easy on you. It looks like you have some copper and…how about $4 for the whole bag?"
"Deal."
FOR THE WIN!
After washing every single piece (and bleaching some tubing that smelled awful…and I eventually had to throw away anyways…) and showering…I had a pretty sweet box of goodies to show Brian.
At another garage sale, I was able to ask for a $2 price on this sweet craft box FULL of buttons…while not all of them are "steampunk" worthy, there are quite a few antique-y buttons that will be awesome on some of my projects.
I've done this several times, and now I have lots of DIY projects in the works, so get excited. Here's the start of something I'm working on right now: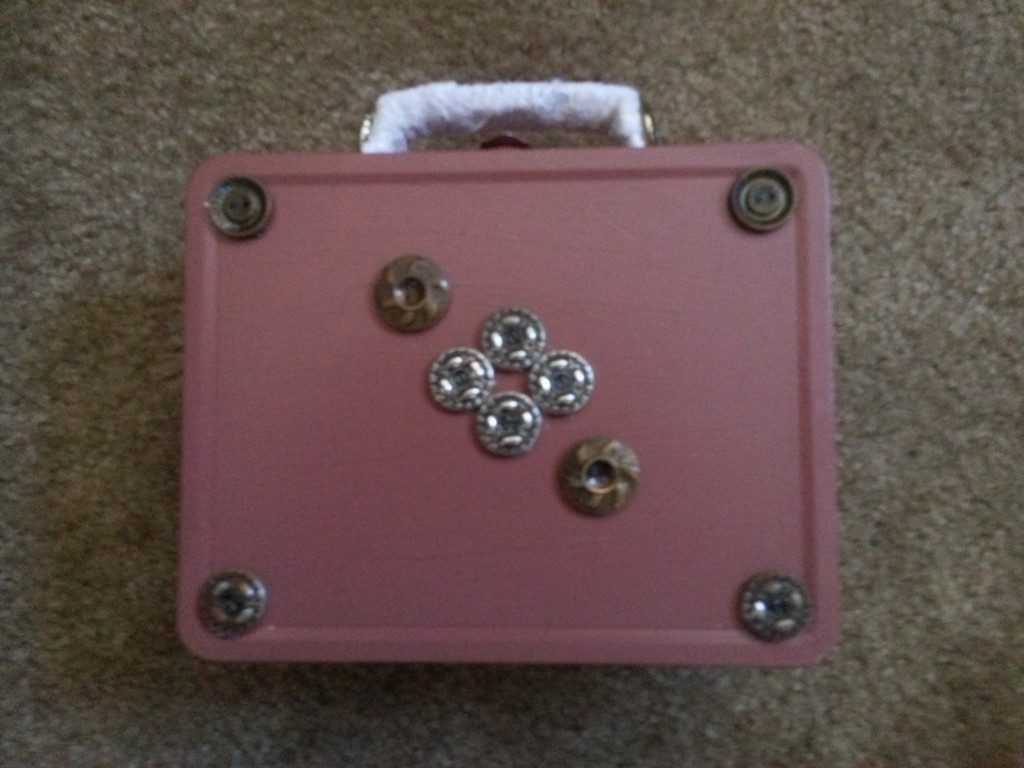 I started with a lunch box that I received at BlogHer, painted it with a color I mixed myself, and glued some of the more unique buttons. Then I glued lace around the handle and added a few more buttons. I'll be adding some of the fun items from the box-o-goodies next to see where this ends up.
As you can see, Brian's got a lot of patience for me…and my "projects."
What are you working on, Blog Friends? Anything fun? Anything Steampunk?