Woah.
Like literally. Woah. Joey Lawrence circa 1994 WOAH.
I gave you a sneak peek of our Galaxy's Edge experience last week when I talked about my Star Wars Style, but this week I'm going to tell you everything I can about your first visit to Batuu.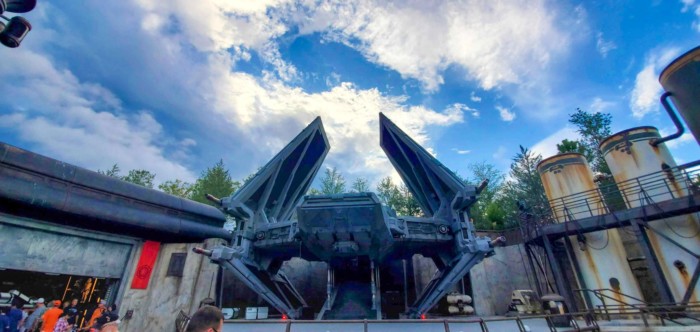 If you didn't already know, I'm a Walt Disney World annual passholder. And at some point in the last year, I managed to convert TBC3 over to passholder status as well. In this time, Disney announced they would be offering previews to passholders for the opening of Galaxy's Edge. It was on a first-come, first-serve basis, so as soon as the email went out, I got on the site. I waited for what seemed like an eternity until the virtual queue took me to the registration page.
I couldn't get reservations at Oga's Cantina (but we have one coming in September!) or Savi's workshop (I don't expect that I would have been able to rationalize the $200 for a build-your-own-lightsaber experience anyways), but I did manage to snag us a preview slot which guaranteed a ride on the Millenium Falcon: Smuggler's Run.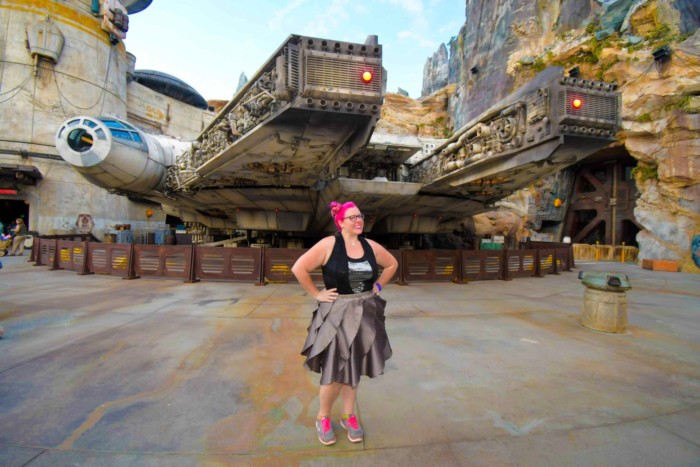 Tom and I decided that if we could score a cheap hotel and flight, we'd go. A $100 round trip flight on United and $100/night on-property resort meant that we were definitely going to Batuu.
We arrived in Orlando the morning of our preview, Magical Expressed to our hotel and checked in. We hit up the Magic Kingdom for Space Mountain, the People Mover, and a Mickey pretzel before heading to Hollywood Studios. Our reservation was for 5 PM, but we were waved through at about 4:30 with ease.


Immersive Experience
By far, my favorite thing about Galaxy's Edge is the incredible amount of detail that went into every little piece of the land. From the epic infrastructure to the cast member back stories, I'm here for all of it.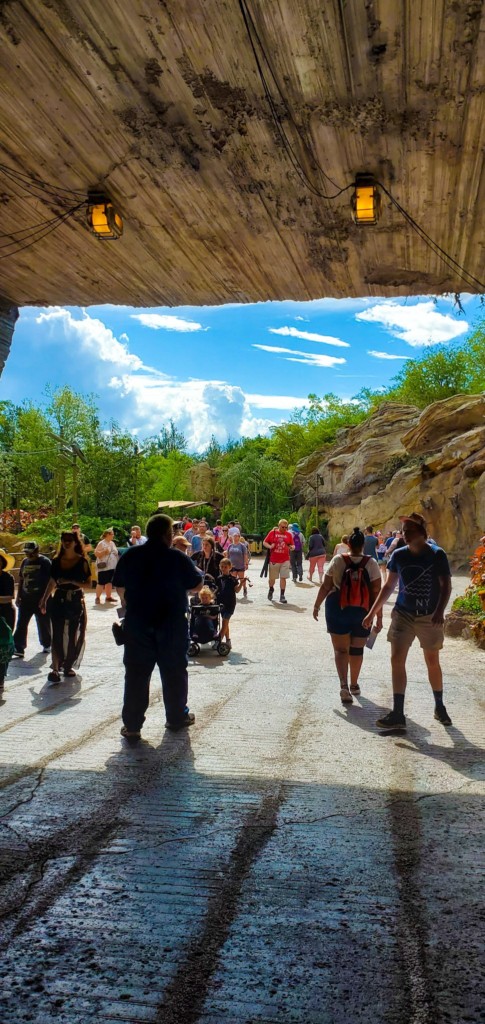 When you walk into the land, you truly feel like you're stepping onto another planet.
My Galaxy's Edge outfit choice definitely made an impact on the CM interactions that I got. Several characters came up to me while I was wearing the Chewbacca dress I
received from TV Store Online
and invited me to join the resistance. They knew a good wookie when they saw one.
But each cast member will tell you what planet they are from and give you a story if you let them. Ask questions. Talk about the land. See what little nuggets you can uncover. Spend time exploring and learning about Batuu, because the experience is what this world is all about.
Millenium Falcon: Smugglers Run
This attraction is amazing. We rode it three times so we could experience every role available. The queue is full of detail and story. Take in all of the visual artistry as you wait. Once you get into the attraction, there's a short presentation with a mix of animatronics and video introducing you to the mission. Then you wall through a door and get assigned a role.
Our first time through, we waited 45 minutes and took the first thing they gave us: engineer. On our second ride, we waited 15 minutes and requested engineer. On our third ride, we, along with 50 other people, waited 0 minutes until we got to the assignment line and waited for pilot.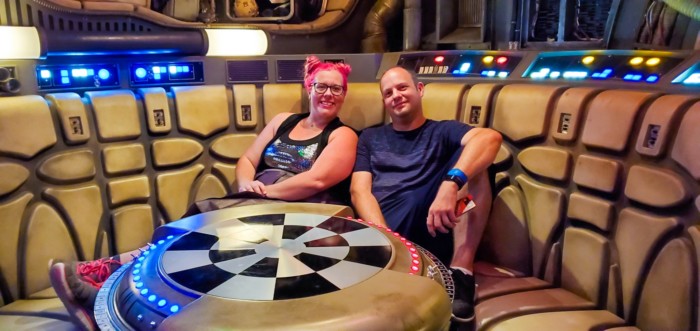 Then they usher you into an open waiting room, where you're free to wander or lounge at the table until your team is called.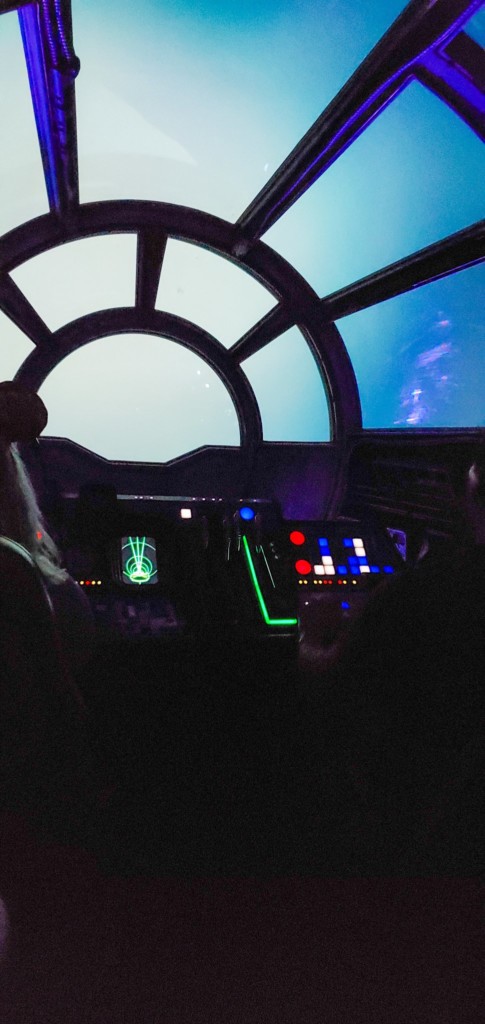 Our first two sets of pilots were awesome and the ride wasn't too dizzying (I get vertigo). But when Tom and I took the helm, we (mostly me) were flying the ship all over the place. There was only one other person with us because of the aformentioned people waiting for pilot, and she had no idea what was going on, so we just laughed the entire time.
Even if you get a bad pilot (🙋🏼‍♀️🤷🏼‍♀️) or people who don't know what they're doing, you can still have fun. Sure it's kind of a game with a score, but it's also just a fun attraction. Enjoy it. Laugh more.
Food and drinks
We ate at Docking Bay 7 Food and Cargo, the quick-service spot with a dining hall. Tom had the kids' fried endorian tip-yip (fried chicken with mac and cheese) and I had the kids' yobshrimp noodle salad (shrimp and noodles with veggies). Yes, we order kids' meals (which come with drinks btw) — it's one of the ways we keep our spending down…or save money for dessert…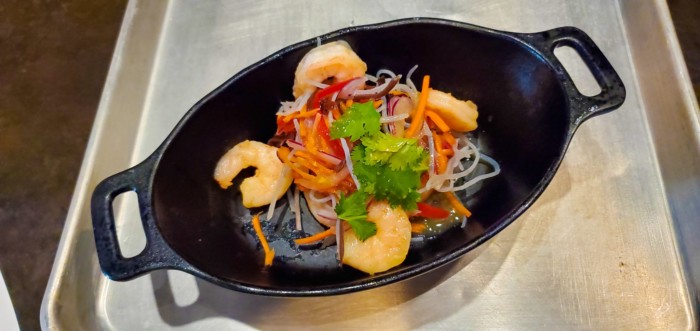 Both entrees were tasty, albeit simple. The shrimp and noodles was a very tiny portion, but perfect if you just want a taste (or you want to get dessert, which I did).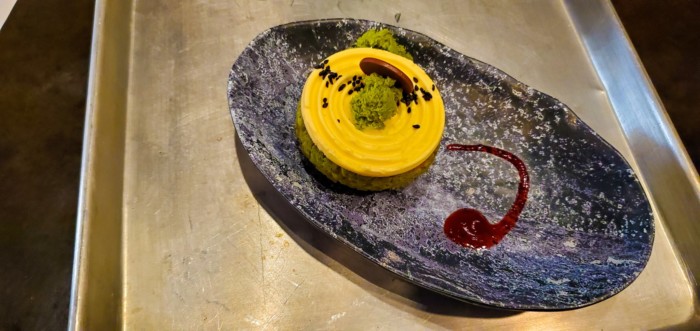 The real stars of the meal were the desserts. I had the oi-oi puff (a raspberry filled cream puff topped with passion fruit mousse) and Tom had the Batuu-bon (chocolate cake with coffee flavored cream).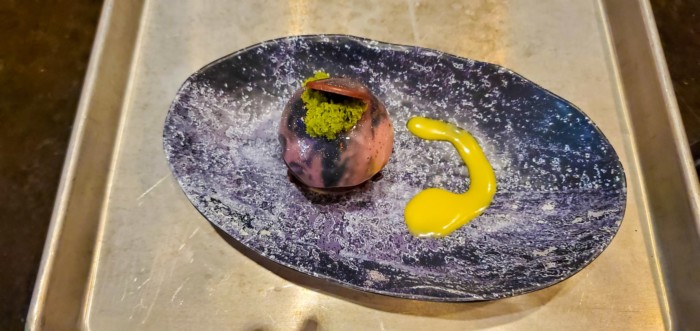 The Batuu-bon was good, but the oi-oi puff will likely become one of my must-eats at WDW.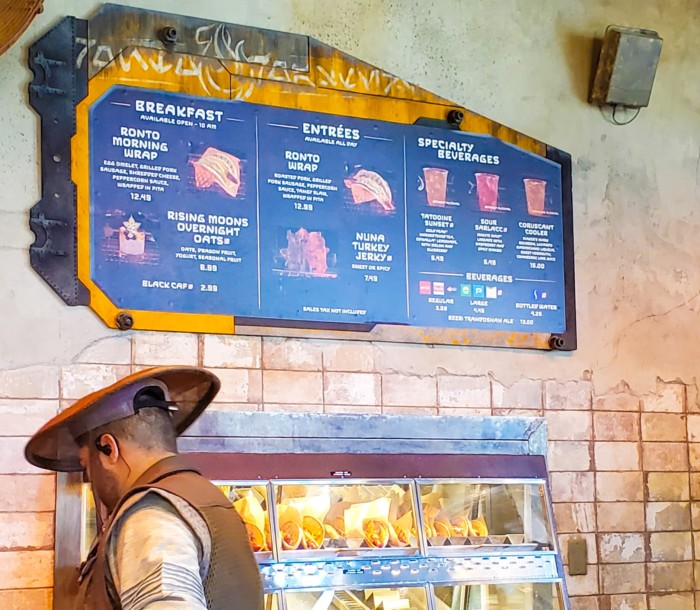 At Docking Bay 7, you can also get roasted chicken, ribs, pot roast, and a plant-based meatloaf dealie. You can also grab a quick meal or snack at Ronto Roasters, a quick-service stand that serves wraps and jerky. And if you just want something light to munch on, Kat Saka's Kettle offers colorful popcorn.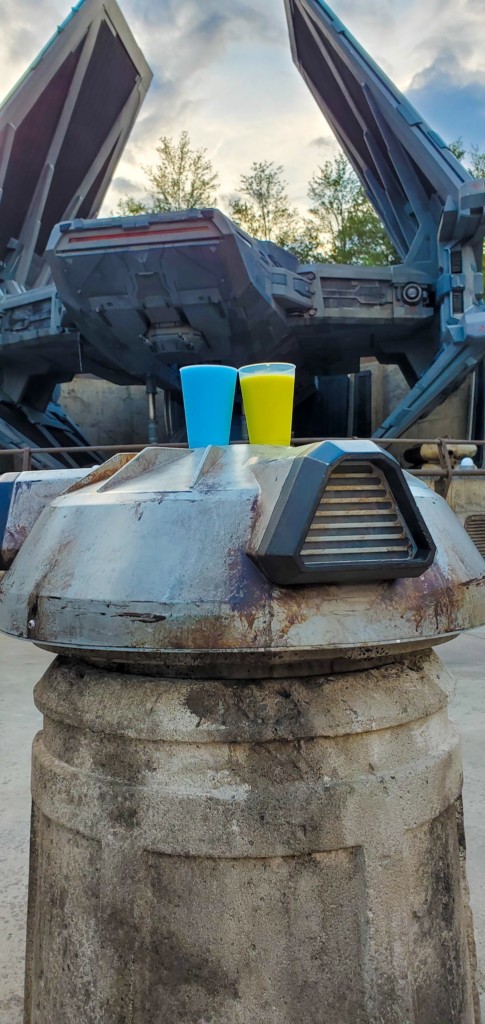 In the drinks department, you've got the Milk Stand, where you'll find blue and green milk. Both are fruity and sweet. We liked both, but not enough to really order them again. We both agreed that green was the superior milk, though for me, there wasn't a big gap. Blue is sweeter, like a Hawaiian punch and green is more citrusy, though I can see why people say it's got a floral flavor. Neither can hold a flame to LeFou's Brew or the new Red's Revenge, which is where my money will be allocated.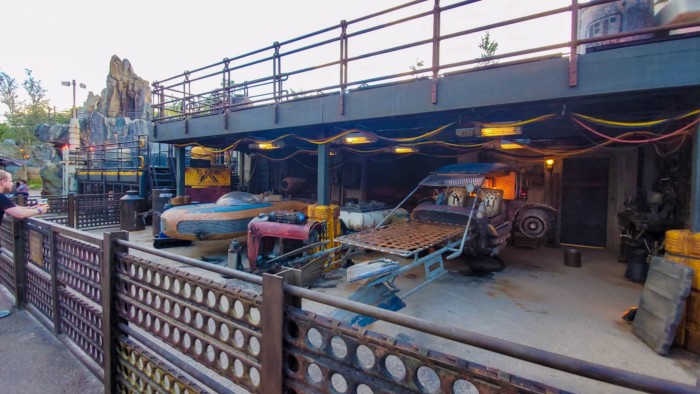 And finally, there's Oga's Cantina, which we did not get to visit because there were no available reservations. I will update you in two weeks when we return for our advanced dining reservation!
Photo ops
There are so many incredible places to snap a photo, I don't even know where to begin. The land is full of amazing backdrops and photopass photographers everywhere you turn.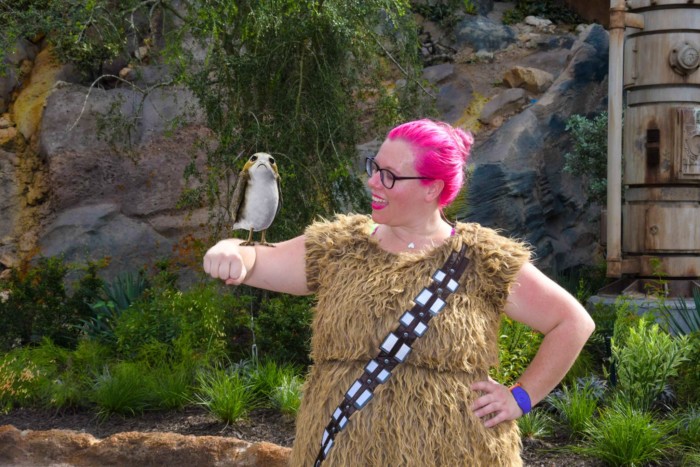 There are magic shots with porgs (in the front of Galaxy's Edge near the main entrance) and TIE fighters (near the First Order area).
And every photographer wants you to use the force in at least one photo.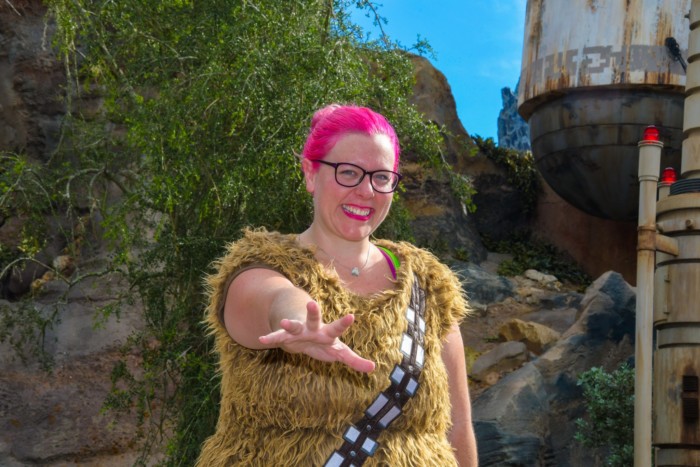 If you're a big fan of Memory Maker or Disney Photo Pass, Batuu is full of talent!
Shopping
So the other major thing you can do in Galaxy's Edge is add to your merch collection. They have two interactive build-your-own shops: Savi's Workshop takes reservations and will set you back a couple hundred dollars for a custom-made lightsaber and Droid Depot (which I believe also takes resos) will set you back about $100(+) for a customized droid. The plus is for add-ons like personality chips. The droids aren't really designed to roll around the ground at Galaxy's Edge,  so if you buy one and want the personality chip interaction with cast members, you should plan on carrying your new bundle of robot joy around the park.
There are LOTS of shopping opportunities in Galaxy's Edge. A couple of walk-in stores and then a market of small shops, some selling beautiful robes and costumes, others selling toys, collectibles, and more. One of the best things I saw though was a shopping limit per person.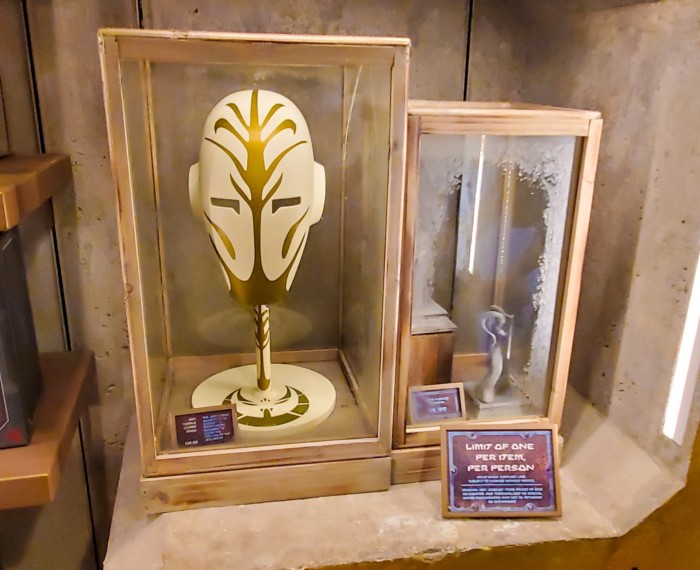 Each person can purchase one of each item available. This keeps ebayers at bay at least a littld bit, which means limited edition merchandise won't sell out super fast to resellers. Hallelujah! (I really don't like when people buy something JUST to resell it right away for a huge uptick in price).
I managed to leave without spending a dime on merchandise, but your mileage may vary, so I wanted to let you know there are lots of really cool items for sale.
Are you excited for Galaxy's Edge? What are you most looking forward to? When are you planning on visiting? Tell me everything in the comments.