Welp, we're all on self isolation lock down until further notice. If you're already going stir crazy, it's probably going to get worse before it gets better.
As an extrovert, I'm doing my best to maintain social distancing, which is hard when you're a natural hugger. I've already cried a dozen times, like when I told my dad that I was probably staying home for the next two weeks instead of watching the rest of the MCU movies live and in person with him.
I had planned to do a couple improv shows before this social isolation thing, but something about the best laid plans…am I right? So my last hurrah was more of a whimper than a bang, and now we're on day one million (my counting may be off by a few days) of hunkered down and waiting…hoping we don't run out of eggs.
But without all of the fun out and about activities usually on my radar, I'm hitting up my go-to stay-at home activities (and also eating all my quarantine snack packs), usually reserved for winter hibernation, not this time of year when everything starts waking up in the spring.
Here are a few things we're doing to maintain our sanity in the midst of mass hysteria.
FYI: There are a lot of links here. I spent time curating them, and many of them are affiliate links. No one is paying me to share this information, but any purchase you make through these links could earn me a small commission at zero cost to you.
Small group, couple, and family quarantine activities
Movie and TV marathons
Disney+, Netflix, Hulu, and Amazon Prime Videos are all my favorite things right now. Even when I'm mad at Netflix for phoning it in.
My dad actually broke his leg a few months ago, so he's already stuck in the house (which, to be honest, I'm rather grateful for). And I recently got him started on the Infinity Saga, and we're on a magical Daddy-Chrissy movie journey of joy. I'm introducing my dad to the most epic cinematic event in movie history. Obviously, we're watching in the AMC chronological order Brian and I followed last year leading up to End Game. Of course, because we live in different households, I'm trying to convince him to watch the movies at the same time and then call to talk about them…I kinda hope he warms up to the idea sooner than later…because I really want to keep going. But not without Papa Bear.
If we're being honest here, I'm about 3 days from adding my parents' house to my quarantine zone. Brian and I have been really great about self-isolation, but I am going stir crazy, and I need my family. 
You can also binge watch TV shows or other movie series options, like Harry Potter, Lord of the Rings, James Bond…you know whatever floats your boat. Brian and I just started True Blood (again for me, and mostly a first for B), and some of our current faves include Westworld and The Magicians. It's also a great time to start the Doctor Who journey (I recommend starting with Christopher Eccleston).
Board games
Games are our go-to for entertainment, we've been playing Mansions of Madness 2nd Edition and Betrayal Legacy lately. We also just bought Pandemic Legacy because it felt topically appropriate. But those big games may be out of your budget – especially if you had to buy toilet paper on the black market for eleventy billion dollars.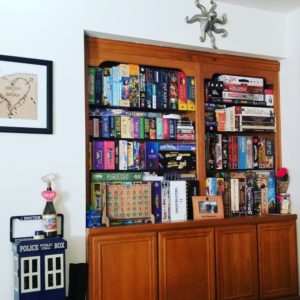 Here are a few of my favorite games under $50 that will bring you hours and hours of entertainment.
Want more suggestions? Check out these gaming gift guides and suggestion lists for some more of my favorites.
Guys, we have been puzzling through our first Hunt a Killer season and LOVING it. We did receive this six-episode subscription box in order to tell you about it, and it is so awesome.
Each box has a letter from the private investigator, a number of well-crafted clues and pieces of evidence (including receipts, cards, containers, letters, and even a small yearbook), investigation report details (witness statements, coroner's report, 911 transcripts, etc), little gifts like enamel pins, and access to parts of an investigation website with more digital clues. It's incredibly detailed and well thought out.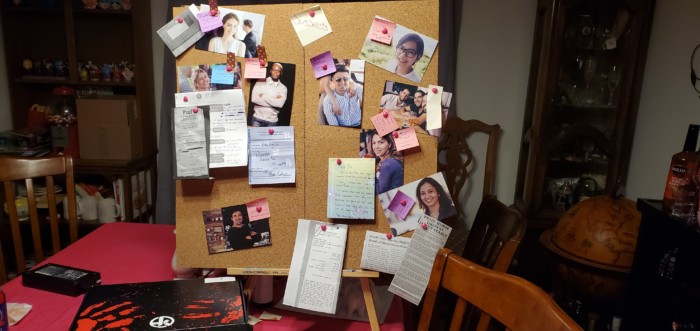 For less than the cost of a few movie tickets, we get a couple of hours of enjoyment and distraction. There are six boxes to a full season. You can do a single box and still eliminate a suspect, but you won't solve the full murder and find out whodunnit unless you go for all six. You can get the boxes monthly, you can ship the next one right after finishing the previous box, and now, to help get you through the coronapocalypse, they're shipping full seasons to your door in one fell swoop. (We only let ourselves solve one box at a time for prolonged enjoyment, but I can also picture us spending an entire day solving all six and finishing the case!
Solo activities
Quarantined to your place by yourself or surrounded by your fur babies? Afraid you're going to start hosting tea parties for your plushies? Or off work, while your partner/roommate/spouse/parent/etc is working their tail off so they can keep their job when this pandemic turns into a full-blown economic crash? Here are a few things you can do on your own without rage posting on Facebook.
Go for a walk
Just make sure that if you see a human, you politely wave at them before you turn in the opposite direction. It's the polite way to socially distance yourself.
Get lost in a good book
Here are a few great books I've read recently that devoured me completely.
Puzzles and Lego sets
Uh yes, I have a grown-up princess castle Lego set that I'm going to put together this week. I also have some of these crystal 3-D puzzles that are super fun (and inexpensive). I'm also thinking of ordering a few 1000+ piece puzzles to keep my brain occupied when I need to mentally detox from social media, which I will.
Grown-up coloring
I love coloring — it's terrible for my back because I hunch over a coffee table to do it, but there are some really wonderful adult coloring books out there. My favorite is You Are Here, by Jenny Lawson (AKA The Bloggess), which I've given as a gift to a number of people because it's that good.
Get writing
Now is the perfect time to pen that novel, start that blog, or just write down your thoughts about this strange new world we're living in. And if you're writing things online, I want to know about them! So feel free to comment with links here or on social media posts or even just.email/DM them to me!
Go Live
This is part of my plan. I'll be going live, hopefully with some frequency to keep social contact up and make sure that I keep my spirits high. My hope is that it helps others too.
And if you go live, let me know when and where and I will try to be there!
How are you maintaining your sanity while socially distancing yourself from the world?