It started around 2 o'clock Everyone said this would be the worst blizzard we've had in years…and I was at work. I was trying to get my shit done fast, so I could get out of there. I was on my way home by 2:35 PM… From work to home, it's approximately an 18 minute drive. An hour later, I was still…on my way home from work. I had one bar left of gas, and was getting a little worried, considering I was still blocks away from the nearest gas station…and it was taking about 15 minutes to go one block!
I made it just barely to the Speedway, filled up, and thought to myself…I should get some snacks. I was going to run to Jewel, but the blizzard was getting worse and worse…so I bought a couple of breakfast sammiches, some 20ozers of pop, and cookies. 🙂 Of course. I heart cookies. To the homefront was another 20 minutes…for a grand total of 1 hour and 45 minutes to get home!
I got home and realized…I'm stuck in my house…with my parents…for the next several days. F.M.L. I love my parents. They're great people. But they go to bed early. This was not my style when I was wired and didn't have to work the next day. So… at least I would have movies. and Facebook. and my cell phone. I considered leaving several times…but got yelled at each time. I was told the conditions were a little too dangerous for klutzy bad luck Chrissy. So it was me, every other bored human being on FB, and my TV.
Things were going smashingly, and I was even putting a dent in cleaning my hoarders-style bedroom…when the power flicked. Once. An hour later…Twice. A half hour later…Blackness. I flipped. No sound to block the thundersnow, which is a little…umm terrifying for me… no light to block the lighteningsnow as it lit up my room. So much for movies. And Facebook. And my cell phone, at that point, was on a timer until it ran out of battery… So I grabbed a flashlight and continued my phone conversation with the newest best bud. Thank GOD for Hillary! She kept me company for HOURS until my phone finally died…
So during this time on the phone with Hil, her mom mentions that I should try to use my laptop to go to ComEd's website…but I figured, ummm no power equals no internet. WAIT! We have Cable AND DSL in our house…so I tried to hook DSL up…no luck. At that point, I was pissed and about to call ATT to bitch about it, when I plugged in the landline (we never used it) and realized the phones were down too. I felt like I was in a horror movie…I was just waiting for a creeper to start peering in the windows!
The storm got a little better, and I thought…F this, I'm going to shovel my way to my brother's hotel room…where there is heat and technology. So I prepare to shovel myself out of the house. I was planning on shoveling my way to the Crowne Plaza…It was only about 5 blocks away…barely… I could do that…
While shoveling, I felt like Wii Mario in the desert level…You know when the wind blows and Mario has to stop and hide behind bricks to avoid being swept away? Yeah, every few minutes a big wind would come, and I would have to stop and brace myself.
After 45 minutes of attempting to shovel my way out…I was only at my driveway. OK…3 hours to get to the warm hotel…probably not so good. Iwent back into the house, soaked to the bone in snowy frozen-ness…I called Hillary back, bundled up under 15 blankets and comforters, and we chatted until the phone died.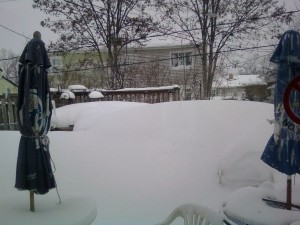 At 6am, our power went back on and life resumed in my house. Loud yelling parents and barking dog…Fuck that. I went back to bed. When I woke up, I thanked myself for the breakfast sandwiches and consumed one happily. I started some crock-pot chicken and decided that Blizzard Day Part 2 was a day for C: crock-pot chicken, cupcakes, cookies, and Chrissy!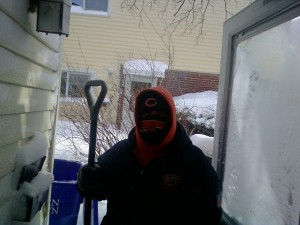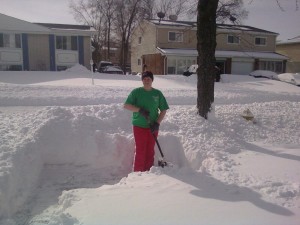 After spending several hours shoveling, I came in to the smell of deliciously warm chicken in my crock-pot, and started making white chocolate cupcakes with raspberry frosting. My brother came home and we had a nice family day (free of fighting/arguing/yelling/craziness). By the end of the day, of course…the snowy remnants of the blizzard were still not quite depleted from our driveway, and it was getting harder and harder to keep going. The breaks got significantly longer than the shovel time, and there was still a ton left to do. So we made sure to clear enough to get out and go to work the following day.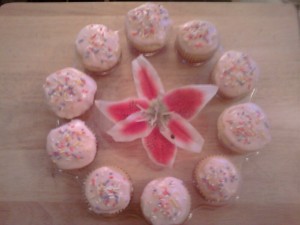 When I got home from an uneventful day at work, there was still snow left to shovel. We were all exhausted, but about to persevere. Brian and I were getting ready to go out and help mom with the shoveling when she ran inside, and called out to us. "Each of you! Give me 20 bucks now! I found someone to plow the rest of the driveway!"
OK! That's what I'm talking about! $20 seemed like a bargain to be done with shoveling. Mom had played the hero when she chased a plow down the street and told the guy she'd give him $50 to plow the remainder of our driveway. He was unimpressed until they realized that she knew his dad, and we knew him!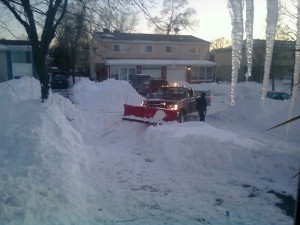 Mom for the win on this one.