So last night I had my first solo experience in the house. I wanted to finish the second coat of paint in one of the rooms, so I had my mom pick me up at the train station near her house and drive me to my house (it's weird to call it my house, but that's exactly what it is…). Brian would be meeting me there. Before I got out of the car, though, Mom reminded me to lock the door behind me.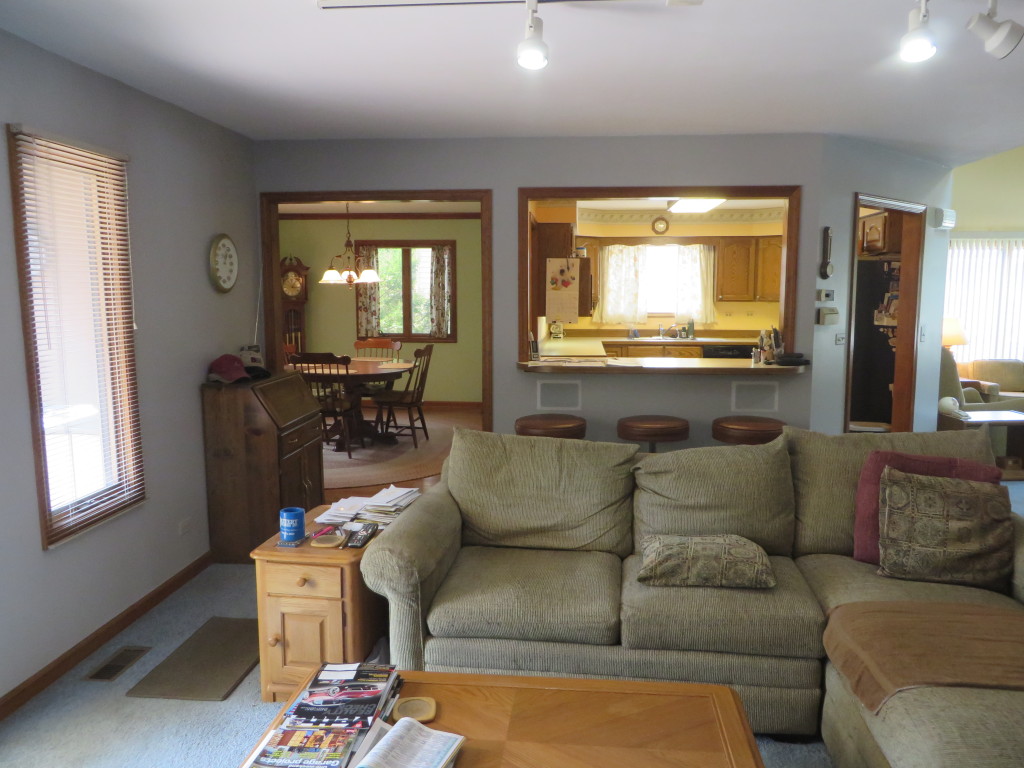 Random aside: Brian genuinely thought I was walking from our new/future train station, because it's not very far away. Later, he even asked how my walk was. I Iaughed and responded, "You thought I was actually going to walk…" And then he thought I called a cab. But really, Mama Bear had it handled. Because she's awesome.
Anyway, so I was alone in the house. It was already dark at not-quite 7 PM. And I started peeling painter's tape from the kitchen walls.
All of a sudden, I heard a faint knock at the door. I, quite naturally, immediately panicked. I dove further into the kitchen to avoid being seen from the from door window. I stood, cowering beside the refrigerator when the knock was confirmed with a "Shave and a Haircut" knock.
Now, logically, someone who uses that knock probably isn't going to kill me. But I didn't know that. And I wasn't taking chances.
I looked around and realized that there were no window treatments in the kitchen, as we took them down when we painted. So I did what any normal person would do. I dropped to the floor to avoid being seen.
Now our kitchen is in the center of the house and has two doors across from each other. One leads to the front room (and the front door); the other leads to the dining room. So I crawled to the dining room (probably seen), when I heard another knock. I was really regretting that I had turned all the lights on, as the perpetrator could now see pretty perfectly into my whole house.
After another minute, I crawled from the dining room to the family room (which is next to the kitchen and also has a two doors to the dining room and front room). I peaked around the corner and realized I was in plain sight of the door, and sat paralyzed with fear.
I waited another minute and crawled further into the family room. I finally stood up and tried to remember where I left my phone. And started analyzing the situation. If it was a friend, they would have tried to call me, right? And a neighbor wouldn't come knocking after dark, right? What if it was the mean-ass contractor that I didn't hire? No, it was a different contractor who used the same knock…I looked at the door and there appeared to be a note on the window.
I saw my phone on the counter between the kitchen and family room, grabbed it and ran to the hallway with no windows by the garage. I called Brian and explained the situation (sort of), and asked him to check the door for the note.
I stood in the hallway for 10 minutes before I finally grabbed my paint supplies, changed my clothes, and ran upstairs to paint.
Brian arrived, and I was perfectly alive. And safe. And crazy. Apparently, it was a delivery service(not UPS or FedEx or USPS). I have no idea what it was they were trying to deliver, but as soon as I find out, I'll let you know.
Don't worry. I put the curtains back in the kitchen window pretty soon after. shudder
Blog Friends, what would you have done? Would you have just answered the door or would you have freaked out like me? Have you ever panicked unnecessarily?