For those of you who don't know, I spent a beautiful week in the happiest place on Earth. Walt Disney and I go way back (My first Disney magic, my love of Mousercise, and a grown-up trip to Disney World). Of course, I have a ridiculously long list of Disney memories; those are just a few of them. Tomorrow, I'll tell you a little bit about our fantastic and magical trip to Disney, but today…Today I'd like to tell you about our pre-Disney "misfortune."
Our plan was to leave last Wednesday afternoon for Florida. We were ridic busy up until our departure (Brian was working LATE nights to make up for his upcoming absence from the tech-y world, I've been trying to find us a place to live, prepare for my new job–that I'm starting TODAY, and a million other little details.) So I told him that he needed to get together what he wanted to bring, and I would pack it.
My OCD tendencies are pretty heavy in the packing department. I hate when the luggage is top heavy and falls down. I roll everything meticulously. I also feel the need to write everything that I pack on a list (this is different than my packing checklist), so that I know what is where and more importantly what would/could be missing upon our arrival.
So on Sunday night around midnight, after a very long day, Brian got all of his clothes together for me. Monday came, and my plan was to pack everything as Tuesday was going to be a circus day of running around. So, one of my besties, Lily, stopped over to help (OK, she stopped over to go shopping with me but whatever. That's what friends are for).
So upon our return from a shopping extravaganza, Lily watched me pack. Well, she watched about 2 hours of it before she left for her man of the moment. 2 hours later, I figured it was time for a break. Yes, I take a long time to properly pack things in just the right places. Don't hate. I got up to work on a blog post and perhaps enjoy a quick meal. I had previously texted Brian "Don't forget to eat!" but I was on the verge of forgetting to eat.
15 minutes into a blog post, I heard my roommate yell, "Dexter! No! No, no, no, nonononono."
At this point, I knew something bad had happened, as I heard Anna shooing the pup back outside. "I think D got sprayed by a skunk." My brain processes much faster than anything else…my thought process was something as follows:
Oh God. Oh God. What should I do? Remember the last time this happened? You smelled like skunk for a week. Your car smelled like skunk. Your clothes. Everything. Disney. The luggage! Oh God. Oh God. What do I do? Ummm…Do I leave? Do I stay? Oh God. Oh God. I can't stay. Our clothes! Everything is going to smell like skunk. I need to go. Shit! Shit! Shit!
So I did what any girl would do…I circled the house, offered what assistance I could, and panicked. Then…I mopped the floor. I'm not entirely sure what I thought this might accomplish, but it helped my piece of mind. The stench was so unbelievably overpowering, I cannot begin to describe it to you. But I'll try.
If you've ever smelled fresh garlic, or better yet, chopped fresh garlic, you'll be able to get an idea. Imagine the smell of fresh cut garlic on your fingers: a strong, potent, stinging smell. Now imagine that you are walking through a HUGE heavy cloud of that smell. Then, multiply it by 5. That's what we were dealing with here.
After the attempted floor wash, I decided I needed to get the hell out of dodge…I likely had some laundry to do. Let's not even talk about how I had just completed 5 loads of laundry so we didn't come home to a full hamper. So after ensuring that Anna and her incredibly helpful mom, who knew skunk de-smelling tricks, were okay, I threw my shit in the bags and loaded up the car.
I'm not going to lie, I felt like the world's biggest asshole, leaving Anna and Little D all by themselves to handle the stench. Brian was meeting me at the train by my parents' house, so I went and picked him up. He got in the car and could smell the skunk. I knew I had carried it with me. So, we got to my parents' and my mom smelled it immediately. I really thought she was going to kill me. She was surprisingly wonderful about the whole thing–this might be because we left everything outside overnight and by morning the stench had dissipated from the air. Of course, our clothes and luggage were still pretty stinky.
After washing 2 suitcases full of clothes about 7 times, two bottles of Febreeze, a container of Clorax wipes, and a box of dryer sheets, our clothes almost smelled normal, if not a little over fragrant. The luggage still had hints of skunk, so I packed our clothes inside of garbage bags and filled it with dryer sheets.
I was basically running on a total of 9 hours of sleep between 2 days because of the laundry and the folding and the rolling and the obsessive packing…
As we were packing the bags up, I commented that they still smelled a little skunky and my dad looked at me, point blank and said: They're going to think all that skunk is actually weed. They're going to confiscate your luggage.
We were able to leave for and make it to the airport on time, and my pink princess luggage was still usable:
As we were getting off the plane, and I saw out the window that my suitcase, which I had just purchased for this trip, was sitting out in the Orlando rain…all. by. itself. I freaked out a little bit….questioned the flight attendants, questioned the guy outside the plane…Apparently when you send your luggage through Disney's Magical Express, they let it sit there until someone comes by to pick it up. Never. Again. I'm too OCD to let my luggage go without me. I learned my lesson.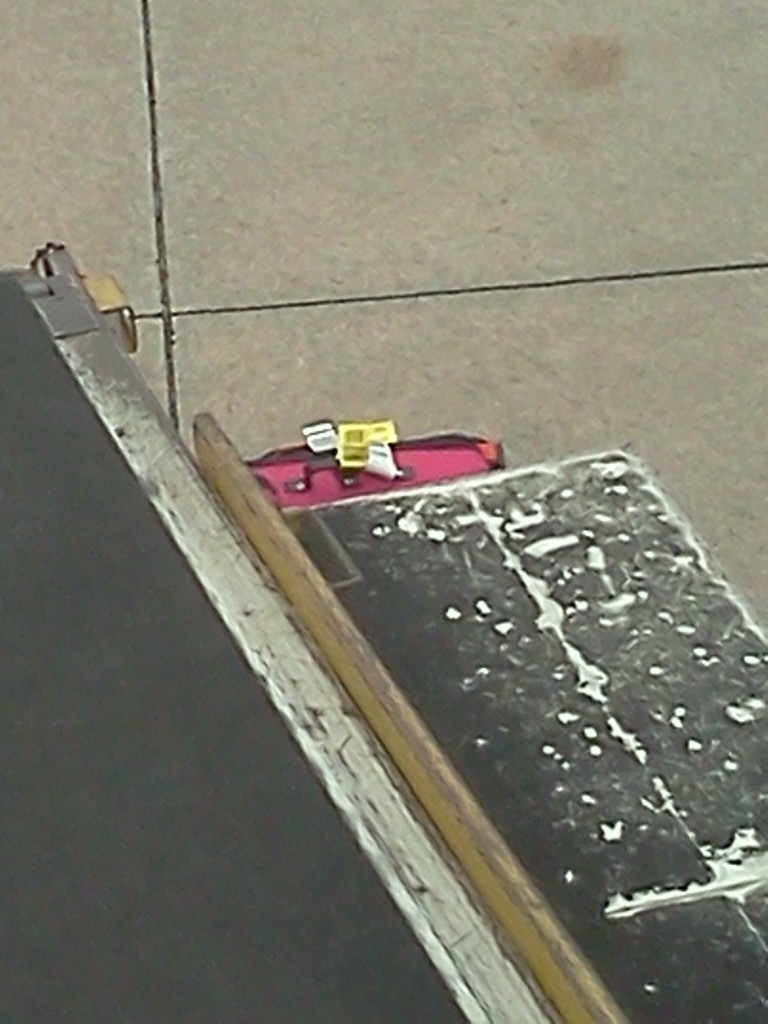 Sure enough, once I started unpacking the suitcase, I discovered that the assmonkeys at TSA searched through my bag (Come on, skunk smell, dryer sheets, and a garbage bag screams "our dog got skunked, give us a break!" right?) Guess what? All that hard work I spent packing? Down the toilet before it even hit the plane… My suitcase was a mess.
Have you ever had a problem RIGHT before leaving on a trip? What is your packing routine (if any)? Have you have been skunked?