So today is Rock the Vote Day here in Illinois. It's the primaries, and we all know how I feel about rocking the vote. So I'll be heading to my polling place after work today, because I think the primaries are important too.
Of course, I couldn't let the rock the vote opportunity just fade away when you, too, can rock a vote.
On that note, blog friends…I have to tell you something RIDICULOUSLY exciting…I haven't mentioned it yet, and I feel kinda like a jerk for not telling you, because it's a result of your awesomeness…
I'm a finalist in not one, not two, but THREE categories in The 2014 Weblog Awards. Best Writing, Most Humorous, and Weblog of the Year.
Last year, I was a finalist in Best Writing of a Weblog. And THE BLOGGESS offered to share her invisible trophy with me.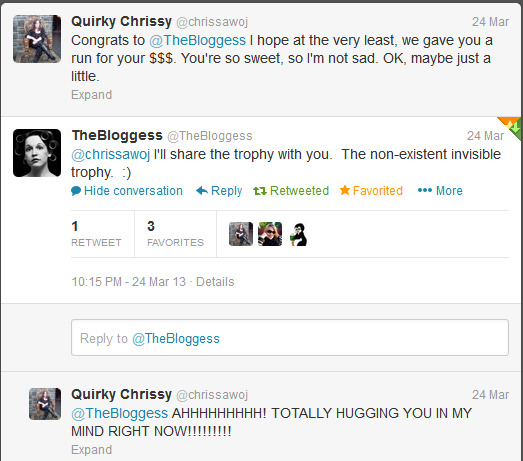 I would LOVE for you to go and take a second to vote for me in the 2014 Bloggies. Several of my blogging besties have also been nominated, so if you would like to help them out with a vote, I know they'd appreciate it too!
Voting ends this weekend, so vote early, vote often!