I didn't want you to forget or anything.
So I'm going to tell you a story. A story of the Polar Plunge.
Love for Chicago
I live in and love the Chicagoland area. I'd tell you I live in Chicago, but then those Chicago-proper people would be all, "What neighborhood?" And I would tell them, "Suburbia." And then I'd get a lot of shit because, "That's not Chicago." But to most of you…it is. So whatever.
But Chicago is cold and I despise the cold. Chicago has snow and I really don't like that either. But Chicago has character and my family and food and culture and so many things that you just can't find anywhere else. So I'll never leave. The suburbs. Even when it's cold and I do crazy stupid things like run into Lake Michigan in the middle of winter…
For years, I saw pictures of the Polar Plunge. I longed to participate. But I was scared. I didn't know if I could do it alone. FINALLY, 3 years ago, I befriended someone who encouraged me. She told me I was brave when I didn't think I was. She told me I was awesome. But best of all, she told me that she'd do it with me. My pal and I raced into (and out of) the VERY cold Lake Michigan in the early days of March 2011.
And I swore that I would do it every year for as long as I am able.
Sure, it's FUCKING cold. Sure, it's FUCKING crazy. But the Polar Plunge is an amazing thing. Because there's this rush that you get. It's hard to explain, but it's almost as cool as free-falling. The adrenaline, the hype, the excitement, the fear…it's all a part of the game.
The first time, I didn't know what to expect. It was exciting just to be there. We ran into the water, and there was a circle of EMTs protecting us from going any farther out into the choppy water and making sure that everyone was alright.
Imagine this…
You'd think that safety was the only thing that the EMTs were there for. Unless you were in the water with them. And their warm we-can't-feel-the-cold-through-our-awesome-pants pants. And then you would growl at them unexpectedly. And they would say to you, "GO UNDER! YOU'VE COME THIS FAR! JUST GO ALL THE WAY IN!"
And not being one to turn at the idea of a dare and especially a dare that involved heavy goading…You drop yourself underwater. After promising yourself that you wouldn't…because the last time your head went into Lake Michigan, you had a nasty ear infection that SUCKED. But this time you didn't get an ear infection. You did feel a crazy rush though. The minute your chest went under water, something happened.
The cold hits you like a pile of bricks. The air is sucked out of you. No matter how many cold showers you purposefully took leading up to this moment could prepare you. But you did it. And you ROCKED it. And it ROCKED you. You come up for air with a new light. And you run. You race out of the water. You run for warmth. And it's over. In a matter of minutes, it's come and gone. And you're that much better for doing it.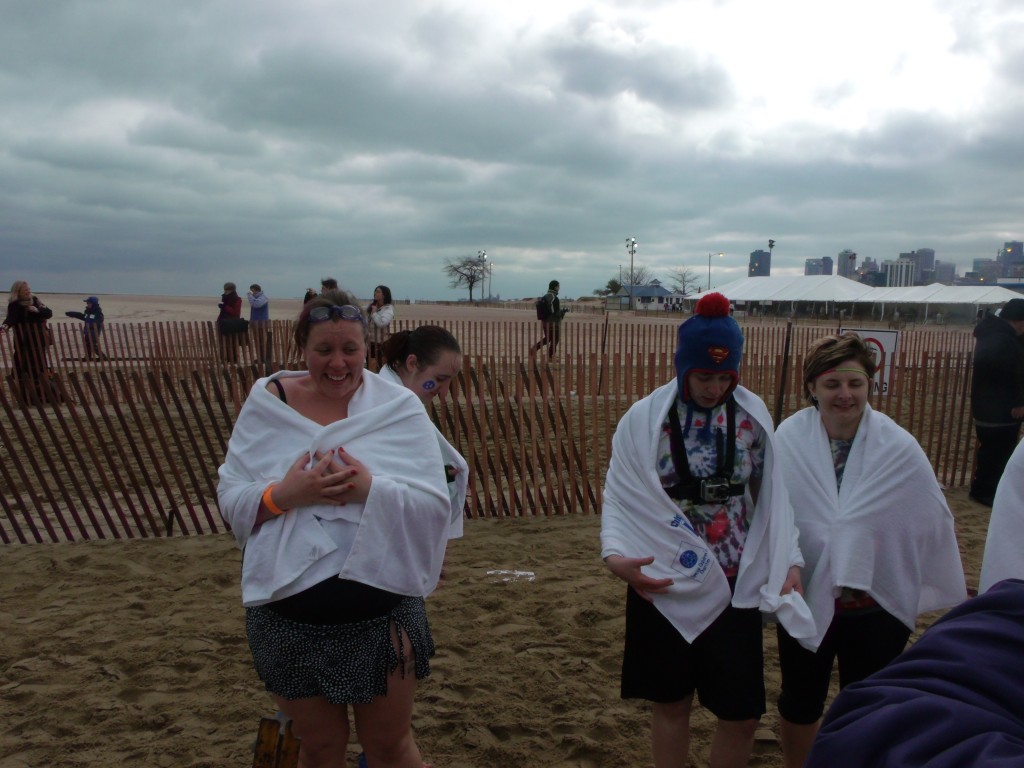 Polar Plunge: Cold for a Cause
Because not only is this awesome event an amazing thing in it of itself, the Polar Plunge raises money for the Special Olympics Chicago. Having known someone who not only participated in the Special Olympics, but also made it all the way to the championship in Ireland many years ago AND won a gold medal, I feel that it is most definitely a worthy cause.
The money that is raised goes to programming and events for the Special Olympics, which helps build confidence, leadership, teamwork, and friendship among people who need it most. So if you've got a dollar or two to spare, would you be willing to donate it to the Special Olympics Chicago? I'll be heading back into Lake Michigan on March 3, and your support will help those wonderful people who work so hard as Special Olympics athletes. If you can't spare a dollar, could you share this post with your friends or family?