I've decided to devote a little discussion to money or better yet, why people shouldn't talk about money (Does that make this blog post ironic? Someone ask Alannis Morrisette for me). They say that money is the root of all evil…so does that make evil the money tree? 
Rich or poor, you should probably avoid talking about cold, hard cash…here's why.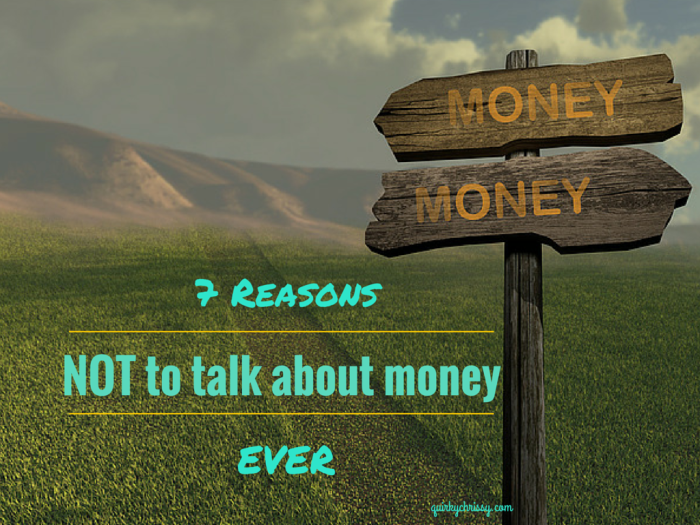 Very SERIOUS reasons not to talk about money. Ever.
Someone may get jealous of your larger pay check and find a way to steal it. Probably with ninja stars and boomerangs.
You might get punched. Especially if you make eleventy billion dollars and are trying to use an expired coupon. And then arguing about it with the cashier.
If you're trying to use food stamps (or your state/country's equivalent), and you roll your groceries out to a Lexus…I'm going to judge you for the rest of your life. Even though I don't know your name. And I might even blog about you. You know, quite frankly, I'm glad I don't know your name.
Making 6, 7 or 8 figures is great. We're all really happy for you. But if you're single (oh hell, if you're making 7 or 8 figures, I don't care if you've got a family of 10), you should never. Ever. Ever. Ever. Talk about how you have no money. Because if you have no money, it's your own fault. Unless it's all in savings so you can retire at 40. Because I can TOTALLY respect that. Sort of. Okay, fine. I'm just really jealous and I might want to find my ninja stars and boomerangs.
People will feel sorry for you if you have less money. And they might then give you money. Hmmm…. Maybe you should talk about money…Let's think on that one.
No matter how poor you think you are, you never know what someone else's circumstances are. You could be standing next to someone who ran away with the circus, finally escaped from a relationship with the bearded lady, and has three circus peanuts and a clown nose to their name. Not that I've ever experienced this…but you know…it could happen.
Blaming [insert politician or organization] here isn't really helpful for anyone. And no one wants to get into your bullshit trap political arguments anyways. You stop that right now.
What are your thoughts about money talk? Have you ever wanted to run away to the circus? Do you love circus peanuts the way I love circus peanuts? Who wants to let me borrow their boomerang?