In the last few years, I've really started honing and owning my own sense of style. A couple weeks ago, at my brother-in-law's wedding, I realized that it's kind of a thing I'm proud of, and it's definitely a thing that Brian is proud of. So I'm learning to love this part of myself.
The night of my brother-in-law's rehearsal, we had drinks at the faaaaancy hotel bar (the hotel that Beyonce and Jay Z were staying in), walked the city a bit, and had dinner at a lovely restaurant.
"I think I missed the dress code," I told Brian. "The other people are all city chic, and I'm over here rocking the Chrissy pink."
"Isn't that the point?"
Two minutes later, a stranger walking past us complimented my pink on pink on pink ensemble. "I like your…pinkness!"
"See? You get random compliments from strangers!" And, to my utter surprise, it wasn't the last compliment of the night.
I thought about it for a second. And he's so right. For years, I'd ask his opinion of something I was planning to wear — whether it was rainbow tie-dye yoga pants or a Minnie Mouse onesie — and his response is always, "Well, it's not something I would wear, but I think it's really cool that you do." And then he'd realize he was supposed to say, "It looks really good," and he'd say that too.
Ever since I was a small child, I've been drawn to bright colors — pinks, teals, greens, yellows — and bold patterns – it is known that I have a thing for polka dots. But I've also been drawn to self-doubt, self-preservation, insecurity, envy, and other non-desirable traits. But the more I step into my own skin, the skin I've had for 35 years that isn't going anywhere, the more I accept who I am and that how I dress is a part of that.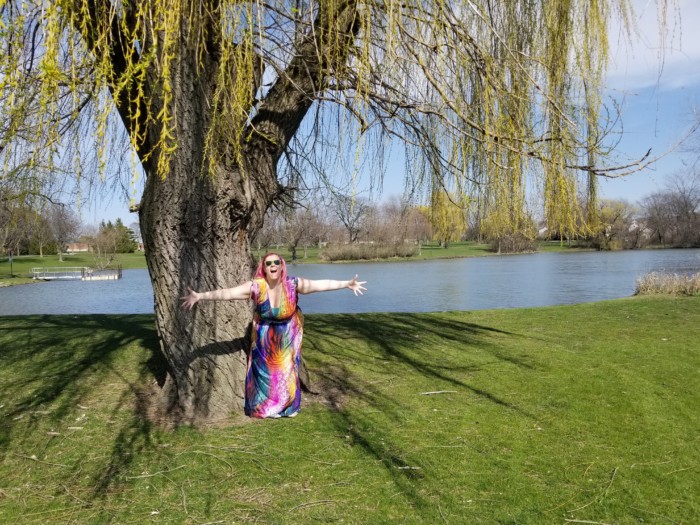 Several people (a friend who's known me for years and one of my brothers-in-law included) have recently mentioned something about me appearing comfortable in my style. Since dying my hair hot pink, it's as if I'm more me than I've been since I was a child. Even before that, I began embracing a hobby called Disneybounding, in which I dress up as characters from Disney cartoons, movies, and even theme park attractions. It gives me the freedom, encouragement, and PERMISSION to dress like a "Polish war bride."
It's funny, because I used to essentially wear pajamas to work, and now that I work at home, I find myself getting dressed up more than I have in years. I even wear makeup regularly (thank God for Julep)! I'm having fun playing with bold colors and unique combinations of patterns and styles. I'm matching things that 10-year-old me would have rocked and 25-year-old me would have mocked.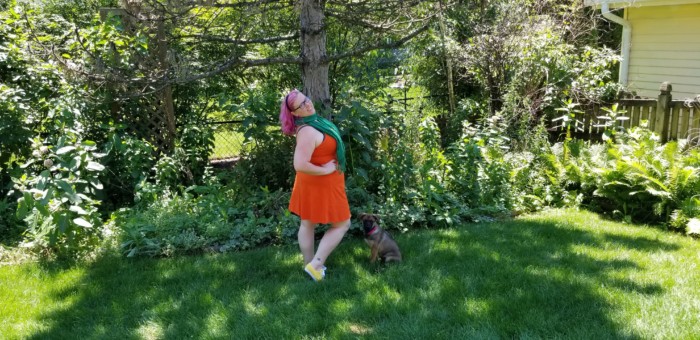 I wanted to provide my top tips on how to create your own style and own your style. It's surprisingly easy when you figure out what makes you happy.
How to own your style
ABOLISH all beliefs or rules of style. They don't own you. They limit you. White after Labor Day? PSHA. White is for any day (except when drinking red wine on an airplane…)! Wheelie sneakers and light-up clothes after age 10? Roll on with your bad self. Stripes and polka dots together? It's a thing. I swear. Seriously, though. Who came up with those style rules anyway? Forget them and make your own rules!
TRY different styles and combinations and see how they make you feel. Go into an actual store and use the dressing room or order from Amazon, who provides free return shipping. Forget looking at fashion magazines and Pinterest. Make your own combinations.
DISCOVER what makes you happy. For me, it's hot pink and teal. It's dressing like Disney characters. It's bold patterns and rainbows and happy colors. It's remembering what it's like to be a kid again. For others, it may be band tee-shirts that have been collecting dust since you got a big-girl job. Or geek skater dresses. Or leggings as pants. Or black goth dresses. Or hippy chic boho skirts. Or fancy pantsuits. Take the time to figure it out.
DONATE old clothes that don't serve you well. If you try something on or wear it for a day and feel the slightest bit uncomfortable in what you're wearing (and I don't mean that it's too tight. You want to feel like YOU in your clothes), it's time to say goodbye.
SWAP with friends. I've had several friends who have either lost weight, gained weight, or cleared out their closets, and they've shared their clothes with me and other friends. And I've done the same on several occasions. It's actually really fun to see your past style as someone's future look. Believe me, it'll give an outfit new life.
SMILE. Be confident in who you are and what you're wearing. For me, it's not about what's in and out of fashion, it's what makes me happy, confident, and comfortable. You're the only you that's ever going to be. So make your you stand out.
So what I'm really just saying here? Own the heck out of you. Wear and be and do what makes you happy. Spread joy. I want to know what your style is like. What are some of the things you love to wear?