For the first time in my life, I'm going to admit that I have some very serious regrets.
Most, if not all, of these regrets are in regards to my snack purchasing decisions prior to the Stay-At-Home orders. To be clear, I'm not hurting for snack packs. We live in a big house in the suburbs with a full basement. So, like, there are always back-up snacks for the back-up snacks. I didn't need to go out and hoard a bunch of food when everyone was hoarding a bunch of food…because I was already hoarding a bunch of food. I buy my canned goods when they're on super sale (like 33 cents a can or something like that), and I usually buy enough beans, tomatoes and corn to make 2-3 big batches of chili, which I did in, like, November. I also get a ton of snacks and jarred goods at an annual warehouse sale. So we're good.
But I also went to the store before things got too crazy and picked up a few less-than-essentials. Brian got a giant jug of salsa and huge bag of tortilla chips. I spent $50 on fancy cheese and sparkling water at Whole Foods and got some packaged cookies that I thought would be delicious.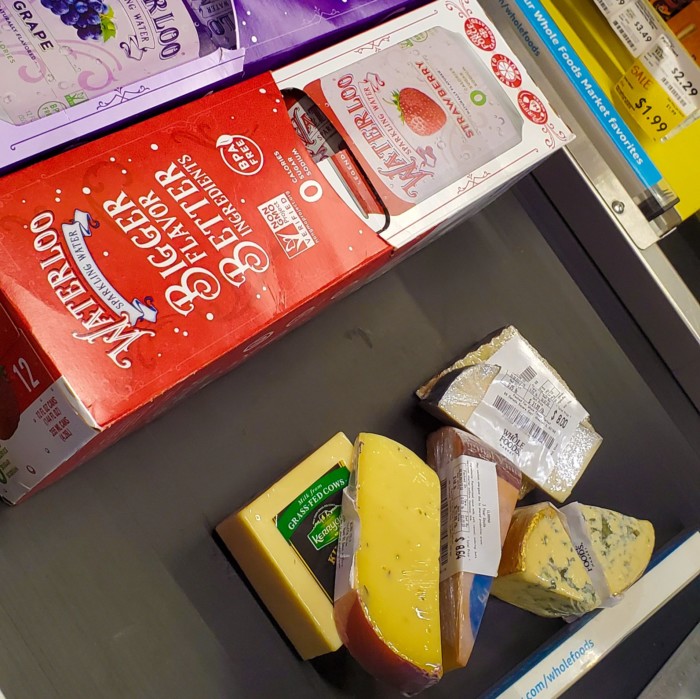 Unfortunately for me, I was so very wrong about the cookies. I like weird flavors and trying new things, especially Oreos, so when I saw Caramel chocolate coconut, I was like OMG CARAMEL DELIGHTS! YES YES YES. But when I opened the package on Day 2 of self-isolation, I was hit with the disappointment of disgusting cookies. They tasted like burnt coffee with fake coconut flavor, and it was horrible.
No matter, I thought! I have these strawberry shortcake Fudge Stripe cookies, which will clearly suffice. I opened those up to discover, much to my dismay, that they were equally disappointing. These tasted like Nestle Strawberry syrup in skim milk, but in cookie form.
I've also regretted not purchasing a big bag of Cheetos Puffs (if you prefer crunchy, which we have in the aforementioned storage basement in jalapeno form, you don't know my struggle). And Fritos. I really want some freakin' Fritos.
At some point, I'll have to go out to the store again. We are running a little low on the important things – mainly vegetables (I'll bet you thought I was going to say cheese, but we never run low on that). And when I do, you can bet your ass that I've already got lemon oreos (my favorite) Fritos, and Cheetos puffs on the list.
Hi guys, please note that this is in no way, shape, or form meant to deter from the heaviness that comes with the current COVID-19 pandemic. I only hope to make you chuckle or at least smile at some silliness, because we all need it. That being said, if you do not have to go to work, STAY THE FUCK HOME. If you go to the grocery store, shop for a couple weeks and then STAY THE FUCK HOME. If you have to take care of family or pets or medical care, obviously do what you need to do, and then STAY THE FUCK HOME.
I know that I, like many of you, love someone or many someones who is or are considered (an) essential worker(s). Some of you are essential workers yourselves. From medical personnel to factory workers, from law enforcement to restaurant staff, from gas and groceries to car service and utilities, anyone who is working their butts off deserves our gratitude and for us to STAY THE FUCK HOME. Because they/you need to work, the collective we need to do everything we can to protect them.