So last night, Brian and I walked into the apartment around 11 PM, having left around 3 PM to go see American Hustle (really good btw) with our delightful old roommate. Former. Not actually "OLD." As in age. DUH.
We had planned on Christmas shopping before or after the movie. And by we, I mean me. And by Christmas shopping, I mean I would go into the stores. Brian would drive the vehicle and sit in the car talking to his dad on the phone or listening to an audiobook. This plan really worked out well.
But we also decided to have dinner with Anna. At my fave restaurant, Greek Islands-YUM. And then shopping didn't ensue until 9ish.
So when we got home to the smell of…well…food cooking, we were both quite surprised.
Until Brian looked over at the Crock Pot corner and said, there's food in there.
Apparently I have bad luck making lentil soup, because I had completely forgotten that I threw a bunch of party leftovers into the Crock Pot to make lentil soup.
The last time I tried to make lentil soup, Brian came home to a disgusting, smelly, burnt mess in the Crock Pot (because I was out for the night–had made him "dinner").
LUCKILY, this time, it wasn't a total disaster, because the soup was FLIPPING delicious. It had just completely fallen off my radar. But that's okay. Because it was full of flavor and joy.
Recipe (without a picture-because I can't figure out how to make lentil soup not look like vomit. Instead, you'll get a picture of the party food table-minus the veggies, because those were in a separate spot.)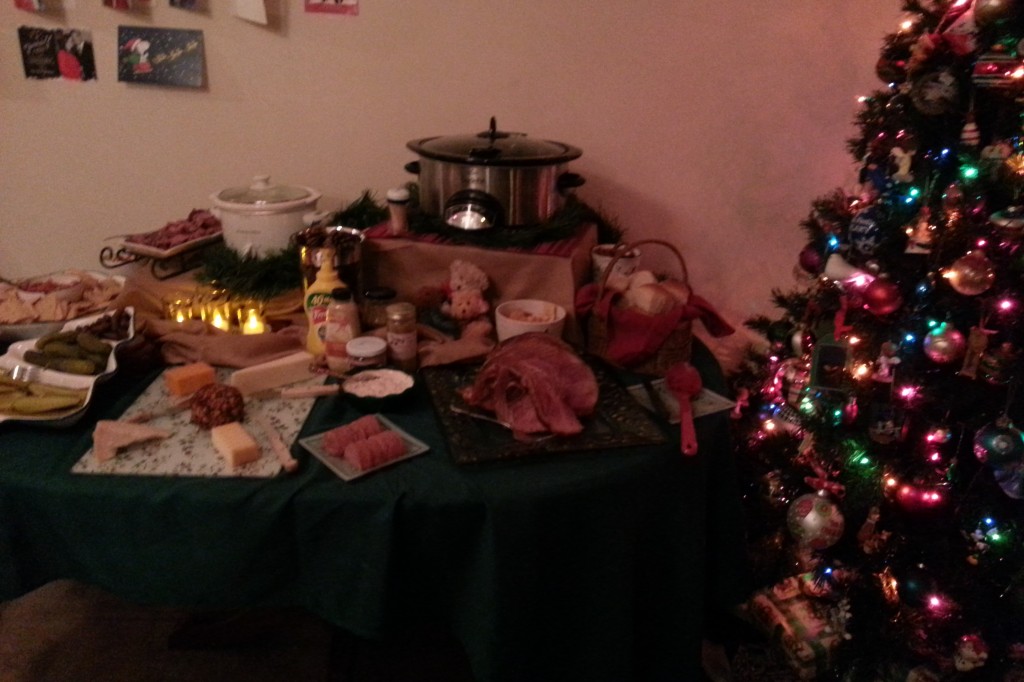 Party Leftover Lentil Soup Recipe
1 leftover previously cooked spiral cut ham on the bone
1 cup leftover carrot slices, chopped
10 leftover celery sticks, chopped
5 leftover mini bell peppers, chopped
1/2 red onion, chopped
3 cloves garlic, chopped
1 bag of lentils
2 cans of chicken broth
2 cans of water
Toss all ingredients in the Crock Pot (or slow cooker brand of your choice)
Forget about them for 8 hours
Come home to the smell of delicious soup that you can pack up and eat tomorrow morning
Remove the ham with tongs and a spoon (it's going to be FALLING off the bone)
Shred/slice ham, removing any excess fat and return to the soup
Store or serve immediately–or eat it with a spoon right out of the Crock Pot
Have you had Crock Pot wins or fails because you forgot about them?