I grew up in the house of smoke. The fact that I came out of it without smoking is actually kind of bizarre. When I lived at home, I didn't even realize how everything I owned smelled like smoke. It wasn't until I went to college that I ever understood the stale smell of lingering cigarette smoke. My mom figured it out eventually too, and started making all the smokers smoke outside. Which totally makes sense.
I don't have a vendetta against smokers. I was against the smoking ban in bars. I smoked my fair share of angry, drunk cigarettes after that ban was implemented (it's hard when all your friends go out to smoke and you're stuck inside watching purses. Fuck that). My best friend Lily loves to tell my chain-smoking story of that one time I had a lit cigarette in each hand and two unlit cigarettes behind my ears. To be fair, I was drunk, pissed, and Bill Clintoning that shit (I didn't like the burning from inhaling).
Now, I walk almost a mile to and from work each day. I pass by more than 642 people every day (I tried to count once, but lost track after a couple blocks and several hundred people).


Every east-west street near the train stations in The Loop looks like this during rush hour. A sea of people – hundreds people – just racing to their offices. Of those hundred of people, there are usually a few unobservant smokers blowing smoke backwards, not even considering what jerky behavior they're exhibiting.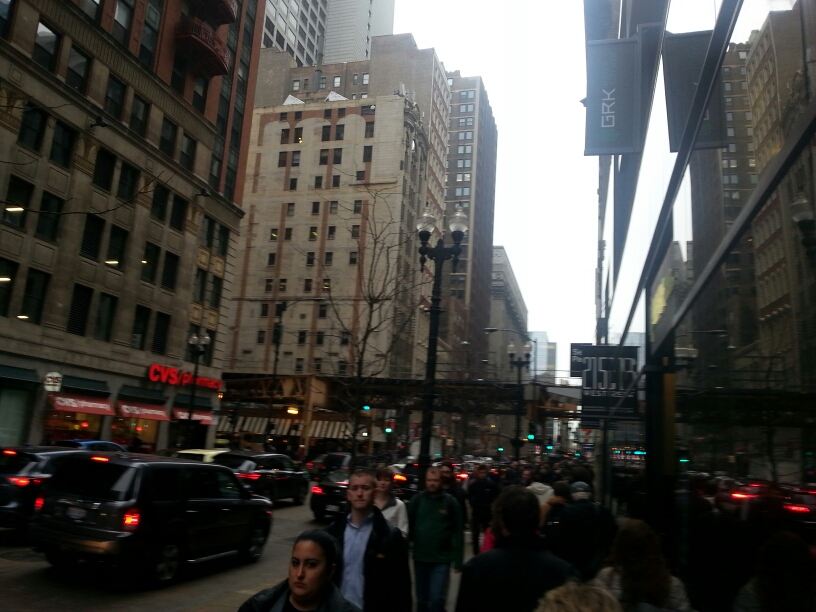 Listen. I get it. You want your smoky treat before work. After work. At lunch. When you're a tourist on vacation. I don't blame you. As a general rule, work sucks and vacation can be stressful. But when you walk and smoke at the same time in that giant crowd of people…you're blowing smoke in the faces of every person in a ten-foot ring behind you. I know you don't want to be a jerk…and I've got some pointers to offer you so that you aren't being a complete douchebag.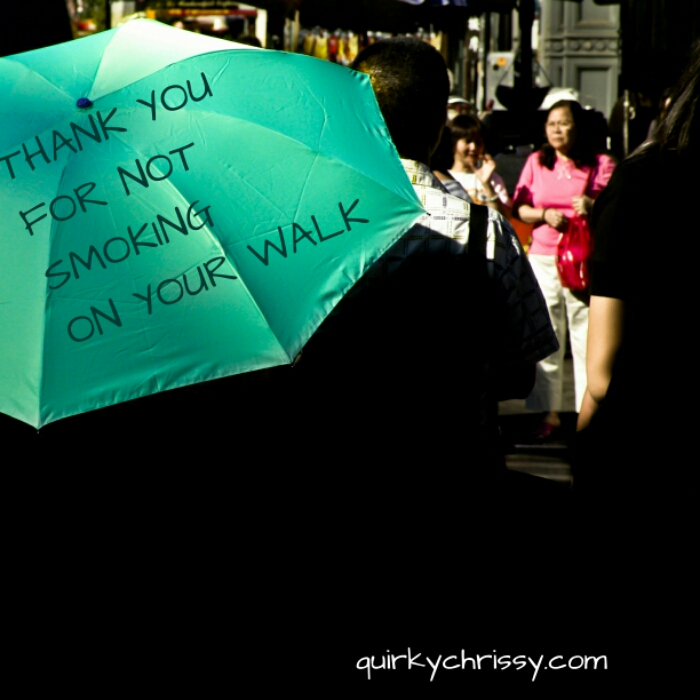 Pull over. Step to the side of the sidewalk and enjoy your cigarette. Preferably on the street side of the sidewalk so you're not blowing smoke in everyone's faces. You may miss the earlier train, but you won't be considered an asshole by everyone who catches your smoke in their lungs. And honestly, won't you enjoy your cigarette just a little more without rushing from point A to point B? Help me help you.
When someone LITERALLY runs in front of you, don't continually try to pass her so your smoke keeps blowing in her face. She ran to get away from you.
(Yeah, I do this. And it happened. Also, the third time the guy sped up to pass me, I looked at him and yelled, "DUDE. SERIOUSLY." This was me exhibiting douchebag behavior. That guy didn't know what he was doing to piss me off. I felt a little bad. And he probably thought I was crazy. But seriously don't smoke and walk.)
That's it. Two simple steps to making the world a better place. Your efforts are appreciated.
What pet peeves do you have on your daily commute? What are your thoughts on walking smokers?