Caution: This post may make you cry. But it may not. It made me cry writing it. So read at your own risk that you may or may not cry. And I promise I tried to put some humor in it. Whether or not you laugh is up to you. So really, you could laugh AND cry. Or neither. The choice is yours, really.
You may have been wondering why I disappeared for a week of guest posters in March. Or why I've not been quite as socially active. Or why my posts are lacking that special oomph that makes me me. This is why.
In August of last year, we received a devastating blow. Brian's mom, who was the nicest and most wonderful lady in the whole world, without a mean bone in her body, was diagnosed with Stage 4 Metastatic Non-Small Cell Lung Cancer. In layman's terms, she had a non-smoker's lung cancer that had already spread.
Until February, she fought and fought and fought. And we both (she and I) believed that she would fight it, kill it, and stomp on its grave. That stupid cancer. We spent a lot of time talking about how she was going to make this cancer wish it had never paid her a visit. She was strong. But February came, and reality set it.
The cancer was taking over.
Cancer. Was. Taking. Over.
On March 23, the world lost a fine lady, and Heaven gained an angel. It sucks. Cancer sucks.
But I am lucky. Lucky that I knew her. Lucky that I spent as much time as I did with her. For a while we were spending most of our weekends with Mom. And while there may not be a lot of photographic evidence, I have pictures in my mind. Lots of them. Sweet ones and funny ones. And those will live on forever. I am lucky.
But I'm still sad. And while she wasn't my own mom, she was family. And I loved her.
One of the best pictures, though, is not a picture in my mind. It's a real picture. After surgery, she couldn't walk very well, but I promised to take her to the grocery store. I promised to teach her how to ride the driving cart at the store. Surprised that I knew how to maneuver it so well (Thanks to my Mom, my Gram, and my own silly injuries), she became less reluctant to try it out (Because she didn't see me almost get hit by a car on my way into the parking lot) and she was ready for it. If I could do it, so could she.
So we had a grocery adventure, Brian's mom and I. Just the two of us.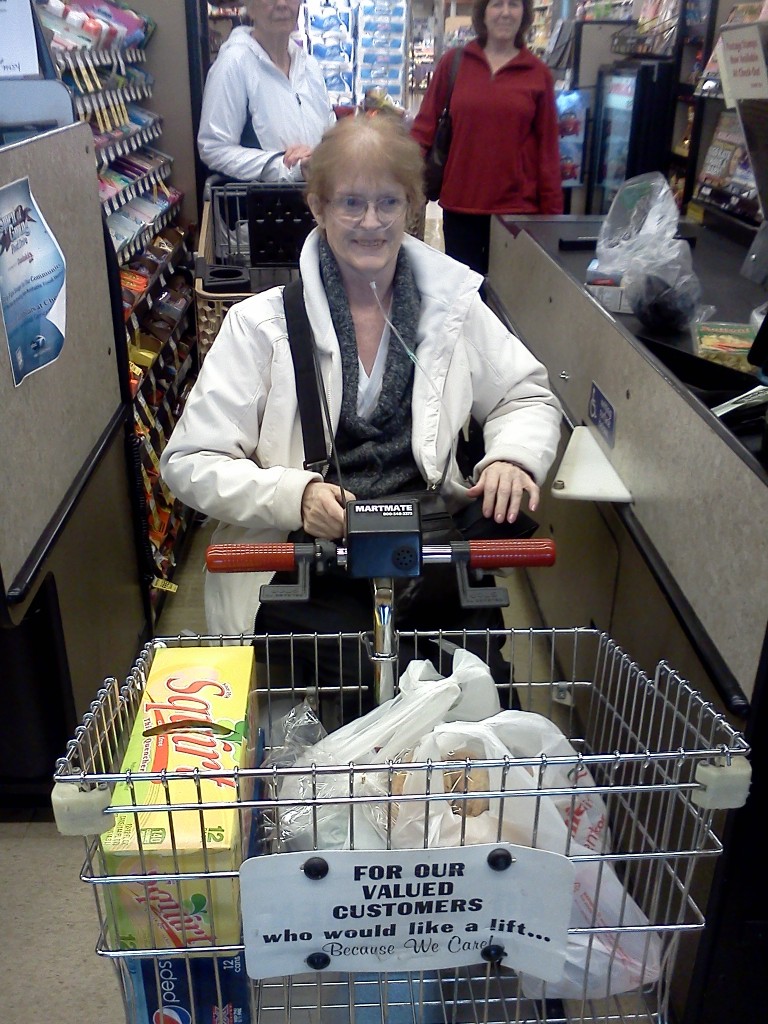 And then we had more driving cart adventures. Because we could. But those are all brain pictures. And not real pictures. Lucky for me, I've got a pretty colorful brain.
Blog Friends, tell us about someone you love. Tell us a memory. Tell us about a picture in your brain.