I work in the city. THE city. As in Chicago. Home of the original skyscraper. Did you know that? After the Chicago Fire, they commissioned an architect to do whatever he wanted…and he wanted to change the world, apparently. Thus skyscrapers were born.
So I work downtown, inside The Loop, Chicago. Each day I walk a mile from the train, rain or shine, sweltering or bitterly freezing. And then I work. And then I walk another mile from work to the train. I used to occasionally take a cab (VERY occasionally), but mostly I'd brave the elements because a one-way $8-10 cab ride just doesn't do it for me. I've recently discovered that I'm not as afraid of the bus, but for an extra $2.25 per trip, it's only worth it when it's REALLY fucking cold out. Like negative temperatures cold. Like WAY negative temperatures cold. Because that $2.25 would quickly become $22.50 PER WEEK. And that's a lot on my already-expensive commute.
So I brave the dangers of walking in the city. When it's freezing out, and especially when the freezing starts to warm up just a smidge, signs start popping up all over The Loop. On my walk to and from the train, I pass no less than 8 caution signs each way. Caution signs that warn passersby of potential falling ice. FROM THE FUCKING SKYSCRAPERS.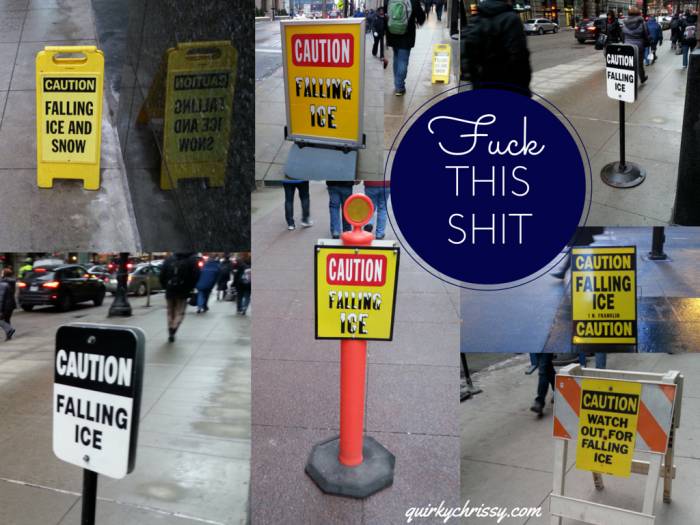 How the fuck am I supposed to see the falling ice ball from the sky by looking at a sign 2 feet off the ground?

How the fuck would I even protect myself if a giant, painful ball of ice were to come tumbling down on my head?

What is the fucking purpose of the signs? Do they think they're preventing legal repercussions of a chunk of ice decapitating some unlucky soul?
Because if a giant fuckball of ice falls on my head and doesn't actually kill me, I'm going to sue something. Or someone. Okay, probably not. But I would most certainly be pissed. And in a lot of pain.
Then…THEN…I get safely inside the confines of my building? Only to discover that because of the wet, melting ice on my feet, I could fall to my death inside the fucking skyscraper. Because those floors are fucking SLICK. I should know…I slip on them on a regular basis.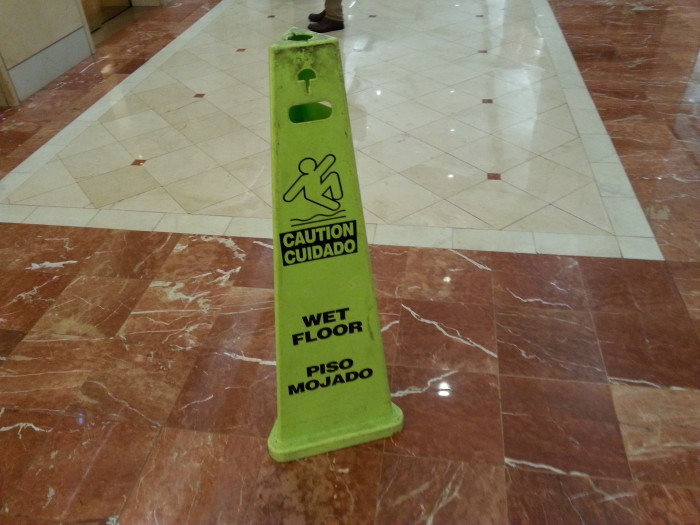 These days, I'm not opposed to a nice, cozy suburban job…with a 5-15 minute drive. We'll see.
Blog Friends, what dangers await you on your morning commute? Or do you have a dangerous job? Or do you avoid danger like the plague?