I was going to write a post about the worst Thanksgiving ever, in which my family dragged me to a casino in the middle of nowhere Iowa with a buffet Thanksgiving dinner. But that can wait. This is more important.
Now, I'm not going to preach to you about how much better I am for not shopping on Black Friday (because I do) or about being thankful for what we have and blah blah blah. I'm not going to preach at all. I'm just calling it like I see it.
We've all been bombarded with Christmas (which I love) and Black Friday (which I love) since November 1 before Halloween. I'll admit that I get just as excited…and yes… 2 of my trees (yes trees) are already up. But not until Halloween is over.
And I've been patient. And tried really hard not to throw Christmas all over the place…yet.
But I've discovered a really annoying little problem. While the whole country has been busy giving thanks, telling the world what they're grateful for, whether it's their new fancy phone or cheese, the retail world has been preparing to steal your national holiday. And you're okay with this. You revel in it. You'll leave your family at 2 PM to get in line at Toys 'R Us which opens at 8 PM. ON THANKSGIVING. And they aren't alone.
Walmart. Sears. Both 8 PM.
New York & Company. ALL FREAKIN' DAY.
Target. 9 PM.
Best Buy. Kohls. Victoria's Secret. Carson Pirie Scott. LOFT. Sports Authority. Gap. The Limited. American Eagle. Midnight.
The list goes on.
So I won't be shopping at any of those stores this Black Thanksgiving. I will make a stand to stop the madness. They won't even get my Black Friday dollars. In fact, I think that Mom and I will just go get our usual freebies from Yorktown Mall, JC Penney, and World Market. Then we'll eat breakfast. And go home. And sleep. Because Black Friday isn't Black Friday anymore.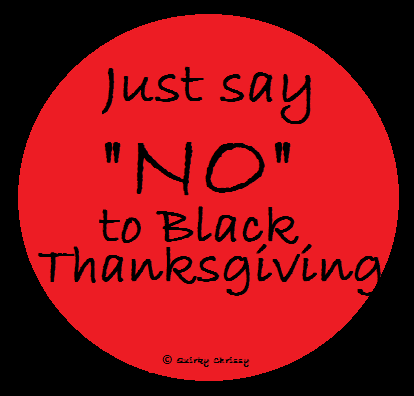 Will you stop the Black Thanksgiving madness?