This is a sponsored post written by me on behalf of Psoriasin. All opinions are 100% mine.
For all intents and purposes, Brian supplied much of the information below. 
When I first started dating Brian, he told me a very serious "secret." His red face and shy smile told me he was super nervous about the information he planned to explain, as if knowing the contents of the secret would send me screaming at the first sign of leprosy.
Of course, he was wrong.

Brian first discovered his psoriasis in college (as if the stress of college wasn't enough!) and was genuinely concerned that he had some sort of contagious disease. Turns out it wasn't. He discovered that he had psoriasis, which according to him, "can be ugly, damn itchy and uncomfortable sometimes." It's something pretty common, not contagious and treatable. For the record, I don't think there's any part of Brian that I would call ugly. Ever. At all.
When he realized he was dating the most amazing woman on the planet (obvi), he feared that his psoriasis would be a turnoff to me. Sure, he no longer thought himself a leper, but that insecurity fed his trepidation when informing me that his skin was not without flaws.
Fortunately for Brian, my biggest concern was whether or not it was painful for him. He assured me that it wasn't. Although, based on the frequency with which I find him scratching spots of skin covered in psoriasis patches, I know that it's at least a little bothersome.
A few weeks ago, he was sent some Psoriasin® skin care products to help with his psoriasis. Since he's not always on top of treating it, the patches on his elbows and knees were getting a little out of control. But after a couple of weeks with Psoriasin®, the patches are clearing up.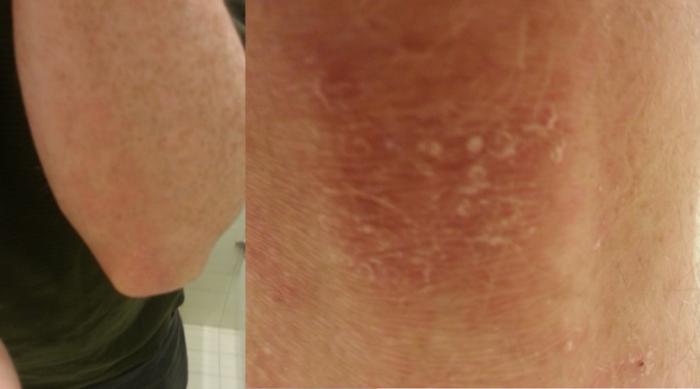 He's been using three different types of Psoriasin, and finds them all useful in their own right.
The Psoriasin® Multi-Symptom Psoriasis Relief Ointment
 heals and moisturizes the psoriasis (though he says it smells like medication).
The Psoriasin® Multi-Symptom Psoriasis Relief Gel
 dries rapidly so it was ideal before bedtime or for parts of the skin that brush against or rest on objects, but he recommends not using it on cracking/cut skin, as the alcohol in the product can sting.
The Psoriasin® Advance Treatment Cream
 is doubly beneficial because it moisturizes better than the ointment as well as medicates the skin.
He's a fan of the different treatments, as they help to control the patches on his skin.
Psoriasin Giveaway
While Brian doesn't concern himself with covering up his psoriasis (it gets too hot in the summer to wear long sleeves and pants every day), there are probably some clever tips out there for hiding the flaky spots. By leaving a comment below with your own ideas for covering areas of your body affected by psoriasis, you can win a Psoriasin prize package.
Do you or someone you know have psoriasis? How do you or they manage it? What ailments do you suffer that you're embarrassed of? What tips do you have for covering psoriasis patches or other dry skin patches?