Yesterday was a weird day wrapped in a magic bow. It started with a rehearsal for my newest Second City Training Center coached ensemble (yay!) followed by my car getting towed because apparently, my Spothero reservation didn't go through (boo!). But it concluded with dinner and a movie next to the most adorable husband this side of the planet.
And not just any movie. A pre-screening of Mary Poppins Returns, a movie I've been dying to see since it was announced (especially once I discovered one of my favorite celebrity crushes, Lin-Manuel Miranda, would have a role similar to that of DIck Van Dyke in the original film). I've also loved Emily Blunt since The Devil Wears Prada. And then there's Colin Firth. Who I've loved since I was fifteen, watching Pride and Prejudice on repeat.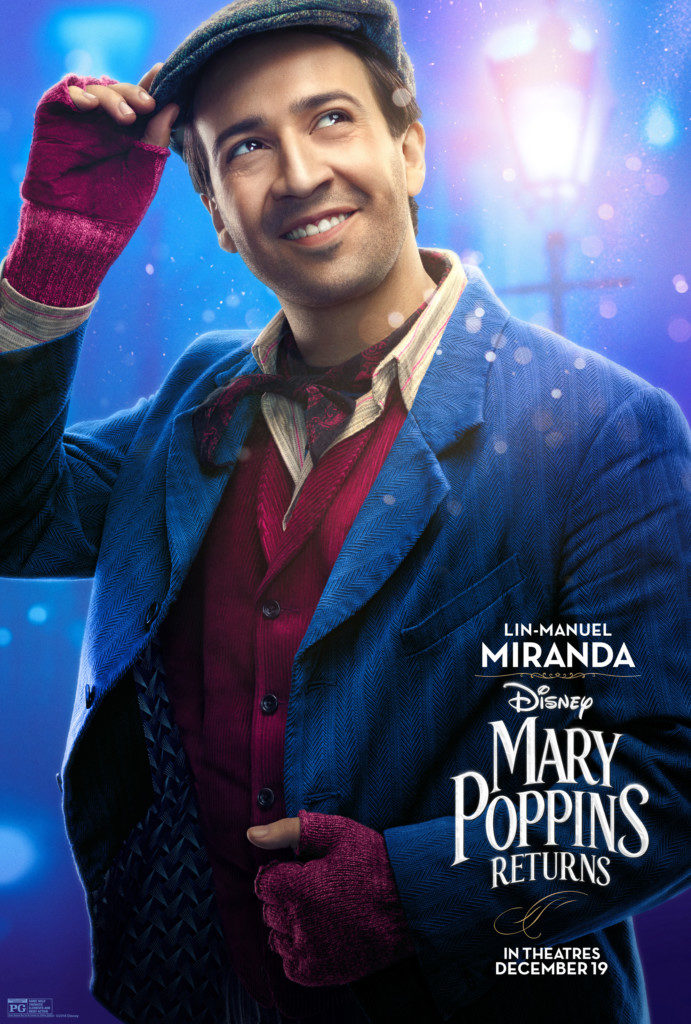 I went into the theater with high expectations. I was hesitant to have such high expectations after the Nutcracker kinda flopped on me (I was initially drawn into the colors and music and potential messaging, but after thinking about it for far too long, I realized that the action in the plot did not back up the messaging and it wasn't actually very good at all). Thankfully, I've slept on it, and I still absolutely loved Mary Poppins Returns.
Mary Poppins Returns movie review
THIS is the movie we need right now. The world is dark and gray, and Mary Poppins animates it with positivity and color and sheer energy to yet again save the day (and the Banks family). Emily Blunt plays Poppins in a way that makes me believe she's always been Poppins (no disrespect to Julie Andrews intended because she, too, played the part practically perfect in every way). It's like in Doctor Who, when a new doctor comes in and you truly feel like they've been the doctor all along. Like magic.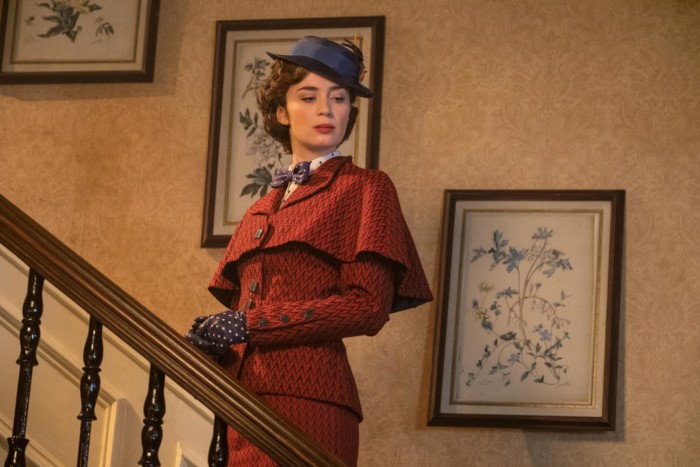 Emily Blunt is Mary Poppins in Disney's MARY POPPINS RETURNS, a sequel to the 1964 film MARY POPPINS, which takes audiences on an all-new adventure with the practically perfect nanny and the Banks family.
We're on the brink of adventure; don't spoil it with too many questions.

-Mary Poppins
In Mary Poppins Returns, the Banks children are more responsible than their artist father who has taken a part-time job at his father's former bank to help make ends meet during The Great Depression. Mary Poppins arrives just in time to help the entire Banks family (Jane is a regular visitor to Number 17 Cherry Tree Lane). With Jack the lamplighter as her childlike adult accomplice, Mary takes the three Banks children on quite the adventure. From a dazzling display inside a Royal Doulton bowl, using classic animation (which Disney hasn't really used since Winnie the Pooh in 2011) as a nod to the original sequence inside the street chalk scene to an important meeting with Meryl Streep's Topsy on the ceiling of her home, Mary teaches the new generation of Bankses how to have fun.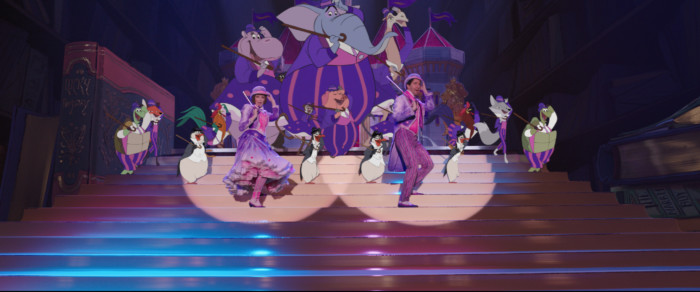 Emily Blunt is Mary Poppins and Lin-Manuel Miranda is Jack in Disney's MARY POPPINS RETURNS, a sequel to the 1964 MARY POPPINS, which takes audiences on an entirely new adventure with the practically perfect nanny and the Banks family.
I loved the energy and imagination and pops of color that swirl throughout the film like paint on a canvas. The music is full of clever lyrics (and several that are full of much more adult-humor than one would expect, including a line about flapping about in bathtub gin). I was grinning like a Cheshire Cat, full of joy, and so many chills, you guys. If you need a little boost of magic this holiday season, let this be the movie that takes you there.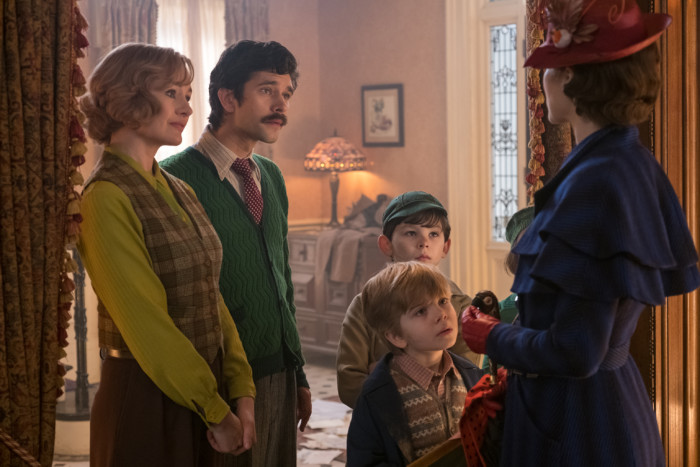 Jane (Emily Mortimer), Michael (Ben Whishaw), John (Nathanael Saleh) and Georgie (Joel Dawson) greet Mary Poppins (Emily Blunt) upon her return to the Banks' home in Disney's original musical MARY POPPINS RETURNS
Lin-Manuel Miranda is there every step of the way, but the entire supporting cast is brilliant. Molly Weasley Julie Walters is the perfect casting for Ellen. Meryl Streep slays as Mary's eccentric cousin (I wonder if any relation to Uncle Albert?). Colin Firth plays a duplicitous banker with sheer perfection. As for the Banks family? Emily Mortimer is such a perfect casting for Jane that I can see a resemblance to her 1964 childhood counterpart. Ben Whishaw is a wonderful combination of the child, Michael, and Mr. Banks from the original movie. The three children —Joel Dawson as Georgie, Pixie Davies as Annabel and Nathanael Saleh as John — are adorable and charming in their own rights.
Mary Poppins easter eggs
The nods to the original are spectacular and come in every shape and size, including:
Dick Van Dyke's incredible singing, dancing cameo
The return of the penguins
A passerby (UPDATE: this part was played by Karen Dotrice, the original Jane Banks!) stating, "Many thanks. Sincerely," which is from the nanny advertisement that Jane and Michael write for their future nanny. No one else is picking up on this egg!
Admiral Boom still lives next door
Several sightings of the Sister Suffragette vote sash as the string on Michael's kite
The blocks that Jane held, spelling out Mary Poppins
The snow globe from Feed the Birds
I found myself squeeing throughout the movie, and Brian often had no clue what I was noticing, so you really have to know your Mary Poppins to catch them all. I'm quite sure I missed as many as I caught, so once I've seen it a few more times, I'll pass along the easter eggs.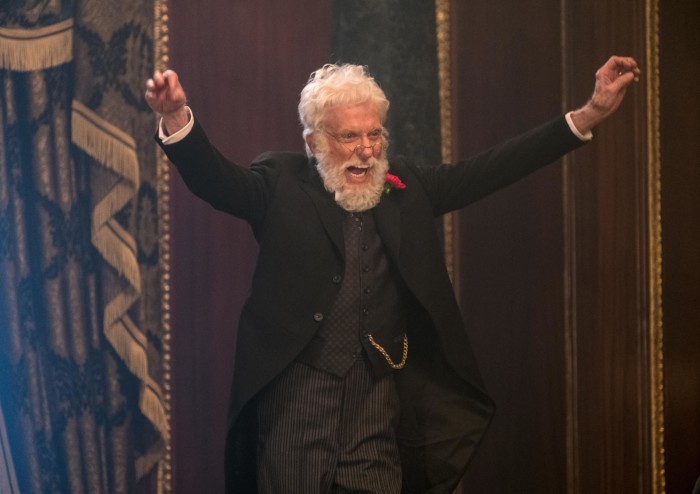 Are you planning to see Mary Poppins Returns? Have you seen it already? Let me know your thoughts!
In Disney's Mary Poppins Returns, an all-new original musical and sequel, Mary Poppins is back to help the next generation of the Banks family find the joy and wonder missing in their lives following a personal loss. Emily Blunt stars as the practically-perfect nanny with unique magical skills who can turn any ordinary task into an unforgettable, fantastic adventure and Lin-Manuel Miranda plays her friend Jack, an optimistic street lamplighter who helps bring light—and life—to the streets of London. "Mary Poppins Returns" is directed by Rob Marshall. The screenplay is by David Magee and the screen story is by Magee & Rob Marshall & John DeLuca based upon the Mary Poppins Stories by PL Travers.
Mary Poppins Returns will be released in U.S. theaters on December 19, 2018. Get your tickets for Mary Poppins Returns.