OK, so y'all are PROBABLY going to think I'm crazy (if you don't already…and if you really don't, WHERE THE HELL HAVE YOU BEEN?) after reading this…but it needs to be said.
In addition to the unhealthy fear that I will have MS (ever since watching the Annette Funicello Story when I was a kid) and the irrational fear of botulism…I've recently begun having new thoughts when it comes to my health and well-being.
Perhaps. Maybe. I might possibly. Have a gluten intolerance. Or full blown Celiac's Disease.
You see, I've had some…let's say digestive issues…for a while now.
And recently, I discovered that headaches can be a direct effect of a gluten intolerance. And have I told you about the crazy headaches I sometimes get? In which I have to wrap my head in a heating pad after popping a whole handful of over-the-counter pills in order to fall asleep?
And then yesterday I GOOGLED the canker sore in my upper lip, you know because maybe they've come up with a new way to kill canker sores, amiright? And you know what I found, BLOG FRIENDS?
Celiac's Disease. Causes. Canker sores.
And Google doesn't lie. Especially when Google is advised by WebMD.
For the past month or so, I've been reading labels, learning what I may have to give up, savoring every piece of bread, noodle, cupcake, cookie, muffin, bagel like it might be my last…deciding "I can do it." and "Oh God no! Not the cookies! Not the breakfast sandwiches!"
And so Blog Friends, I think I'm going to go find out for real about this one. What would you do?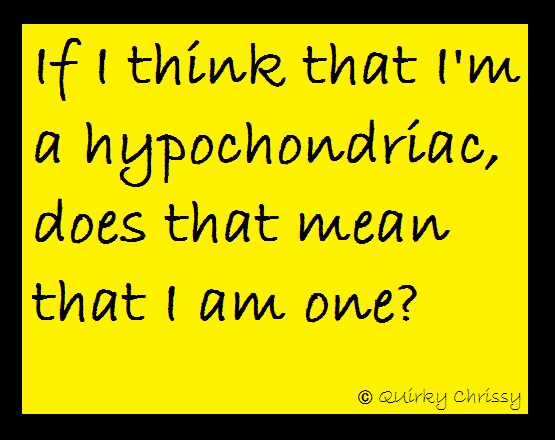 Do you ever feel like a hypochondriac?