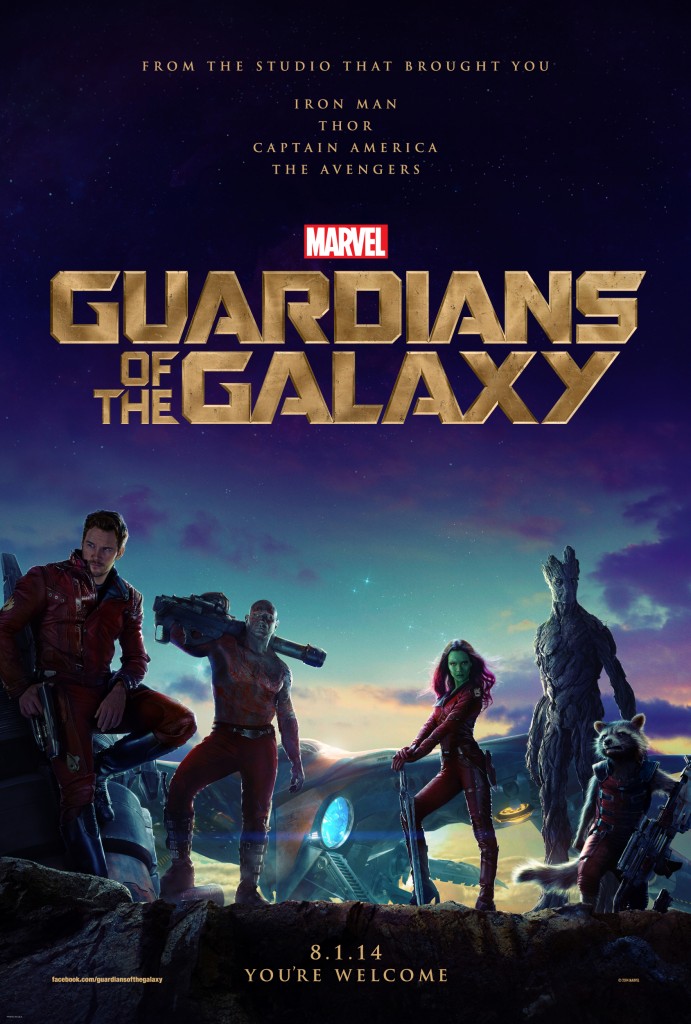 One of the perks of being a blogger is getting to see movies a few days early so I can tell you all about them. In this case, I saw Guardians of the Galaxy on Tuesday. Without my deliciously geeky, comic-loving, Marvel-adoring boyfriend. Who was jealous like no other. To be fair, I told him I would decline and wait to see it with him if he asked me to. He didn't.
Instead, I had to promise to keep all the excitement to myself. Until now. (Of course, after the slew of questions, pokes and prods from Brian, I revealed quite a few little tidbits of information. Whatever.)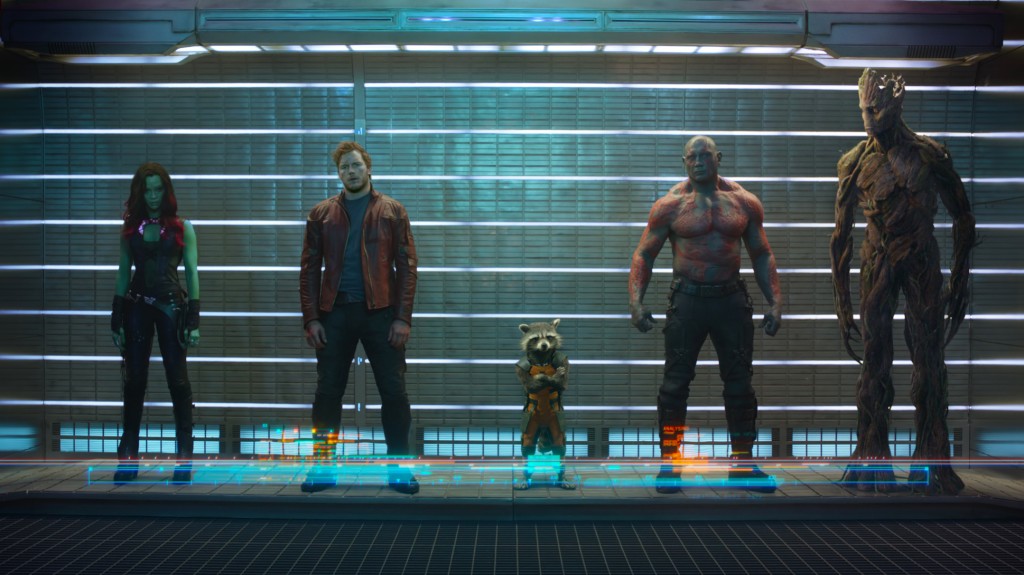 Look at those outlaws. Don't they look like a bunch of A-holes? Because they totally are. Of course, I like to think that A stands for awesome, but that's just me.
Guardians of the Galaxy Review
Guardians of the Galaxy brings us back into the Marvel universe head first with an unlikely hero, the self-dubbed legendary outlaw Star Lord (Chris Pratt *swoon*) who attempts to steal a very precious relic from a space cave somewhere in the 'verse (Oops. Wrong nerd reference. Gearing up for Gen Con hard core over here.) Of course, he's not the only one vying for a piece of the action, and finds himself in space prison with a few other infamous characters.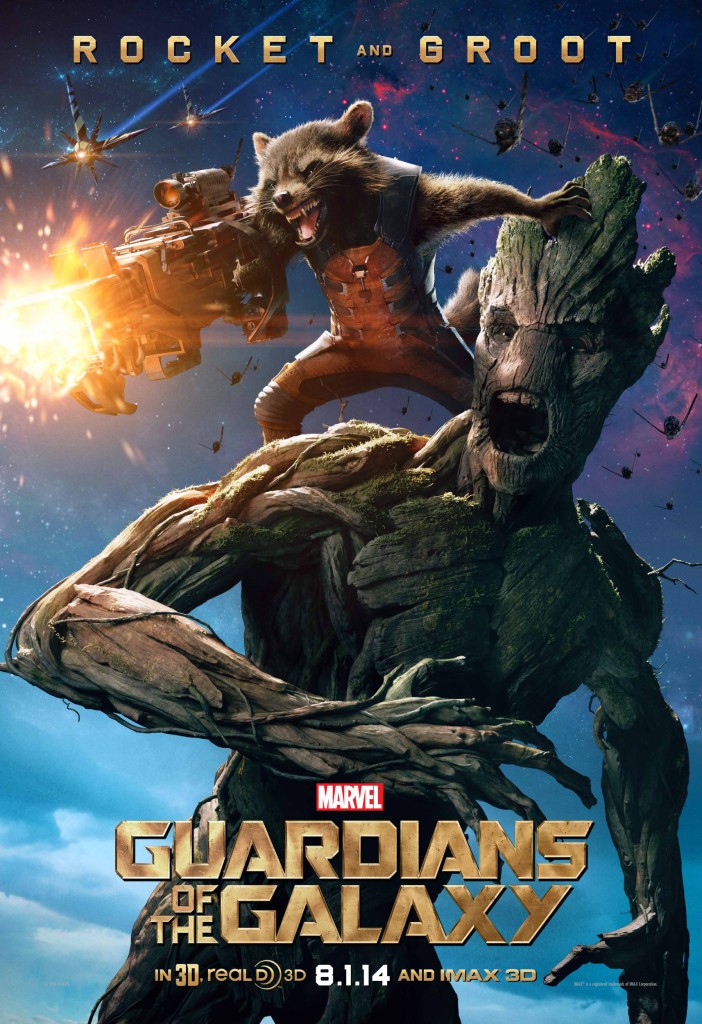 Rocket (voiced by Bradley Cooper) and Groot (voiced by Vin Diesel) take teamwork to a whole new level with their verbal/nonverbal communication and friendship. I figured Rocket, the talking raccoon would be the be-all-end-all of comic relief, but I was surprised and impressed that the entire ensemble held their own with humor. Groot, the tree/muscle/amazing-being-with-ridiculous-resilience being, captured my heart from beginning to end.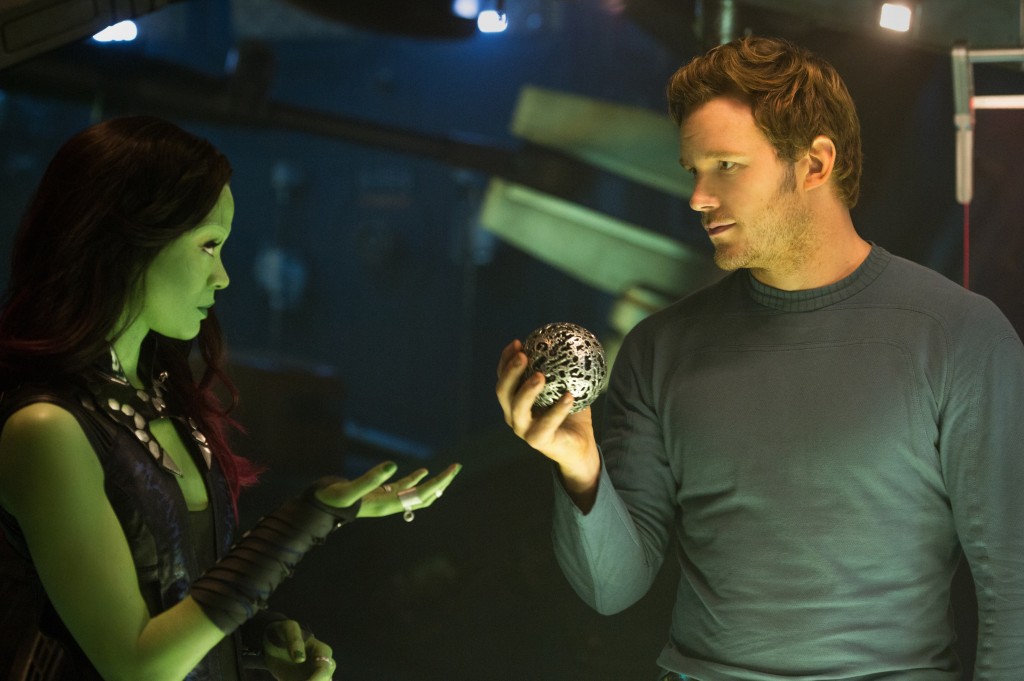 Gamora (Zoe Saldana), a genetically engineered being created as a weapon kicks major butt in this flick, taking on the most serious role in the movie with the least comic relief. Drax (Dave Bautista), the most serious character, takes everything literally, leaving room for plenty of jokes about sarcasm and sass.
From outlaws to heroes, the guardians work together to save a planet, and probably the entire universe from the dangerous infinity stone. Star Lord leads this ragtag band of heroes on the search for wealth, revenge and escape.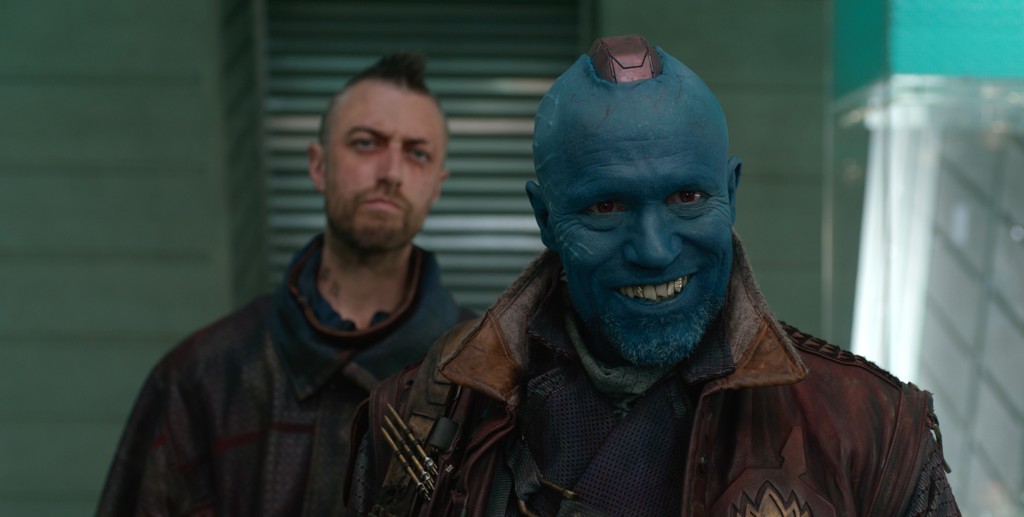 The rest of the cast is equally fantastic with Michael Rooker (anyone remember when The Walking Dead was cool?) as the morally gray Yondu, Karen Gillan (Whovian girl crush!) as the wickedly vicious Nebula, John C. Reilly as Corpsman Dey, Glenn Close as Nova Prime, Benicio Del Toro as The Collector, and Lee Pace as Ronan.
I laughed, I cried (I know, right?), and I sat on the edge of my seat (I'm lying-I comfortably sprawled across two seats) for the entire movie. The pop culture references were stellar. The soundtrack was amazing (Can someone PLEASE make me an Awesome Mix?). I saw it in 3D, but I suspect it will be just as delightful when I see in in regular 2D.
I really loved it. I thought it was light and fun with just enough action to make my boyfriend want to see it again. (Even though he hasn't seen it once yet. Whatever.)
Verdict? Go see Marvel's Guardians of the Galaxy. You won't be disappointed. Unless you hate nerds. And nerd movies. And nerd references. At which point I will call you Ogre. Because I know you'll come around eventually.
Guardians of the Galaxy
Release Date: August 1, 2014
Run Time: 122 minutes
Rating: PG-13
Are you planning on checking out Guardians of the Galaxy? What's your favorite Marvel movie so far? If you're not down with the Marvel universe, what movies are you looking forward to this month?
Disclaimer: No one paid me to say nice things. I'm also planning on seeing this flick again tonight on my own (OK, fine on my boyfriend's) dime. All images were used with permission from Disney and Marvel Studios.