Being at home this week has been…interesting. I've been working hard on finishing stuff up for school and run a couple of obligatory errands, but mostly I'm home alone. I've forced myself to shower, but other than that, grooming and regular maintenance have been…lacking. I even skipped out of cap and gown pictures with a fancy college backdrop because I hadn't washed my hair or put on makeup.
This morning, as I returned home from driving Brian to the train like a good little housewife, I realized that I needed to collect the 27 thousand cardboard boxes that the wind was whisking down the street. Brian had placed the garbage can on top of said boxes to "secure" them, but the can just fell over. Luckily, it was packed with styrofoam from our new TV and not much fell out. So I meandered down the driveway wearing my boyfriend's long sleeve grey t-shirt, a bright purple pencil skirt and black faux patent leather flats. I was not wearing pants to cover my wooly mammoth calves, nor was I wearing a bra. I was pretty much the epitome of the Polish war bride look, as my dad would say.
My original plans (and the reason for my ridiculous ensemble) were to roll out of bed, get in the car inside the garage, drive Brian to the train, get out of the car inside the garage and go back to bed. But life never works out the way you plan. Even quick morning jaunts to the train station.
As I walked down the driveway, I took stock of my outfit as several cars drove past, and I mentally flipped them off for judging me. I don't normally dress like this! And then I thought for a minute…oh…wait…STOP JUDGING ME.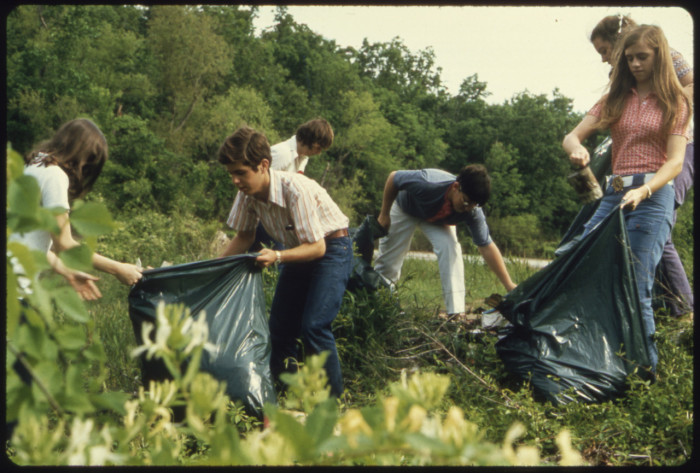 So there I was, running up and down the block bending over to pick up cardboard boxes with a wonky back, a crazy outfit, and quite possibly rocking the commando thing, worrying about what my neighbors would think of me if any of them happened to look out their windows…when the garbage truck pulled up.
I shouldn't have been surprised. I mean, it was garbage day. He greeted me with a smile (or a smirk) and I started walking back toward the house. He called to me, and said, "You may want to bring these cans in now [so they don't blow away]." And so there I was, dressed for success, making polite conversation about the weather with the garbage man as he dumped two weeks worth of trash into the bin. Bloody spider webs, stinky food, lady things…you get the picture. It was awkward. I watched him pull the garbage stickers and throw them in the bins before dumping each bin. I thought about asking for his name; I thought about leaving him a tip at Christmas like my parents do. I thought about a lot of random things as this very pleasant man with the radio blaring from the inside of the truck trashed my trash. Instead, I thanked him each time he handed me a can, and I made my way back up the driveway. Thankful that if I wasn't wearing pants, at least I had a fur lining.
Do you randomly throw on clothes from your clothes pile in the morning? What's the strangest outfit you've left the house in? How do you handle awkward conversations?