I decided that I'd make breakfast for you since it's kind of my thing. And with St. Patrick's Day, I had a corned beef from the Irish deli just waiting to be used. This recipe is SUPER easy, so get ready for it.
Corned Beef Hash
Ingredients
1 thick slice of corned beef (simmered the night before)
5 canned whole potatoes (cooked in the corned beef pot)
a pinch of onion powder
a pinch of thyme
a pinch of salt
1/2 Tbs Kerry Gold Irish Butter with Garlic and Herbs (you can use regular butter…but why?)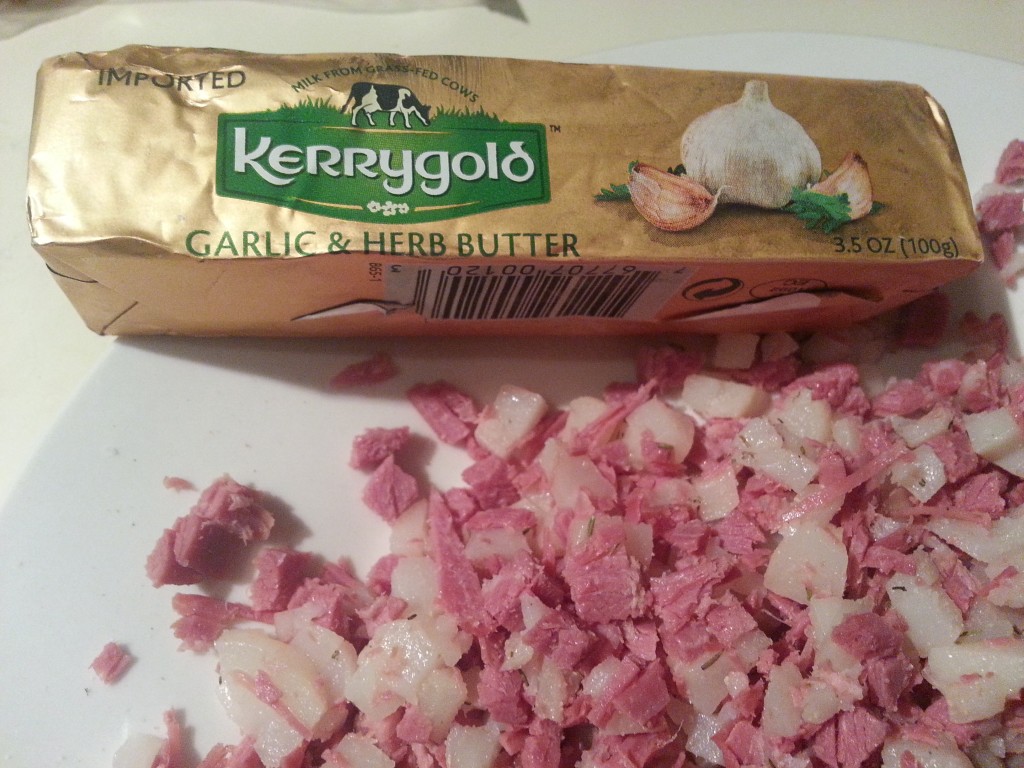 That's all.
Steps
Dice corned beef into tiny pieces
Dice potatoes into tiny pieces (they should be a little sticky)
Mix potatoes and beef together
Sprinkle seasonings and salt over mixture
Mix well
Melt butter
Add corned beef mixture
Fry until golden brown (or preferred crispness)
I walked about for about 5 minutes while the corned beef hash was frying and sizzling in the pan. You'll even see in the video that I created for you how easily everything cooked up.
Look, guys! I made you a video! You're welcome.
I received this Ozeri Green Frying Pan for free to give my honest opinion, and here it is: It worked pretty well for the first couple of months, but it didn't last very long. And personally, I think that a pan should last a very long time. As of February 2021, I've been using the same non-stick pans from Calphalon (the Signature collection) and All-Clad (I opted for this All-Clad griddle instead of the Calphalon one because it was square, which fits more bacon) since mid-2016 (we registered for them for our wedding), and they're still kicking. So if you're looking for a great pan, I'd recommend Calphalon and/or All-Clad 100 times over.
Blog Friends, do you have a love of corned beef hash? Or breakfast in general?