Yes, yes…Denny's occasionally sends me gift cards to test out their tasty treats, but if I wasn't a fan, I wouldn't say yes. So, just because I got to enjoy the following breakfast sandwich at no-cost to me, doesn't mean I don't go there on my own. Because I do.
Dear Denny's,
Thank you so much for creating a most-delicious breakfast sandwich. I feel like you can read my mind. It's like you KNOW how much I love breakfast. And breakfast sandwiches, in particular. And a good deal on top of that! Even more so, I feel that you're really trying to be innovative with your breakfast options. You accommodate the foodies with unique ideas and flavorful combinations. You accommodate the breakfast traditionalists. And most importantly for this girl right now, you accommodate the healthy eaters.
Just because I'm starting a healthy-ish eating plan today doesn't mean I intend to banish dining out from my routine. Nor does it mean that I can't indulge in a breakfast sandwich every now and then. But if I can enjoy a healthy alternative that doesn't make me FEEL like I'm giving anything up? Awesome. That's where you come in, Denny's. Because your new fit fare breakfast sandwich? To die for.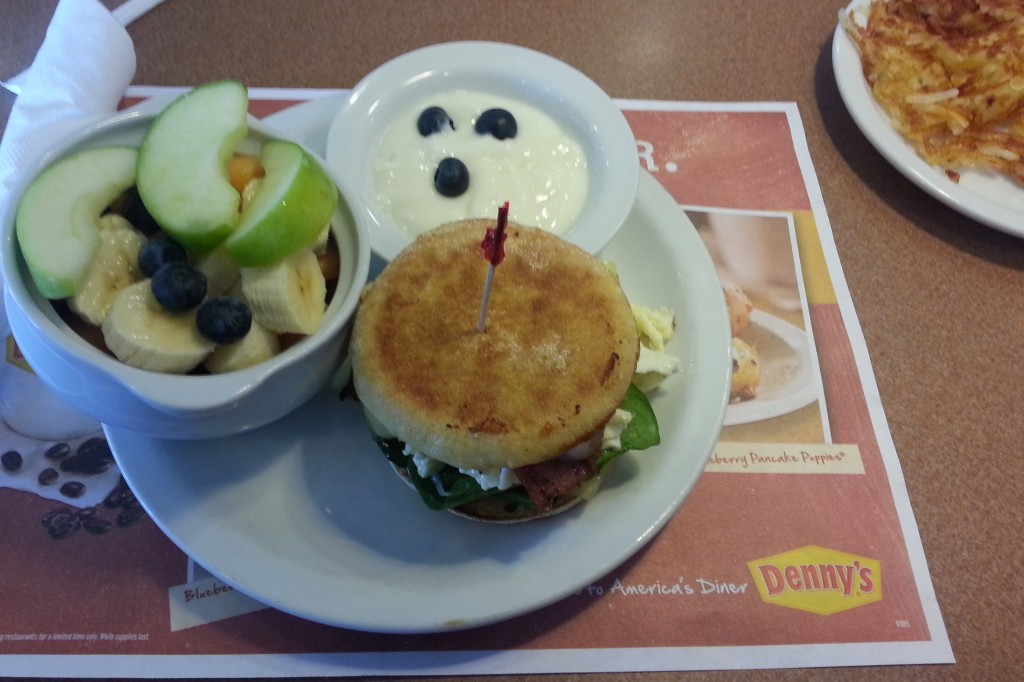 Now if I was rolling on a budget, and didn't want the healthy fruit and yogurt side, I could also have gotten a sandwich and hashbrowns for $4. Um, tastier than fast food with higher quality ingredients and…wait for it…cheaper?!
Sold.
Denny's you're getting better every day.
I look forward to more delicious adventures with you in the very near future,
Sincerely,
Me.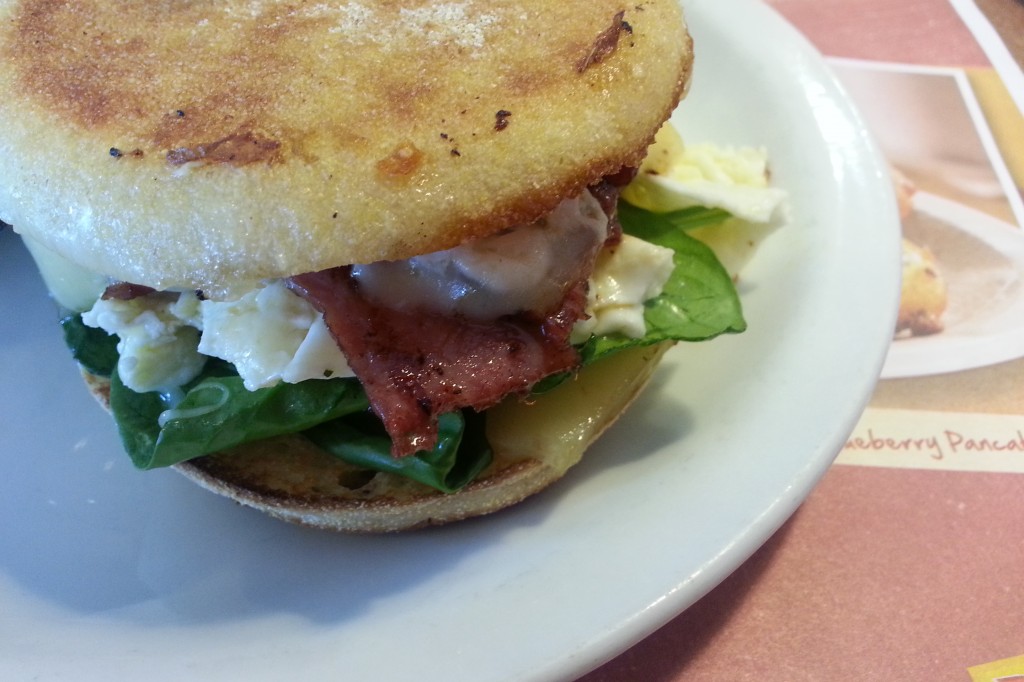 Of course, for those of you who aren't trying to eat healthy and don't want a breakfast sandwich loaded with egg whites, turkey bacon, spinach, tomatoes and pepper jack cheese, you can get a deliciously loaded meaty-cheesy-eggy sandwich instead. Either way, you'll be pleased. I was.
Blog friends, do you have favorite breakfast combinations? Comfort food for the morning soul? Keep the conversation going on Twitter with @DennysDiner