So I know I promised months ago that I'd tell you about our housewarming party, but then LIFE happened…and the housewarming party came and went…and definitely got put on the back burner. But here it is in all it's gaming glory.
I wanted to throw a game-themed party. And actually I wanted to get crazy into it with a different game theme in every room and people playing games everywhere. I had HUGE plans. I was going to set up a whole CLUE scenario. I was going to have little Jenga pieces for everyone to put house tips on. I was going to make cute little favors for everyone. But, as many of you already know…shit doesn't happen the way we plan it. We closed on our house on October 15. We moved on October 25. And we threw the housewarming party on November 15. We're lucky the house was clean and there was food to eat.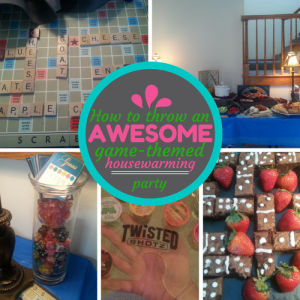 Part of the quick turnaround was because I NEEDED to have an organized, put-together house in order to survive. I would have gone bonkers if we were living amidst boxes and bags that hadn't been opened and organized. (There are still a few of those, but not many…and none of mine). Part of the quick turnaround was the timing. If it was around Christmastime, I would have had to have Christmas up and running perfectly…and then we were hosting Christmas dinner and it would have been a disaster of too many parties in quick succession. If it were after Christmastime…well let's just say we're still recovering and Christmas is still lingering in unseen areas of our home.
ANYWAYS. So we threw a party. Pretty quickly. And had about 65 people show up throughout the day (while expecting about 35-40!). We opened our house up to guests from noon until whenever (which ended up being around midnight), and ran ourselves ragged with tours and food replenishing and beverage duty. We had some wins and we had some fails, but all in all it was a total success.
While no one really played games, the theme was pretty evident throughout the house.
How to throw a game-themed housewarming party (without killing yourself or your partner)
Decor
Set up an AWESOME food display in an open area, where people can grab food, mill around and start one of the bazillion tours you're about to give.If you don't have a lot of decorations elsewhere, that's okay (YOUR NEW HOUSE is the decoration that everyone's dying to see). I was a caterer in another life, so the buffet set up can be super baller if you know how to use levels and fluff the hell out of tablecloths or fabric. (I use milk crates and similar containers to create my levels). Because I have so many Scrabble boards and pieces from my wanna-be-a-crafter box (and that one time I made Scrabble Christmas ornaments for everyone), I thought that using them on my buffet would be a hit! I labeled all the food with tiles (and even used the board to get all the ingredients for my Blue Cheese and Date Spread on Endive. I also pulled a few more game boards and pieces for good measure, adding just the right amount of nerdy gameyness.

Food
Choose food that is SUPER easy to make and replenish. I'm a big fan of Crock Pot apps and snacks, so I went with BBQ weenies and buffalo chicken dip. I actually had another Crock Pot in the kitchen with more buffalo chicken dip for easy replenishment. My mom made several deli platters for sandwiches and it was cold enough that we could keep the reserves outside.Obviously there was a cheese platter. I like to to a lot of fan faves and choose one crazy concoction that I hope works out (that would be the blue cheese and date spread – which worked out). I made ALL of the food the night before, so the day of I could focus on the insanity of hiding all our crap in boxes and corners and shit.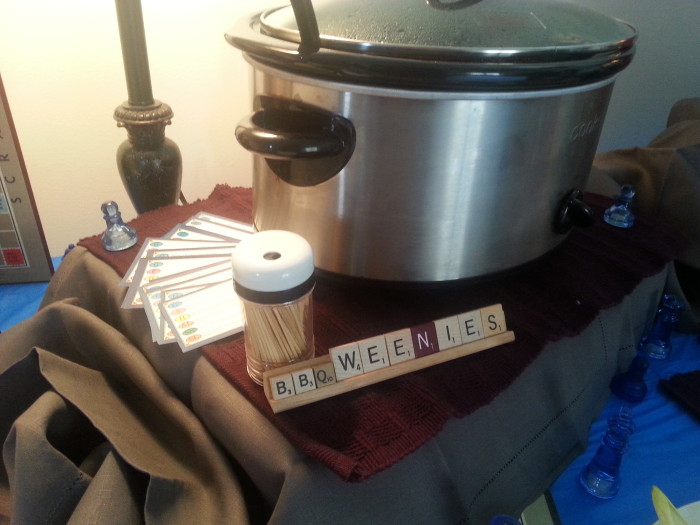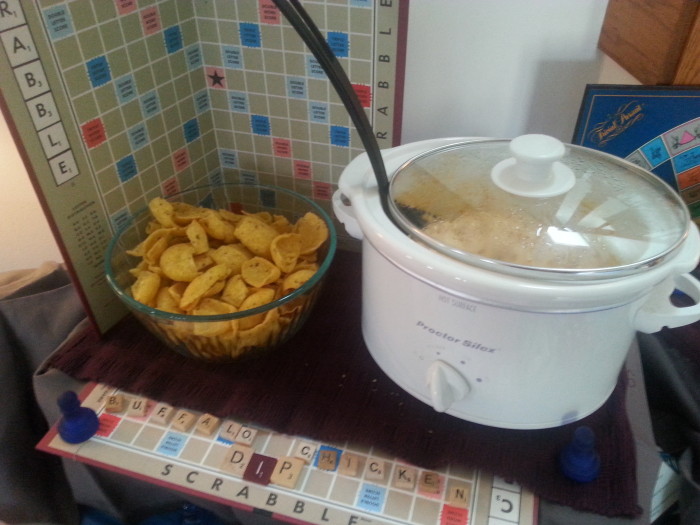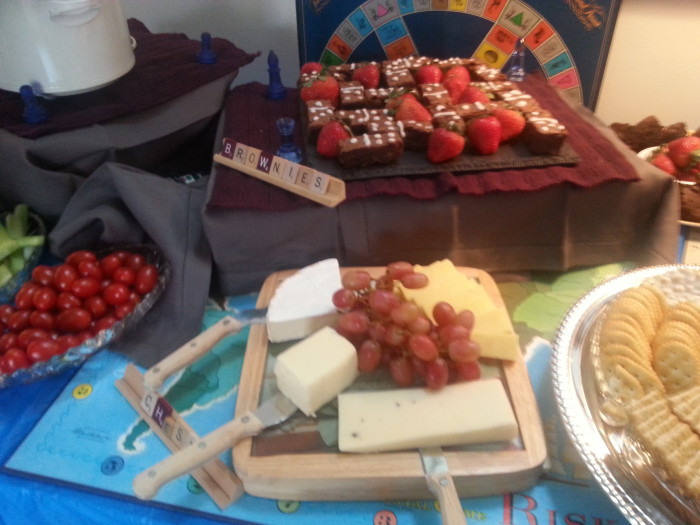 Dessert
I REALLY wanted to make domino brownies. And I REALLY didn't want to do a lot of baking. So I baked chocolate chip cookie bars and gluten-free brownies (both from mixes, homies) and picked up a giant brownie cake thing from Sam's Club. I sliced the brownie in Domino-size pieces and dotted them with frosting. And it fucking worked.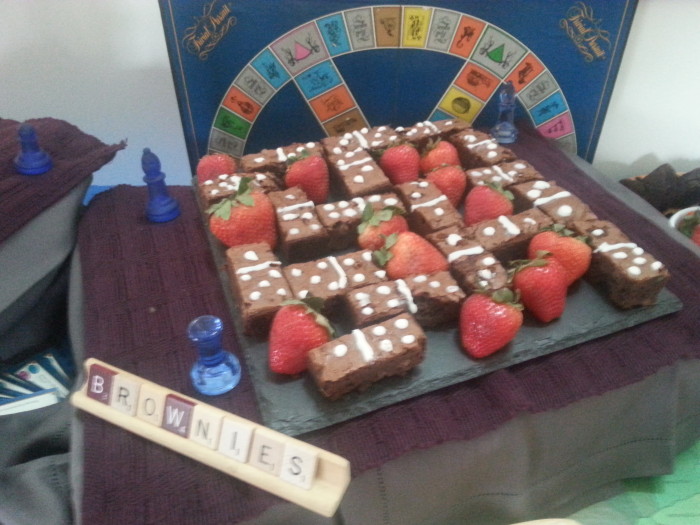 Drinks
We had wine galore. We had beer. We had the soda stream. We had two Keurigs. And we had some epic fails in forgetting to get bottled water and cans of pop. Not realizing just how many people would come, we thought that we'd be fine with soda stream and filtered water from the fridge… Go buy cans of pop and bottled water. Save yourself. Seriously.
Oh. And get these shots – which were a HUGE hit.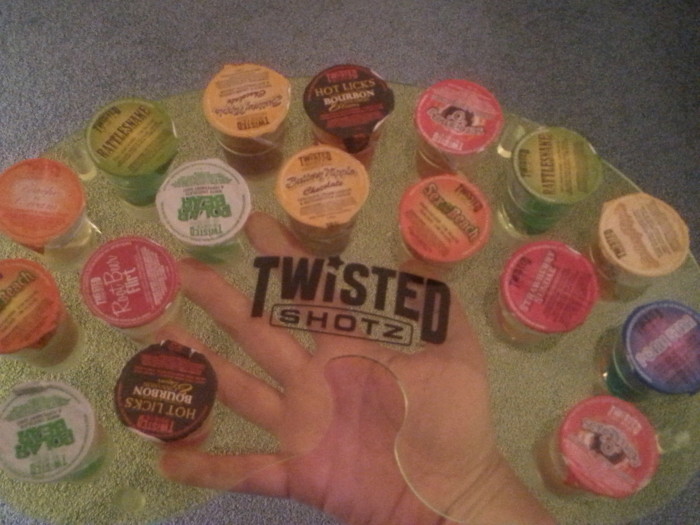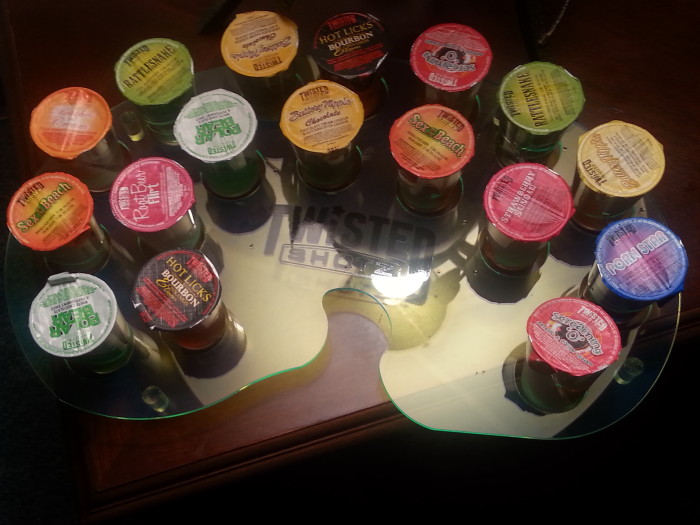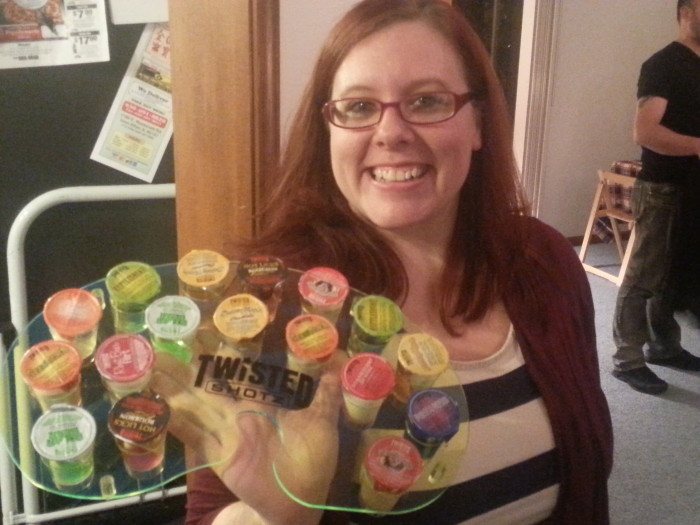 I discovered Twisted Shots while at BlogHer in San Jose last summer. They actually sent me a lovely little box of these delicious treats for my housewarming party! After 7, I figured it was time to get the party going (and most of the touring had ended), so I brought out the shots. I played server and convinced almost everyone to try a shot or two. With flavors like Sex on the Beach, Buttery Nipple and Porn Star, you know you've got a good thing going. Almost everyone was down with these sugary sweet twisted shots full of colorful booze that tasted mostly like candy. Even my whiskey-loving friends found a few shots that were right up their alleys.
Tours
Plan on basically spending the majority of the time touring and put someone else in charge of food and beverages once the party starts. Even if there are two of you, you'll be switching off with the tours on a pretty serious cadence…and I think there were a few moments when we ran out of food. But I don't know for sure because I was racing all over and mingling and busy and reveling and all of the things! (Yes, that sentence is supposed to give you anxiety.)
In the end, though, all you really want is for the people you love to come over and eat your food, drink your booze, and tell you that your house is pretty. And that's what happened. I heard all sorts of positive things in regards to our first event in the new place (and then we hosted Second Thanksgiving…and then we hosted Christmas. So there was that.)
Blog friends, tell me about your party throwing experiences? What have you learned? What have you done well? What would you have done for a game-themed party?