I never PLANNED to get an Elf on the Shelf. In fact, the first I ever heard of the damn thing was when a co-worker told me about Jen Mann from People I Want to Punch in the Throat being a hilarious mom blogger who wrote about the Elf on the Shelf. Until then, I was blissfully unaware.
After that point, I jumped into the elf judgement. The elf hatred. The oh-my-god-really-Santa-isn't-good-enough-for-you-people judgy judgy bullshit. I swore I'd never get one. I planned a life without an elf. Even if tiny humans were to happen upon my world, it would be tough cookies for the kids, because their elf was still secretly hidden (and never coming out to spy visibly.) I was down with this plan. Until I wasn't.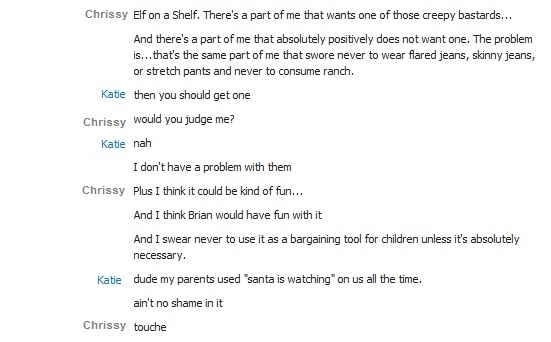 I still think the elf is SUPER creepy. But I kept thinking of all the fun I could have with the elf.
And so a few weeks ago, I went out and bought one. And then I took her home and put her on a shelf. And I thought about names for her… I wanted someone strong, and maybe a little sassy. So I came up with a little list of possible names for her.
Name ideas for your girl elf on the shelf
Elizabelf Bennet. She won't settle for less than love.
Princess Elfsa. She can build ice castles in her sleep.
Britnelf Spears. She's stronger than yesterday…and she'll probably do it again.
Katniss Elferdeen. She fights hard, and she's not afraid to say no.
Jennifer Lawrelf. She might fall down a lot, but she'll laugh with you about it.
Hillary Clintelf. Because she gets more flack than she deserves. And she's a pretty strong lady.
Meredelf Grey. She's stronger than she thinks, and she can really hold her tequila. Sold to the tequila drinking doctor with mommy issues who's bad with sisters.
When I brought her out for the holidays, she BEGGED me to take her Black Friday shopping at the liquor store. She said tequila was on sale, and she just HAD to get a bottle. While I shopped for wine and whiskey, Meredelf scampered off to another aisle. I found her in the tequila aisle swooning.
I really had to drag her away from the booze, but we made it home safely, and sober. She was practically pleading with me to buy it. Unfortunately, I tapped my budget with other shit. I think she's going to take it out on me. I've heard she's really good at holding grudges.
Do you have an elf on the shelf? What did you name her (or him)? If you don't have one, what would you name your elf?