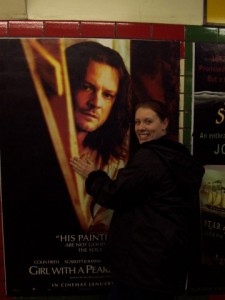 The majority of my adult life has been spent divided between living each day to tell a story the next, searching for the Mark Darcy to my Bridget Jones, and imagining all of the glorious things that happen once Bridget and Mark live happily ever after. Especially once I finally did meet my Mark Darcy AKA Mr. Darcy AKA Prince Charming (Brian). And started imagining our happily ever after…(Shhh don't tell Brian!)
Oh stop judging me. You have a romantic hero too. (If it's Bella Swan, we can't be friends…OK, maybe. But you know what I mean.)
Mark Darcy is Mr. Darcy. Mr. Darcy is essentially…Prince Charming.
He's the dream hero. He's the romantic idol. He's what every girl imagines her future love to be.
You want a guy to look at you the way Mark looked at Bridget. You want a guy to tell you that he likes you. Just as you are.
Lucky for me, I found that guy. Sure, he looks at me all funny like when I start hyperventilating over that fact that an author killed my novelized dream man, but most of the time, he looks at me with affection. And love.
But you know what? We've got a life ahead of us. And Bridget and Mark? They had a life, too. And Helen Fielding was too fucking lazy to write it. Instead, she took the easy way out. She wrote what she knew. Left broken-hearted with her own two children by her baby daddy in 2009, she started penning a book in which Bridge was a single mother of two.
We never got to see her happy ending, but we imagined it. We ALL did. Every last Bridget advocate. Bridget and Mark with one pair of folded underpants at the foot of the bed and the other pair swinging from the ceiling fan. The lovable disaster and the brilliant, full-of-heart, perfect opposite love of her life.
So I'm angry. And I KNOW I'm not the only one.
Because what Helen Fielding did was wrong.
She killed Prince Charming. She fucking. Killed. Prince. Charming.
Before his story was even written!
Did we see a wedding? No. Did we see the marriage? No. Did we see them become parents? Nope. Because Helen Fielding apparently doesn't know how to write happy.
Will I read this abomination? Fuck no. Because it's wrong. It's like…LITERARY BLASPHEMY.
And BTW. While I'm on the angry subject. KATIE…we're fighting. I can't believe you couldn't tell me this. You're a BOOK BLOGGER! You HAD to know about this! And I had to read it on the internet. We named our scheffleras Bridget and Shazzer together! OK. Fine. I still love you. But I'm broken. Because of Helen Fielding.
Blog Friends, are you ex-Bridget fans too? Do you hate on Helen Fielding for her cruel and unusual punishment? I've created the hash tag: #YouDONTKillPrinceCharming if you'd like to sound off about this too. I'm ANGRY. And I'm LOUD.
If you're not into the Bridget thing, have you ever been truly bothered by the outcome of a series?