A few years ago, my best friend, Mark (you know, the one whose car I stole?), was forced to spend a great deal of time in China and Australia for work. My friend, the world traveler. So the first time he left for China, I would pick up his mail, pay a few bills (with the checks that he had left), and I also made it my business to clean his apartment–including the bathroom (which was guy-living-alone-in-apartment-gross).
One hot summer day, I went over there to drop the mail and survey the apt…I noticed a great deal of strange little black specks that weren't there before…specs that, I could only hope were something or other from the maintenance guy who came out during the week. Upon further inspection, I realized that it was rodent poop.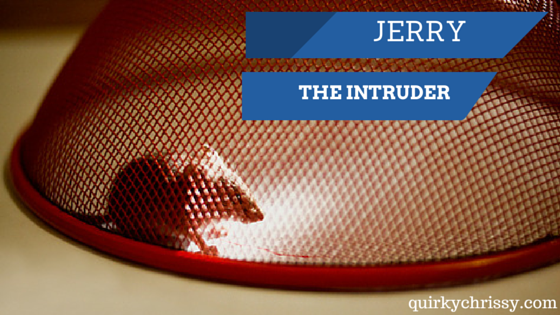 So, being the good friend that I was, I cleaned the counters, the stove, the floor, and the sink. I did a thorough inspection of the apartment, and found more mouse poop on top of the fridge, inside drawers and cabinets, and in the laundry room. I made sure that there was no open food anywhere for the little punk to procure. The mouse, whom I affectionately named Jerry, had not yet ventured beyond the realm of the small galley kitchen, so this didn't take more than an hour. For the time being, it was handled.
I realized that this situation may have been worse than the family of mice who decided that taking up residence in my car's engine was a good idea. (Oh yes, one morning after the discovery of a dead battery, I opened the hood of my car to discover a charred mouse atop my engine.)
The next time Mark went away, I moved in. After the first poop sighting, I thought taking up residence each time Mark was away was the smart thing to do. I knew to clean up any mess that was made and to keep all food out of sight. This was great for many reasons, the biggest of which was that I lived with my parents and Mark did not. So it was almost like I had my own apartment for a few weeks at a time. It just happened to be an apartment with an unwanted roommate.
I considered bringing my cat over to Mark's apartment…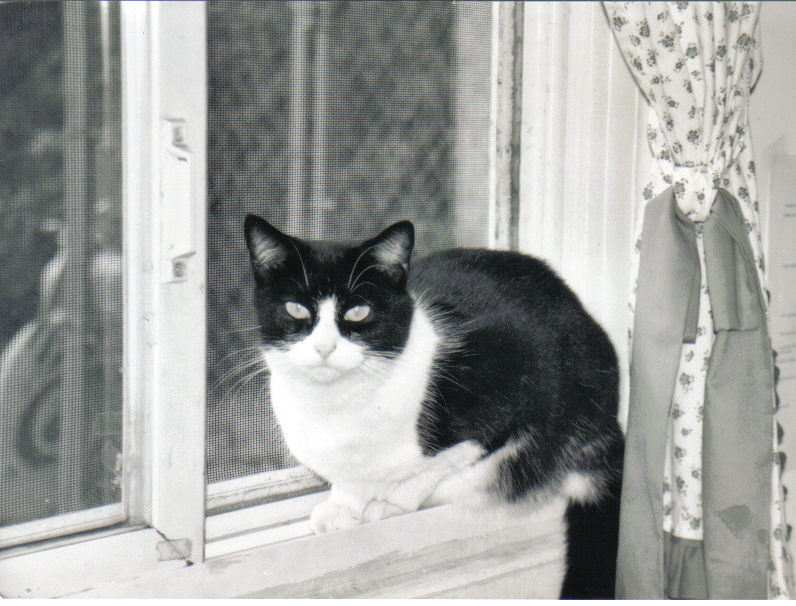 After a few more months of my arch enemy, who was in fact little bigger than my nose, setting up shop in my faux apartment while Mark gallivanted around the globe, I was getting used to the idea of having a tiny roommate in this small space.
Of course, I still despised the thought of sharing space with an icky rodent that could be carrying god only knows what diseases. I didn't want to deal with creepy crawlies, and definitely didn't want to deal with mice.
But it was funny… him turned out to be kinda cute when I eventually met him…My heart was racing from the obnoxious screaming that ensued the day I met Jerry, the damn mouse. The little bastard was in the living room. It was strange…I saw something out of the corner of my eye, and I first thought it was something in the air, like a fly…and I thought to myself, Da fuck? But when it happened again, I realized that it was the evil mouse.
Jerry.
We stared at each other briefly before I screamed, and he ran back to the living room. I jumped on the dining room chair. I stood there, scanning my surroundings in a militaryesque stance, looking for Jerry, wherever he might have been hiding… And then I saw him…cowering like a little mouse under the couch…and I thought to myself…Awww you're cute. I still want to kill you (but not really kill you because that's horrible)…but you're cute.
He reminded me of Axl Rose, our first gerbil. And so I thought, I can't kill this cute little thing…so I let him quickly scamper back to the kitchen…while I was safely on my chair…I watched him from my chair for a few minutes, as he tried to peek out at me from under the dishwasher. I yelled, "Don't even think about it," and Jerry listened. He shuffled back underneath, and I never saw him again.
What experiences have you had with rodent intruders in your home? Any terrifying tales of other taunting creatures?