I loved Jellie Bean for a grand total of five weeks. We had a brief courtship. I met her online in the very beginning of January 2011, and it was love at first sight.
Sort of.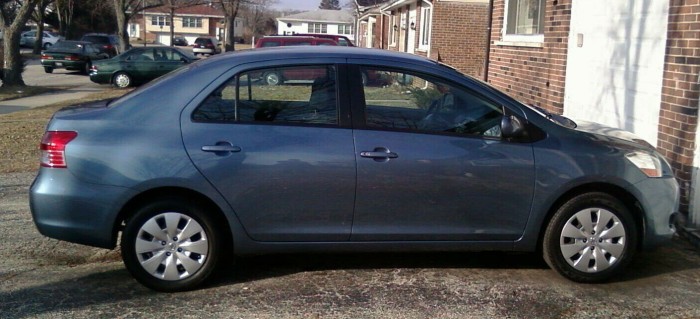 Dawn, my '98 Pontiac Sunfire, died suddenly on New Year's Day, after our 5-year relationship, and I was in need of a new car. Jellie Bean was cute and sweet, though hard to compare to Dawn, the car that was named based on the frequency with which she saw the first light of the morning while on her way home from the bar (or a cute boy's house).
Jellie Bean was a fresh start. An adult car. She wasn't sexy or a bold hue of teal; she was reliable and an unobtrusive shade of Pacific blue.  She wasn't going to draw the unwanted attention of police officers looking to ticket a little speed racer. Because I wasn't a speed racer anymore. She wasn't going to get into accidents. Only two years old, with 30,000 miles on her, she was the newest car I had ever owned. I loved her.
I test drove Jellie Bean and purchased her on January 3, 2011, wiping a tear away as I said goodbye to Dawn in the Toyota parking lot for the last time. And Jellie Bean and I began our life together.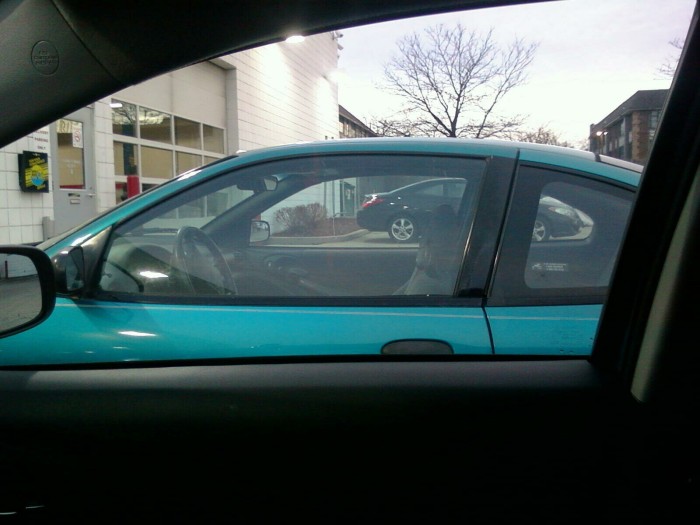 We started out hot and heavy, driving to work, shopping, meeting boys for dates, heading to the bars. We did everything together. And then, it snowed. Poor Jellie Bean was covered from head to toe in white powdery shit after Snowmageddon 2011. For two days, she was abandoned under several feet of snow. I believe it was at this point she decided to ruin everything. Yes, I'm going to go ahead and blame my vengeful car, and not my poor driving skills, for the bad luck that came with owning Jellie Bean.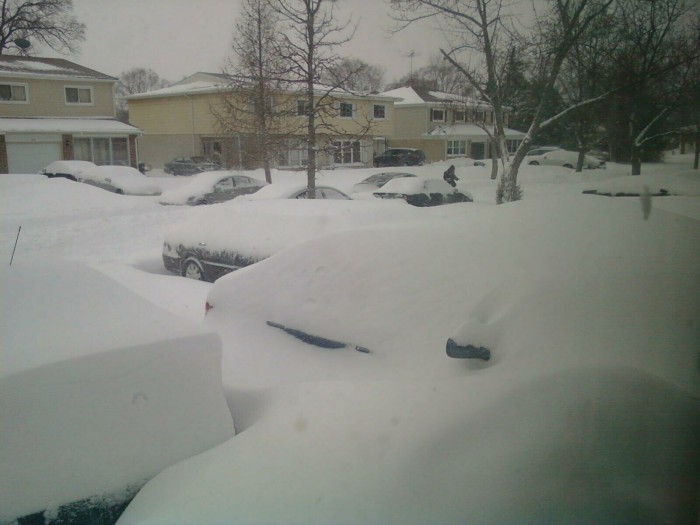 Her first accident was a few days after I rescued her from the snow. I was heading from work to a date around sundown. Driving west on a street with a 40 mph speed limit with the sun in your eyes, snow-covered roads and mountainous piles of snow doesn't exactly make for the best driving conditions, and I was far from speeding. But the guy in front of me? Came to a HARD STOP slightly over a hill to make a right turn. Jellie Bean didn't stand a chance.
After a few weeks courting a rental car, Jellie Bean was returned to me, good as new. We had a beautiful couple of months together as we got to know Brian, tried on a couple of jobs, and traveled the suburbs together.
As fall set in, and deer season rapidly approached, I never once considered my daily commute passing a deer-heavy forest. At least not until one came at me like a race horse. Poor Jellie Bean took the brunt of that mishap, as well. I had never regretted a purchase so much in my life as I did with Bad Luck Jellie Bean. She was out of control.
I took that opportunity to become intimately acquainted with Brian's car, which he so graciously offered up to me.
And so it was that Jellie Bean, upon return to me, and never as good as new after the deer kicked her ass (when I opted for the insurance-recommended body shop instead of a quality place), became our secondary car. When we moved in together, I would drive Brian's car as often as possible for fear of more unnecessary bad luck.
But nothing lasts forever. Due to a few unfortunate circumstances (namely some douchebag with bad car insurance rear ending him), Brian's car became less available to us. Since moving into our new house, Jellie Bean has been our primary car.
Well.
Was.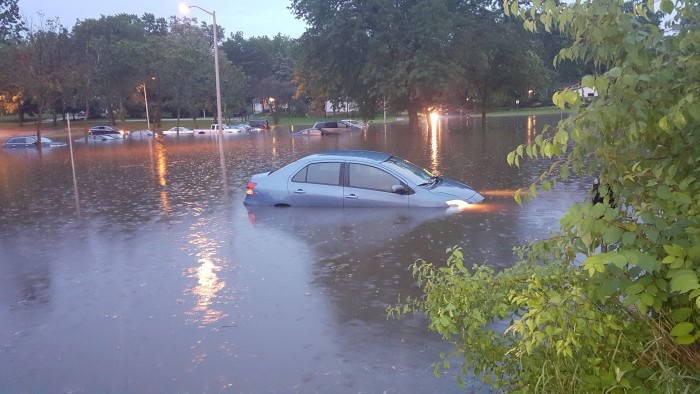 A few weeks ago, Chicago had a bit of a rain shit show. You may have seen pictures of my car. Poor Jellie Bean was drowned in a rain-sewer-made lake on June 15, 2015.
I cried a little for her then. And I've cried several times about it. Because I'm an emotional wreck most of the time. And while she was full of bad luck, I had just paid her off in February. We had years left before she was supposed to leave me. I was also really fucking pissed. I was pissed at the village I live it. I was pissed at the rain. I was even pissed at that stupid fucking car for letting it happen.
I was especially pissed at whoever thought to wrap caution tape around my driver's side mirror, because couldn't someone come in and tow all that shit before the water rose to the point of destroying my fucking car?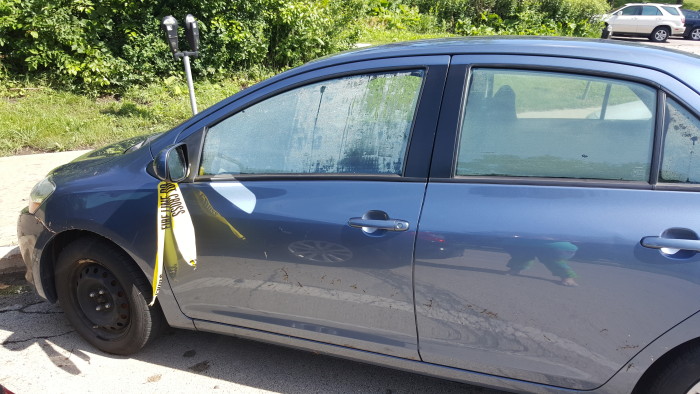 I said goodbye to Jellie Bean a few days after they declared her a total loss. My lovely little Yaris. I had to wear a mask and gloves just to open the door because she was so toxic and poisoned inside. I cried again, hoping it was for the last time, but her I am now, with tears on my keyboard, pining for a car I must have loved the whole time, regardless of how unlucky she was. She was mine. And she was paid for. A year early.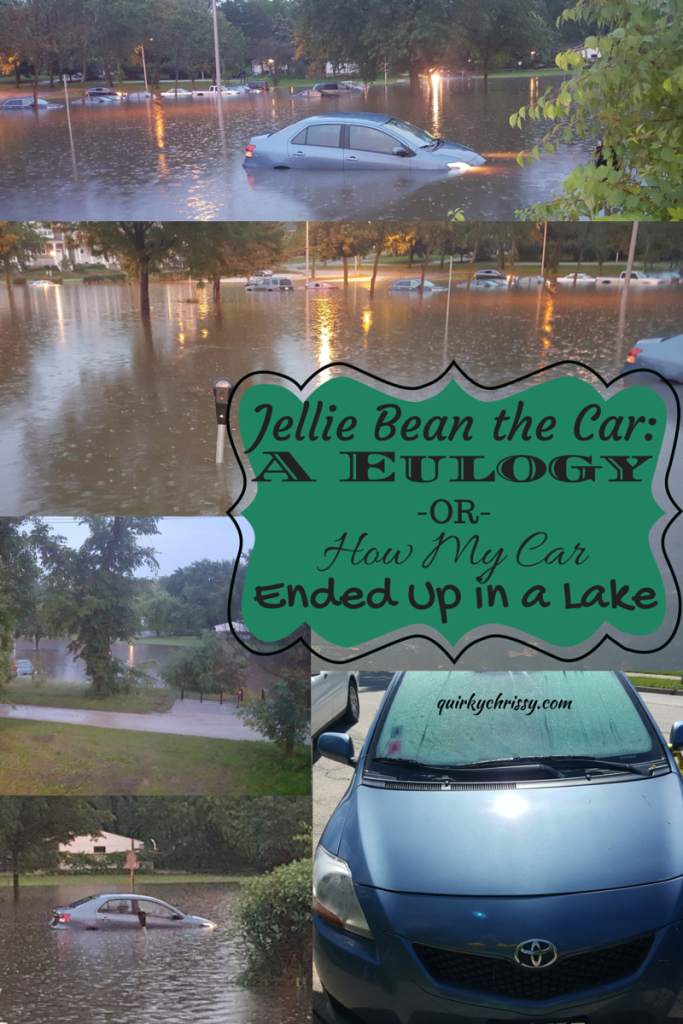 It felt fitting that I said goodbye in that same Toyota lot I met her in. And strangely coincidental that a few weeks after meeting Jellie Bean, she was covered in several feet of snow and a few weeks before our final goodbye, she was covered in several feet of water.
Goodbye Ms. Jellie Bean. You will be missed. You were loved. And I hope it was one hell of a ride while it lasted.
Do you name your cars? How do you feel when you have to say goodbye to a car? Have you ever experienced horrific flooding?