I tried my best to go into this movie with minimal expectations because that often gives me room to enjoy something without trying to live up to a hype I've created in my head. I loved Frozen when it first came out. I still enjoy Frozen, but it wasn't enough to overtake any of my favorite movies of the past the way Moana eventually did. So I tried to keep my thoughts and excitement in check. I still managed to set a few expectations that I'm thankful were shattered in the best way possible. I promise to keep this as spoiler-free as possible because there is a lot of magic to behold in the unknown.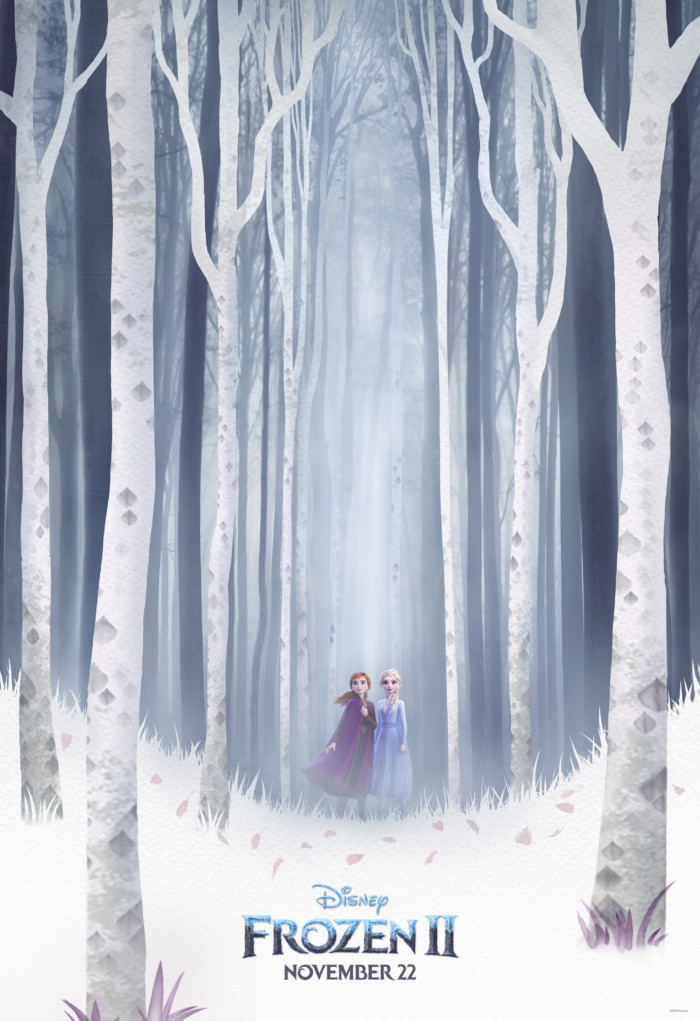 The story is unexpected and new, albeit still a little predictable as a 36-year-old life-long Disney lover. But not everything was predictable. There is a major event near the end of the film that felt SO RIGHT, but came SO UNEXPECTED. Disney storytelling truly hit this one out of the park. The movie weaves some seriously dark and emotional scenes with laugh-out-loud comic relief so seamlessly that you may be crying one minute and bellowing the next, completely engrossing yourself in this adventure.
Sven and his reindeer friends get a little more spotlight that I'm here for, as he's one of my favorites from the original movie. And Kristoff is charming and adorable as ever. Both of the sisters travel on their own journeys of discovery, and they are beautiful and emotional as ever.
The inclusion of the elements was something Brian was super interested in seeing, particularly in how they handled the lore behind the elements, and he was impressed. While they didn't seem to pull each elemental representation from the same lore, they did use fitting mascots for each of the elements. My personal favorite is the fire salamander, who I will love forever. *lick*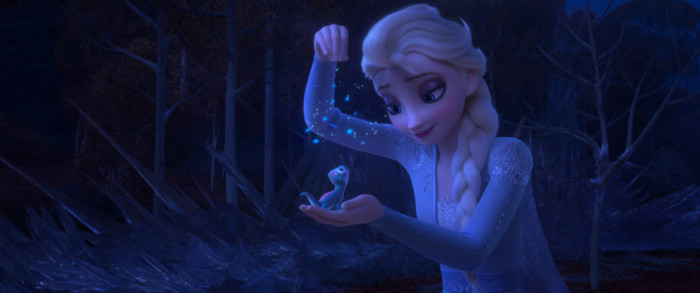 The music was incredible. I also believe this soundtrack to be superior to the first, though much different. I have been playing Into the Unknown on a constant loop in my head. It's beautiful and powerful. Kristoff and Sven have an EPIC song, and I literally could not stop laughing through the entire thing. And the lullaby from the queen is hauntingly beautiful.
Easter Eggs and Extras
You know I love catching a cameo easter egg, so make sure you're paying attention to Anna and Elsa's ice dolls in the very beginning or you might miss Baymax! And stay all the way to the end credits, because like the first movie, Frozen 2 has one, well, too!
Frozen 2 was an absolute delight. I can't wait to see it again. We saw it in 2D IMAX the first time, and we'll likely go see it again in 3D, because some of the imagery is so stunning, I'm dying to see what they can do with it in 3D. That being said, there are some scenes that were a bit dizzying, even in 2D, so be cautious if you are easily affected by 3D movies.