Welcome to this week's edition of Monday Memories to Make You Laugh! Today, we're using a quote prompt instead of an idea.
"I don't want to repeat my innocence. I want the pleasure of losing it again."
― F. Scott Fitzgerald
Innocence. When did I lose my innocence? I bet you're thinking about virginity right now…but I'm not.
I'm thinking about the time I went to the dance club, even though I wasn't supposed to and had to sneak into the house.
Or the time I went away to college and started drinking heavily.
But maybe the real downward spiral of my innocence truly was my first trip to The Big Easy.
What Happens in N'awlins…
I was 19. At a conference in New Orleans. Pre-Katrina. With more than 2,000 college kids. My fraternity brothers. (Co-ed service fraternity, thank you very much.) The week between Christmas and New Years Day. Unsupervised vacation for the first time in my life. It was glorious. Here are my top three less than innocent moments from that trip.
5. Experiencing Bourbon Street in all it's boozy glory. Now I was in my sophomore year of college, so I was no stranger to liquor…But I definitely indulged in all sorts of deliciously potent concoctions. That I got at bars. And not from older friends. Yes, blog friends, I snuck my 19 year old self into several bars, and ordered booze without being carded at others.
4.  Acquiring beads. Hear me out. This was a little unorthodox…but it happened. Instead of the traditional way of earning beads (which I may or may not have done…), my girlfriend and I set up a team effort to help our favorite shy guy out. Now, this was a guy who stayed in a room full of 4 very open ladies who believed You're a brother…you don't count…as we walked around in our underwear. And he would run to the window and stare out politely, waiting for us to cover our lady bits. So Mel ran the camera while I yelled down to the lady that our dear gentlemanly friend chose. "Hey! You! You down there with the green shirt! Show us your titties!" And then Mel would pop out from behind our pal and snap a shot with his camera. And then he gave us beads.
1. My first viewing of man bits. And then my second viewing of man bits. Yep. There were dudes just as willing to show their junk as ladies showing their tatas. And one of my newfound lady friends was ALL over that shit. And yes. I was a sophomore in college who had never seen man bits. And so, innocent little Chrissy fell down a little rabbit hole of crazy.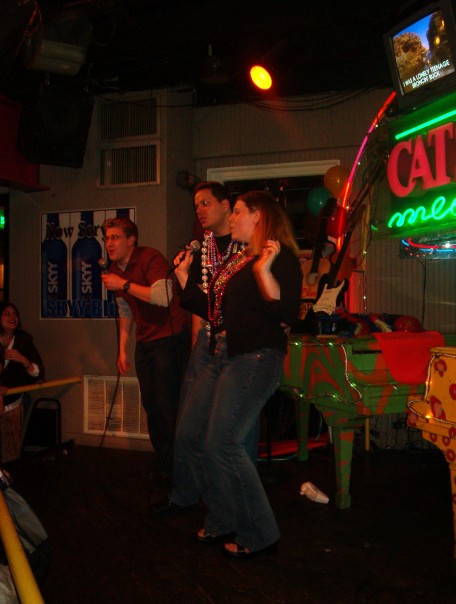 For more Monday Memories, or just because they are awesome, check out It's a Dome Life and First Time Mom and Dad.
 Tell me about a loss of innocence memory that YOU have (and no, I REALLY don't want to hear about how you, you know…lost IT…unless it's hilarious. Then you can share with the class.)