So, you already know that I'm a word ninja and a grammar Nazi. But did you also know that I'm a word magician?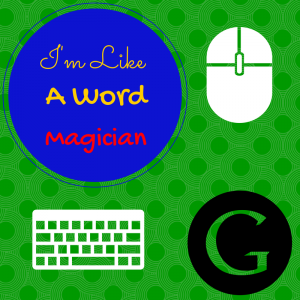 Last week, Brian and I made our way over to DreamHost's DreamCon (This is when my favorite hosting company, DreamHost <–[That's an affiliate link with a shameless plug and $10 off], threw a party for me to check out in Chicago.) We were able to attend another one of these shindigs in San Jose and had a BLAST playing Cards Against Humanity with some of the DreamHost team. We expected nothing less here in the Windy City. We weren't wrong.
As this was a networking event, we found ourselves chatting it up with new friends and old (hello DreamHost friends! I heart you guys!). While we were talking with someone from DreamHost HR, he introduced his title as something amusing (of course, my beer-muddled brain forgot to write that down). So I told him that I was a word magician.
So, out there in the real world, I'm an SEO copywriter (not copyrighter). I write copy (that's content for advertising) for a pretty large retail company and then do some word magic to get the content to the top of your Google search. SEO is a fickle bird, and it's certainly not one I try to do anything with for this blog. And so I told my new friend this.
I started explaining that SEO is great for somethings, but I mean, I can't just try to optimize everything. And that's a lot of what I see bloggers doing. Some posts (like this one) just aren't designed to be optimized. I could try to optimize this post for "reasons your blog doesn't need SEO" and maybe I will. But probably not. Because someone who is looking for that type of content isn't looking for my random ramblings. They want facts and statistics. Which I'm not going to give you.
So then I explained to this lovely fellow that there were some opportunities for me to bank on my SEO knowledge…
"Say you want to search for 'ways to fuck with your boyfriend while he's sleeping.' Now that's something I could probably optimize for. Because it's humorous and random, and anyone searching for that is looking for a girl like me."
Of course, at this point, the guy is belly-laughing and Brian looks out through his glazed-over eyes (introvert tricks) and notices that there's a conversation happening and he may be the subject of it. But it went all the way over his head. And I let it. Because coming soon is a post entitled, "Ways to Fuck With Your Boyfriend While He's Sleeping."
Because you need that in your life. Amiright?
Blog Friends, if you could re-title your professional career (whether you're a full-time corporate monkey, a part-timer, wfh, sahm, whatever), what would you title yourself? Do you believe in SEO for your blog?