Yesterday was truly one of the most exciting days ever. I woke up to my Disney alarm at 3:20 AM, brushed my teeth, got dressed, grabbed a camp chair, and jumped in the car. I made it to the Bucktown Best Buy before 4:30 in the morning and prayed I was among the first 100 people in line to pick up my preorder copy of Avengers Endgame, which, after seeing it four times this summer, I can safely say is my favorite movie of all time.
I waited in line with other Avengers superfans and the hours flew by. I sat in my comfy camp chair, took a Cap nap, even walked to the Mariano's a few blocks away for a bathroom and breakfast break. There seems to be a gentleman's agreement that the people in line will respect your place in line so you can take care of human needs etc. I was very glad of that being by myself on this particular adventure. It was surprisingly cool when I was napping, and in hindsight I should have brought a light blanket, but otherwise I had everything I needed.
I was in line to meet Joe Russo, who is probably the first director to ever have such a huge impact on me. He was in Chicago as part of the We Love You 3000 tour. With his brother Anthony and writers, Stephen McFeely and Christopher Markus, they make a dream team of storytellers that inspire and delight me as an audience member and fellow storyteller.
I kept thinking about the Q&A I had the honor of attending, sitting smack in the center of the front row, on Monday with Joe Russo at The Second City and some of the nuggets of wisdom he imparted on an audience of artists, performers, creators, and filmmakers.
"Make the story you want to tell. Make what you believe in. Make what you care about."

-Joe Russo
As someone who is deep in the throes of writing a novel, this particular advice was meaningful in ways I didn't expect. Hearing it from someone who capped off one of the greatest storytelling events in this lifetime gave it so much more weight than I could have imagined. Avengers Endgame was the twenty-second movie in a ten-year saga of 23 movies. I still get emotional thinking about the events that transpired and the way they were able to truly payoff the set-up they started a decade ago.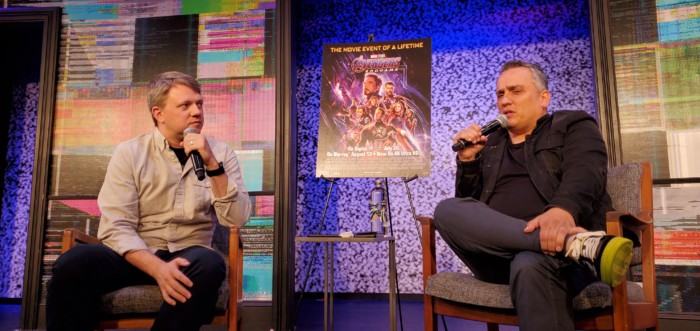 He talked about long-form storytelling being the future, as it helps audiences connect with the characters for an emotional payoff you can't get out of a singular movie. How the actors know their characters better than he ever would and the trust he puts in them to bring those characters to life. This is something Brian and I talk about a lot. We both really hope to see more movie studios picking up on this idea that a series of interconnected stories in a single world can truly immerse audiences and drive interest and excitement.
He answered my question about "I love you 3000" – where it came from (Robery Downey Jr. told them it was a cute thing his daughter said, so they used it) and if they realized the impact it would have on the audience and eventually their marketing plans (they actually found that test audiences loved it so much, they added it to the hologram later, unaware of its potential at the time. He claimed meme culture helps bring one-off lines like this to the front line of movies and TV).
Joe Russo inspires me. And so when I had the opportunity to wait in line to meet him, I took it.
Which returns us to his appearance at Best Buy yesterday.
As they handed out wristbands, I anxiously watched, hoping our counts had been close and we were under 100. It didn't feel real until they wrapped a blue paper wristband with the number 075 around my left wrist.
They handed out pins and Chicago themed posters with Iron Man (my favorite Avenger) that had me tearing up. They gave out gift bags with McDonald's toys and Funko Pops for everyone.
In addition to the meet and greet, autograph, and goodie bags, they had actual props that had actual screen time in the movie.
Thor's axe, Stormbringer.
I died.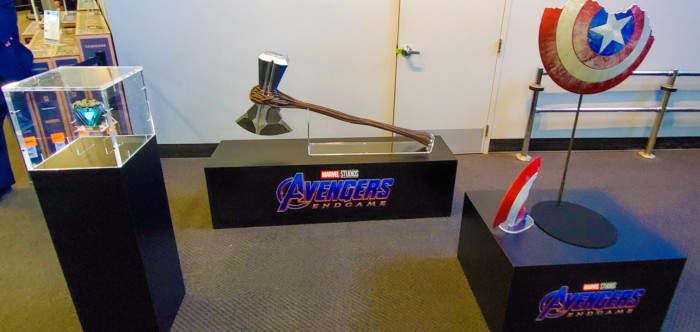 It was truly a dream come to life, and it got even better when it was time to get back in line to meet the storytelling legend himself.
I walked up and shook his hand and told him it was an honor to meet him. He made polite conversation and seemed genuinely kind. He complimented my Captain America shirt twice. He signed everything he could in and on my Bluray case and then told me he would sign an extra poster, "just in case." It really seemed he knew what it was like to be a fan getting autographs andhe did his best to make it a magical experience for everyone in line, so I like to believe he was there once upon a time too.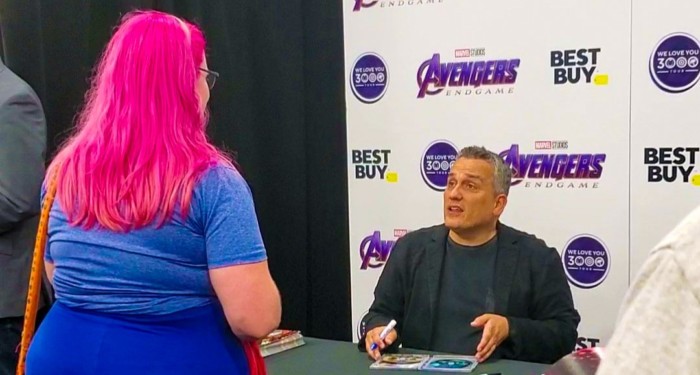 I didn't embarrass myself this time. I didn't fawn all over him, ramble like a fool, try to touch his chest, or let Brian come so he could say something that gets us death stares. I didn't cry like I did when I met John Grogan (I should really tell that story). I was cool. I was collected. I was still me and talked the whole time, but would you expect any different?
Overall, this was one of my favorite meet and greets, and it was worth every second of sitting out in the strangely cool humidity for 6 hours.
Have you ever met a celebrity? What was it like? Would you rather wait in line for hours or pay money at a convention to meet someone? Let me know in the comments!