"I'm a hot mess."
"Don't mind me. I'm just a hot mess."
"Sorry. I'm a hot mess. Most of the time."
"Mostly, I'm just a hot mess."
"Crap! I'm such a hot mess."
These are phrases that come out of my mouth on almost a daily basis.
Walk into a pole? I'm a hot mess.
Embarrass myself in front of famous authors? I'm a hot mess.
Almost destroy my new boyfriend's bathroom rug? I'm definitely a hot mess.
So when I was at GenCon, it wasn't a surprise that I was walking into people, knocking shit over, and dropping things all over the place, apologizing with "I'm a hot mess."
What I did find surprising (and really, I shouldn't have), was at one point in the con, when some guy walked past me, yelling, "Hey! It's the Hot Mess!"
And then it registered. And I was like. "You remembered me?" Because obviously, I don't even know what stupid thing I had done (probably when I dropped like 5 games off a shelf) to be so memorable.
Of course, he proceeded to tell me that he "had a thing for redheads." At which point, I smiled and walked away.
Only to see him a few hours later, again yelling out to me, "Hey! How's it going Hot Mess?!"
I just hung my head in shame and walked away. When I told Brian, he just told me to stop calling myself a hot mess (after I explained that I was the one who said it first…I think he was ready to punch a guy for calling me a hot mess…or at least that's how I imagined it.)
Which is easier said than done.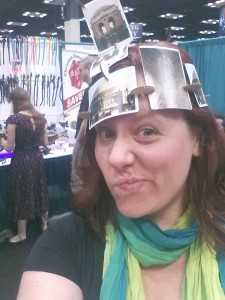 Is it just me? Tell me something weird you do.