Little-known fact: June Cleaver, Martha Stewart, and I swap notes.
I may be a terrible housewife, but I'm a master of feeding people and throwing baller parties. Last year, after moving into our house, we hosted a killer game-themed housewarming party for nearly 60, Second Thanksgiving for 15, Christmas Day for 30, and a small New Year's Eve with family. This year we hosted a birthday party for 30, Halloween party for 40, and are planning another Christmas Day extravaganza in addition to game nights and dinners throughout the year. I've become skilled in the art of hosting parties.
I've put together this convenient,  easy-to-follow guide for hosting parties, which is sure to make your holiday merry and bright, your birthday magical and special, and your perfect little dinner party a night to remember.
2 Months Out
1. Pick a date. This may be easy if you're hosting on a specific holiday, but with families freaking everywhere, you may host Christmas on the 20th or the 31st. I won't judge. You do you.
Delay. Put off most of the planning as long as you can. Spend time pinning shit to your Pinterest board, knowing you're never actually going to do any of that nonsense. Late invites are likely to shrink the number of people who show up.
1 Month Out
3. Start inviting people. Use multiple modes of communication to make it as confusing and hard to track as you can. For extra planning points, recruit your partner/boyfriend/spouse/person/fiancée(God, that word is WEIRD) to invite his family or friends you don't follow on Facebook. You already know you're screwed.
2 Weeks Out
4. Secure RSVPs. Wait for no one to respond,  and then start the second round of messaging. Texts, calls, private messages, tags, etc. Leave no communication stone unturned. Just don't add them to your Jamberry Group.
5. Meal plan. Decide what you're going to feed all these people you've invited to your home. Dole out responsibilities and assignments if you're potlucking. Get as creative or unoriginal as you want. You're hosting this fiesta.
6. Start writing to-do lists. Put together a shopping list for groceries, a DIY list for crafty shit you want to do, a cleaning list for your boyfriend/partner/husband to follow while you're at work or the grocery store (saving him from all the people). You can use Google Drive, a pen and paper, a blank Word document or some fancy pants list you downloaded from a way more organized blogger than me. Me? I have lists everywhere. In e-mail drafts, in notebooks, and on the back of random papers from work. I typically forget them all by the time I head to the grocery store or start cleaning.
7. Decorate your home. Get your holiday decor up whether you're putting up Christmas tree in every room, creating a disgusting murder scene in the bath tub, or setting up a spider's den in your bathroom. If it's not a holiday, make sure you've got all your art hung, ordered the right colored table cloth from Amazon, planned for balloons and other decorative touches.
1 Week Out
8. Keep texting and calling people. We all know half your guest list isn't going to respond. That's okay, you love me them anyways.
9. Write new to-do lists. Don't tell me you know where the originals are. I know you're lying. Go ahead and make new ones. Even if you forgot the original items on the list, you'll think of new ones.
10. Start those crafty projects you said you were going to do.  You want to make special scrabble Christmas ornaments for everyone at your holiday party? You know what? Fuck it. Just go to the store and buy some cookies. Then, eat the cookies. Then, continue on with the rest of this list. You don't need that kind of stress in your life right now.
5 Days Out
11. Shop. Try to get as much grocery shopping out of the way as you can. Stock up on beer, wine, pop, snacks (you'll need these later), and cream cheese (this is the only necessity with party apps. You can mix anything with cream cheese for a magical creation sure to impress every guest). Hold off on anything you think should be fresh, such as fruit or veggies. No one wants stinky cauliflower.
3 Days Out
12. Procrastinate. It's time to start heavy duty lifting and really get your ass in gear. But you DEFINITELY need a break first. Perhaps you'll watch  Kimmy Schmidt or Liz Lemon on Netflix to get you in the spirit of whatever event you're hosting. There's a little Kimmy or Liz for everyone, guys.  Pop open one of the bags of chips you were reserving for your event, eat candy for dinner from Dylan's Candy Bar (OMG) and work on your night cheese. The party is happening whether your floor boards are dusted or not.
1 Day Out
13. Start cleaning. Spend a little time casually wiping counters, cleaning out your fridge, rearranging your collection of board games, video games, movies, CDs, whatever, moving piles from one room to another in an effort to clean. You still have 28 hours before this party is in full gear.
14. Prep as much food as you can. It's time to make magic happen with the cream cheese, folks. Whip up a few dips while your boyfriend vacuums the floor with your fancy pants Shark vacuum. Cut veggies. Arrange fruit displays. For the love of all things, DO NOT CUT THE CHEESE YET. That is a last-minute priority in order to ensure the best possible cheese flavors.
Day of the Party
15. Freak out. You're not ready. Your house is certainly not ready. You haven't showered since your Liz Lemon marathon and it's REALLY time to move it. You know nothing helps a situation more than a serious panic attack. Get ready for it. It's coming.
16. Quick Clean. You don't have time to clean the way you want, so start throwing everything out of sight. Throw shoes down into the basement, hide baskets of mail under your buffet table (See why I told you to invest in that floor length table cloth on Amazon, now?), take stakes of clothing/clutter/whatever up to your bedroom or the guest room or the office. Just get it out of here, already.
17. Finish food. Whip together as much of the food as you can before you have to start cleaning up the kitchen. The cheese should be cut about 30 minutes before guests arrive (and you shouldn't let it sit out for more than four hours, so plan for a second batch if it's a long party.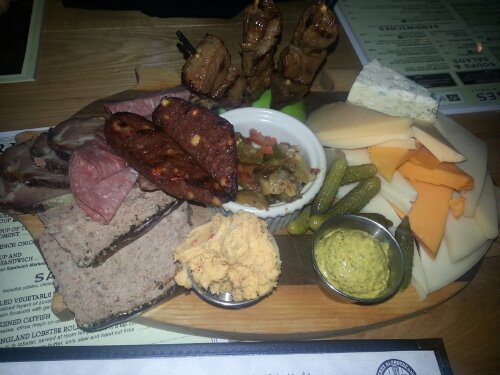 18. Beg for reinforcements. Hope and pray you have parents like I do who show up 45 minutes before a party to help with this process. Sure, you won't remember that your mom threw your keys in the cabinet with the canned goods, but no one else saw them cluttering up your breakfast bar, amiright?
Game Time
19. Relax. Breath a sigh of relief and pour your first of many glasses of wine/champagne/beer/vodka/whatever. Give yourself a pat on the back for only crying three times instead of five like last time. You're getting better at this game.
Friends, how do you handle the stress of hosting parties? Are you a killer host? What do you try to do whenever you host an event? Tell me your secrets before I pull all my hair out!
This post is brought to you by the fine people at Netflix, without whom I may never procrastinate. While I wasn't paid in dollars to create this blog post, I did receive a subscription to Netflix and a device on which to watch my favorite shows (hello Liz Lemon – I love you!). As always, you get my opinions and ideas, which I was not paid to change. Obviously.