Okay, so after Thanksgiving, my girlfriend Brookie Banosnapper Snapchatted me with her fancy "Turkey and hollandaise with poached eggs on flatbread" and "I'm making all the soup from Thanksgiving leftovers" I'm-cooler-than-you-videos.
In typical lady fashion, I had to one-up her.
I also had to use some of the Thanksgiving leftovers that I had in order to make room in my fridge for Second Thanksgiving food prep and such. It was a Saturday morning. I was bored. I was hungry. And I thought…what the hell? Let's get experimental and crazy up in here.
So I did this. And OMG even Brian was down with it.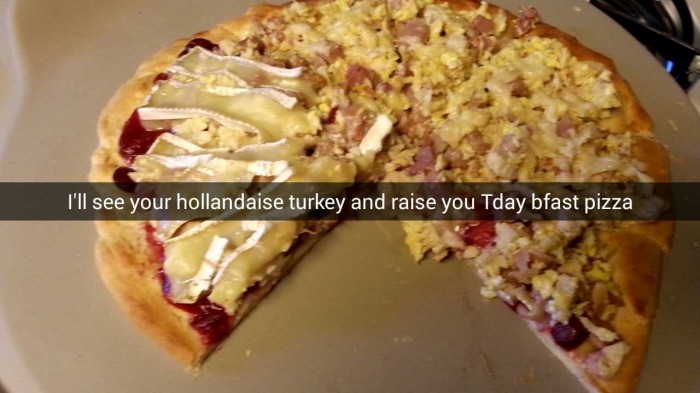 The beauty of this breakfast treat is that it's totally relevant after whatever holiday feast you've got going for you. Thanksgiving. Christmas. Easter. Random fancy-pants Sunday dinner if you do that sort of thing.
Holiday Leftover Breakfast Pizza Recipe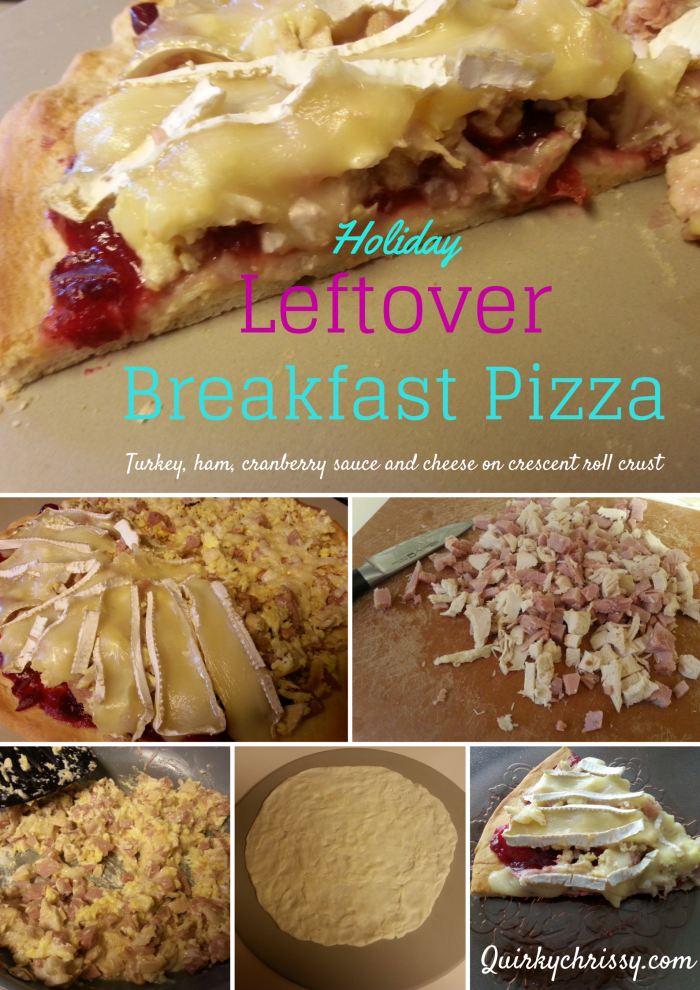 Ingredients
1 can of crescent rolls
1 cup turkey
1 cup ham
1 cup cranberry sauce
1 1/2 cups cheese (or more) (I used brie on half and Vella Dry Monterey Jack on half)
3 Eggs
Method
Roll out crescent rolls in a circular shape on a round pan (I used my pizza stone, but you can use non-stick pans or whatever you prefer, really)
Bake for 15-20 minutes depending on the type of pan you used (longer for stoneware) and your preferred crustiness
Slice or shred cheese (I sliced the brie and shredded the Jack)
Dice ham and turkey (if you don't have a cup of each, don't worry about it…I'm really bad at that whole measuring thing)
Add the meat to a non-stick frying pan (or a regular frying pan with your spray, butter, or oil of choice)
Cook for a minute
Crack the eggs over the meat and scramble in the pan (I prefer this method to pre-scrambling, but you can do it your scrambled way and it'll work just fine)
Set the scrambled eggs aside
Remove the crescent crust from the oven and spread with cranberry sauce (I knew Brian wouldn't want the cranberry, so I only used that on half the pizza)
Evenly distribute the scrambled eggs on the cranberry sauce or crust
Top with cheese (I used brie over the cranberry side and the Jack on the non-cran side)
Return the pan to the oven to melt cheese (keep it on bake if you're using stoneware, broil otherwise)
Remove when cheese is melted
Slice and enjoy
Brian was surprisingly impressed with my Thanksgiving leftovers breakfast pizza concept (and thankful that I didn't include the cranberry sauce on his half). I had two slices for breakfast and two slices for lunch, while Brian ate 4 slices for brunch – he doesn't wake up in time to eat breakfast with the laypeople. He also added a little sriracha hot sauce to his slices, and that was pretty damn tasty too.
What weirdo creations have you concocted with leftovers? Tell me your leftover war stories – the good, the bad and the ugly. Any kitchen successes that probably should have been fails or vice versa?