Guys, it's May 1st. Which means several things, but mostly, to me, it means the month of my birth. I am finally 100% owning the crap out of my high-maintenance needs as a birthday girl (because this is how I intend to combat birthday anxiety).
Every year on the first day of May, I get inundated with magical emails that offer me free meals, coupons, and gifts for shopping and dining at my favorite businesses.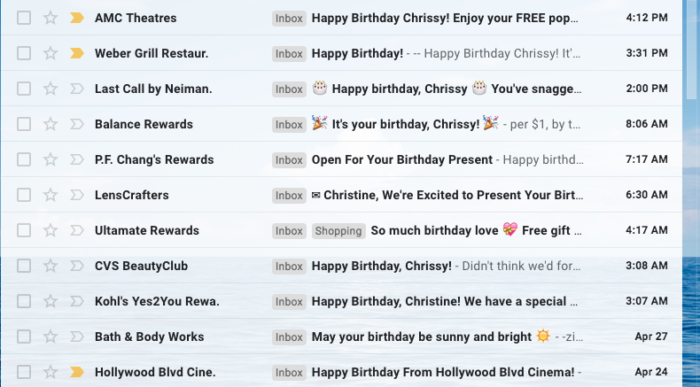 And I am reminded that I'm soon to be another year older.
Another year has gone by in which I haven't accomplished every goal and dream under the sun. Another year in which I am waiting for X or Y or Z.
And fuck that, you guys. I am done worrying about what hasn't happened. I am living for what I'm doing right now.
I am so over thinking about what HASN'T come yet. Because it's time to celebrate what has happened and what is happening. A year ago, I was just on the cusp of something magical — an adventure in improvisation and what a wild ride it's been.
I'm going to celebrate like a rockstar this year. Because it's been full of my favorite things. My friends. My family. My love. Improvisation. Writing. Reading. Learning. Dreaming. Disney World (thrice since my last birthday, you guys. THRICE!). Traveling. Adventure. PUPPY. 35 has been good to me.
So cheers to the last month of 35. I'm going to celebrate the crap out of myself this month. I'm going to own my self-dubbed high-maintenance birthday princess title and use all the birthday coupons. I'm going to have fun and enjoy every slice of life that I can grab.
And I intend to welcome 36 in the best way possible. In Ireland. In a castle. Spending my entire day as a princess, obvi. We've booked ourselves two nights in a (presumably haunted, because why not, right?) medieval castle B&B/hotel so I can wake up in a castle and go to sleep in a castle on my birthday. It doesn't get much more high maintenance than that, amiright? So get excited about the coming adventures, because I know I am.
How do you celebrate your birthday? Are you a birthday prince or princess? Do you celebrate a birthday week or month? Let me know in the comments!