One time, I convinced one of my best friends to dress up as Harry Potter and go to a costume party with me. It was awesome.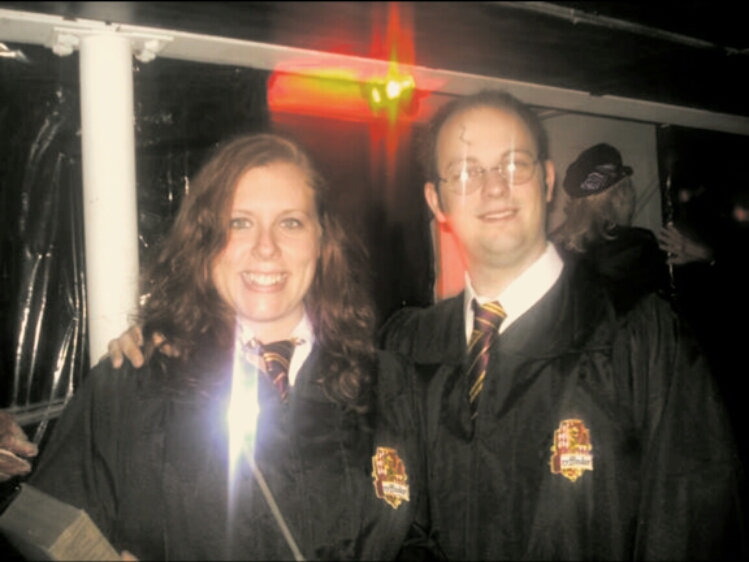 And then, this morning, Brian and I had the following conversation:
Me: If someone wants to polyjuice me, my hair just fell on the ground.
But, to be fair, I shed all the time. So I guess that doesn't really make a difference.
Brian: So you're saying, the next time I see you, you might not be you.
Me: Yes.
Brian: Well shit! How am I going to know it's you?
Me: We shouldhave a secret passphrase so you know.
Unless I'm polyjuice me right now. And then real me will never know the passphrase.
Brian: …
I think he's still considering the possibilities.
Don't fight it, Brian. The polyjuice is gonna getcha.
Brian's going to see Captain America Civil War tonight with his coworkers as part of a work adventure. Without me. I'd be upset, but I saw a prescreening on Monday night in IMAX 3D, and I don't think Brian's viewing will top that.
I don't want to give away any spoilers, but I will say that the Captain America movies are among my favorites in the Marvel Studios movie series. (Guardians of the Galaxy trumps all). It was fantastic.
[bctt tweet="What would happen if someone polyjuiced the hair of Captain America?" username="quirky_chrissy"]
And if anyone cares, I'm on Team Ironman. I think.
You know what? I think I just came up with Marvel's next movie.
Captain America vs. Harry Potter. Call me, Warner Brothers and Disney. I've gota great idea!
Are you a Harry Potter or Marvel fan? Who would you pick in a battle: Harry Potter and his peeps or the Avengers?