Every time I post a Halloween picture, thought, or idea…my mom asks, "Why aren't you showing off your costume?!?" It's really adorable actually. First, it's adorable because my mom is one of my most dedicated readers. Second, it's adorable because she's super proud of her work. Her work, you ask? Yep. So here's how this went down:
For Halloween, Brian and I were going to go as an old time villain and damsel in distress. But when we planned our Disneycation, it was decided that we needed costumes a little bit earlier than normal… Like September 14 early. And the costumes in question-we weren't totally in love with. So, we started perusing the idea list. Brian had left open some tabs with Jack Skellington and Sally from Nightmare Before Christmas… (Oh right, one of my typical requirements is a ginger costume so that I have an excuse to re-dye my hair right before Halloween). It was the perfect idea. Now…to find the costume.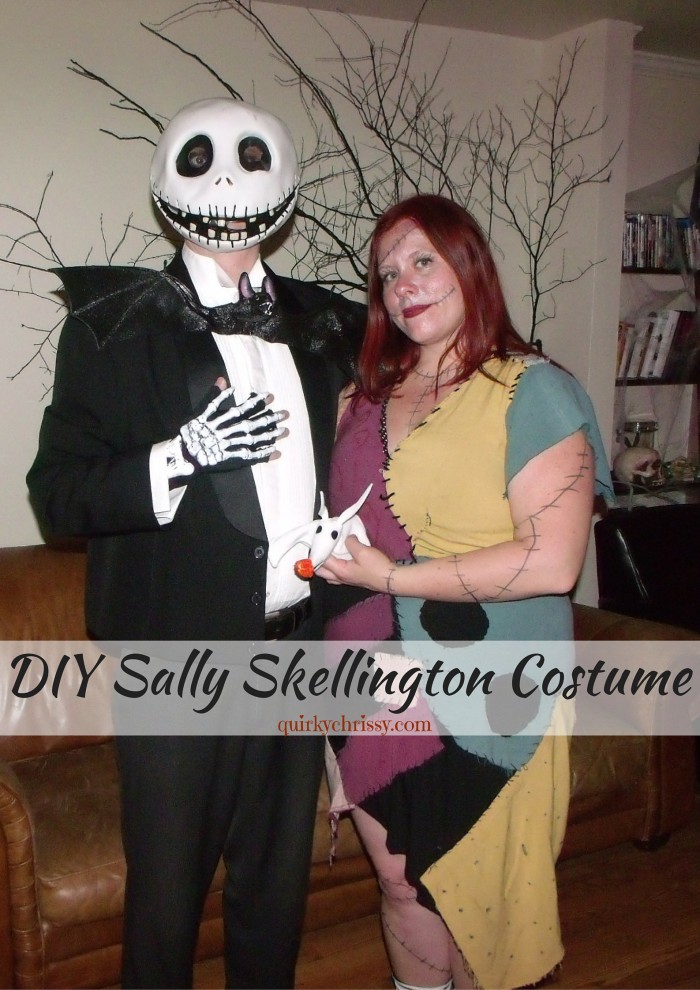 I pinned a few ideas to my Sally Pinterest board…but I was unimpressed with the quality of costumes available. I wanted authenticity. So I decided that I would make my own costume. I would get a base dress, some fabric to match the patches, and sew the patches to the base dress with black yarn. Easy peasy, right? Not right. I got the dress and vintage clothes with the fabric I wanted from garage-sailing one Saturday afternoon during the summer, stopped off at my parents' house, and got started.
Obviously, after the needle bit my hand 3 times, and it was evident that I was doing a piss-poor job of sewing this thing…it was not going to go very far. Luckily…Mom was sitting right there…telling me, "You're doing it all wrong. Give it to me!" I handed it off to her…and all of a sudden my project became her project. Plan successful. Mom took over. Now, my mom is hand-sew, knit, crafty, crafty genius…and despite her arthritic hands, took it upon herself to spend about 30 hours working on this masterpiece.
[caption id="attachment_1059" align="aligncenter" width="269"]
The base dress with the Sally sleeves[/caption]
Every so often, I would head over to the house for a fitting…and Mom's work of art was beginning to take shape.
[caption id="attachment_1060" align="aligncenter" width="269"]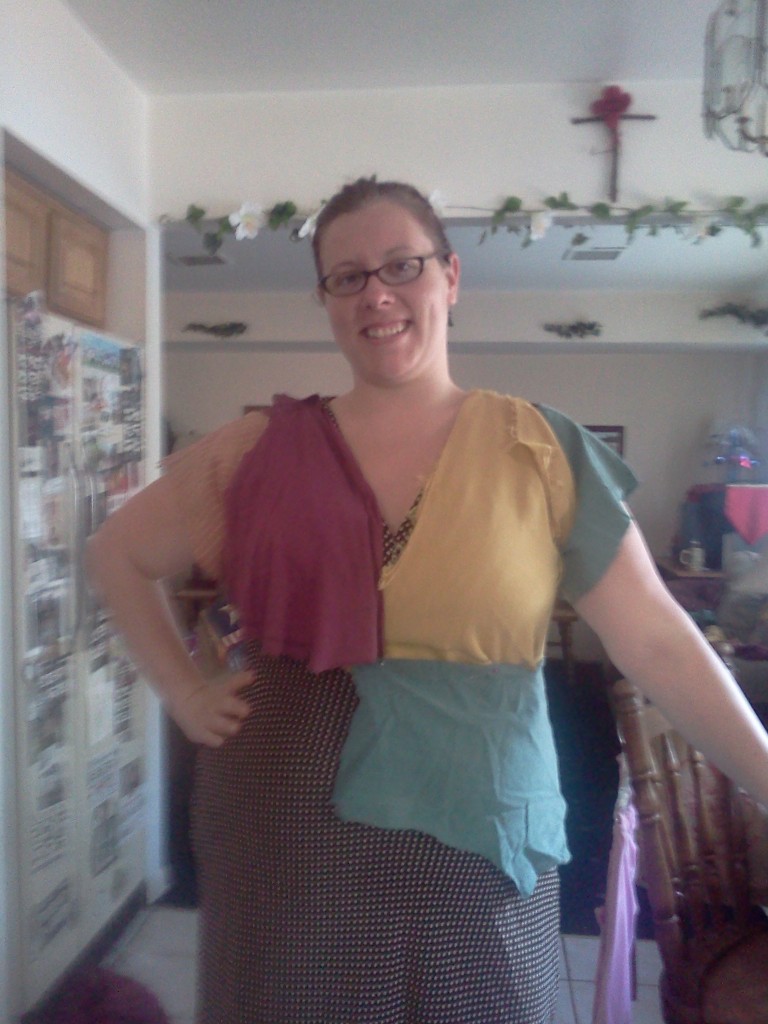 Looking good, right?[/caption]
So I was getting pretty stoked about this costume…and Mickey's Not So Scary Halloween Party. Mom stopped using the black yarn as thread and switched to multiple strands of black thread. You can sort of tell the difference, but they both look awesome, and it's not supposed to be uniform, so it worked out REALLY well. (The regular thread made it way easier to sew.)
Finally, it was less than a week before we left for Disney…and my costume was DONE! I was ridiculously excited, even after we got skunked while packing for the trip.
[caption id="attachment_1063" align="aligncenter" width="512"]
Brian's costume still needed a little work done before Halloween, but it worked while we were in Disney.[/caption]
Brian eventually finished his costume by wearing a suit (it was FAR too warm in Florida to wear a suit jacket and pants to wander the Magic Kingdom), making a bow tie out of a bat and a wire hanger, and getting skeleton hands.
[caption id="attachment_1064" align="aligncenter" width="404"]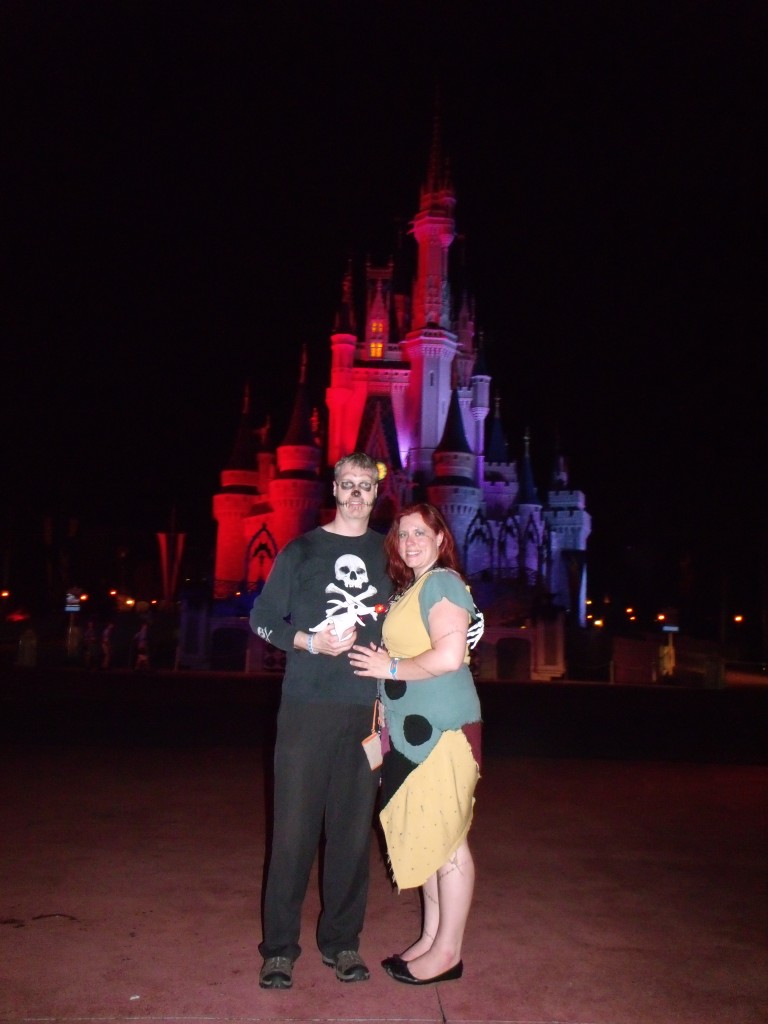 Disney Magic. *sigh*[/caption]
Note, while at Disney, we invested in a Zero! So I still needed a few things too… the boots and the stripey socks. It took me until the day of the big Halloween party (this past Saturday) to find exactly what I was looking for. But I found them. And the end result was pretty fantastic.
[caption id="attachment_1066" align="aligncenter" width="402"]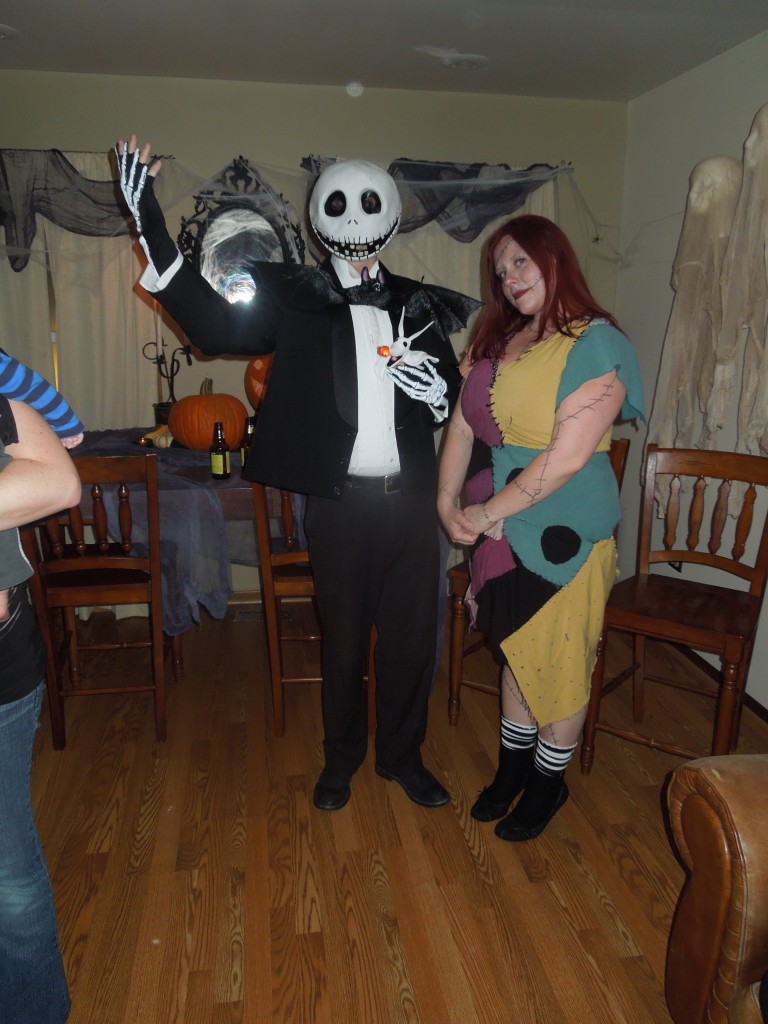 Jack & Sally (My mom's awesome, right?)[/caption]
Have you ever conned one of your parents into doing something you knew they would do better than you? Have you ever made your own Halloween costume because the store-bought ones just weren't cutting it? What are you going to be for Halloween this year?