If you recall from two weeks ago, I joined some rockstar bloggers in a DIY challenge. Not a competition mind you, a challenge. I'm also pretty sure that by challenge, Joules meant, "I challenge you to make something artsy without hotgluing your hands to your forehead." or some nonsense like that. Therefore, Joules, I call this a success. 2 cuts from an exacto knife, a cardboard paper cut and one tiny hot glue burn later…My hand is not hot glued to my forehead. AND I have FOUR masterpieces!
I started with a bazillion Scrabble games that I've collected through my estate-sailing, garage-sailing summer.  The below picture is a mere sampling. Each box is FILLED with either boards, tiles or tile slats.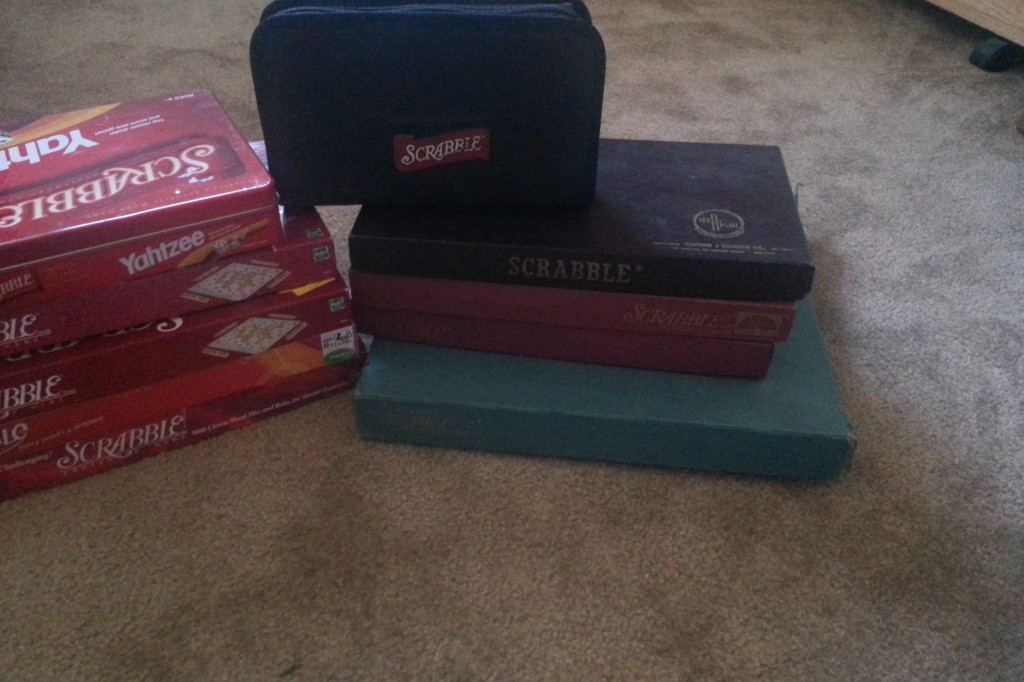 Obviously, I had a lot to work with.
And so I took this challenge on with the goal to REALLY get going on my plans…of Christmas presents for everyone! (OK, maybe not everyone…but if you want a Christmas card and MAYBE a present (5 randomly selected Christmas card recipients are getting Scrabble ornaments!) e-mail me your address () and you'll at least get a sweet holiday card, and you might get a sweet ornament for your tree!
How'd I do it though? Oh. Right. The DIY project. I got carried away with…well Christmas joy.
How to Make Scrabble Tiles Your Bitch…Err…Ornaments
This was SO easy! The hardest part was collecting the Scrabble Tiles. Something along the lines of hundreds of man-hours went into the hunt for all the games. I'm hardcore. I know.
I started with the exacto knife and one very unlucky Scrabble board. I cut out two pieces from the board to make two board ornaments, which I hot glued Scrabble tiles to for authenticity (and because I have a shit ton of tiles). This part was the hardest in the actual project, so I decided that I would only do two exacto knive pieces…Brian apparently thought that a dull blade would be better for me…didn't he learn in school that the sharper the blade, the LESS likely to cut yourself? (Unless you're me, and you'd probably cut yourself anyways…)
After the tricky pieces, I thought it would be fun to make some easy pieces.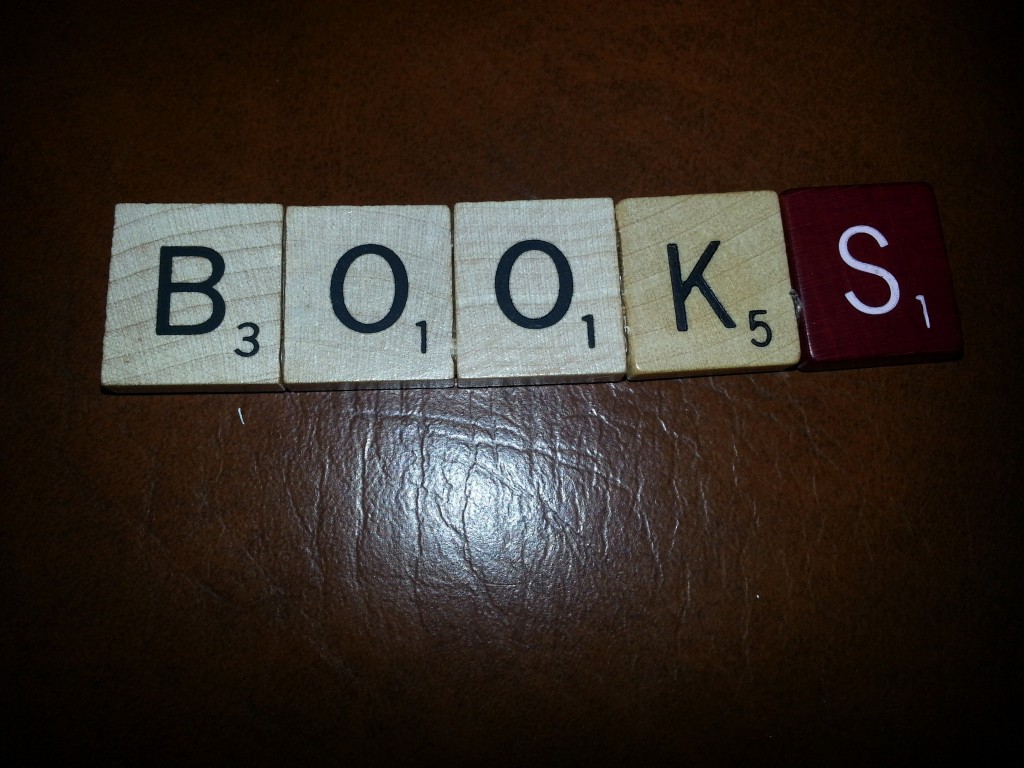 You're probably catching onto my theme, aren't you? Well, wait my patient little pretties. I'll get there.
After I glued all of my letters together for the final two words, I was ready to glue ribbon to them! I chose a more festive ribbon for the tiles alone and a simple gold ribbon for the tiles with board pieces (Mission: Not to have Polish ornaments that look how I dress. Goal: successful.)
For the travel edition tiles, I sliced the ribbon in half with scissors (no cuts!) so as not to be overwhelming.
The final products are the perfect addition to my mini book Christmas tree.
What do you think, Blog Friends? How'd I do? Do you want your own? Should I sell them on Etsy like a boss?
If you want to check out more of the DIY challengers, go visit them!