I am a sucker for all things geeky, nerdy, and surprisy.
I flippin' LOVE surprises. Which is why subscription boxes appeal to me. So when I found Loot Crate, I was all, "OMG! Geeky! Nerdy! Surprisy!" Yes. With that many exclamation points. And yes, I kind of hate exclamation points.
But I love Captain Mal.
And so when I found out the September Loot Crate was full of top secret Firefly exclusives and all things galactic, I was all in with all the chips.
I wasn't disappointed.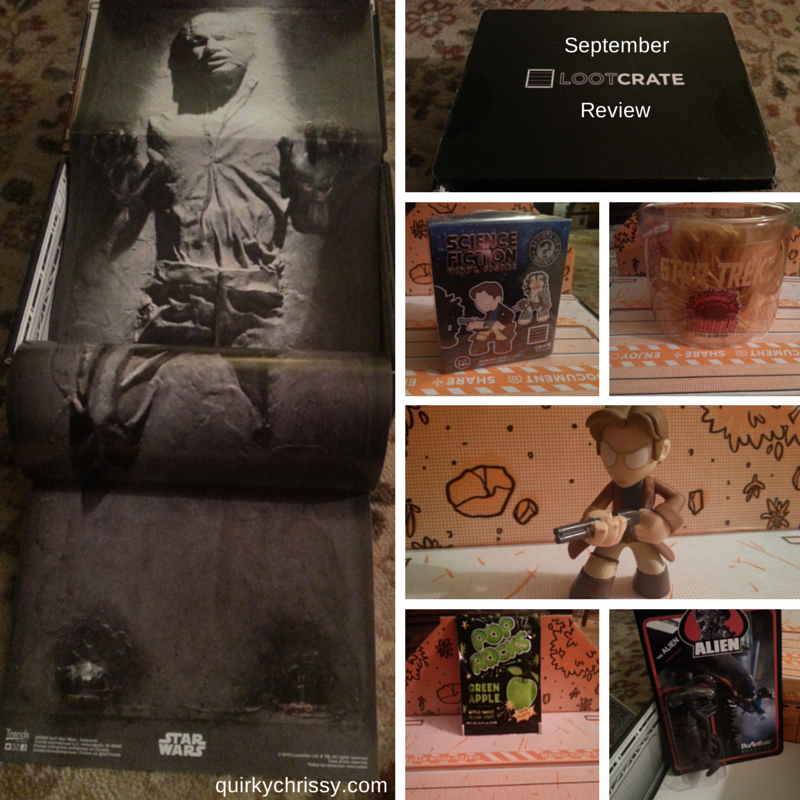 As a grown-up collector (we've gone over this: "hoarder" isn't a very nice-sounding word, but "collector" totally is), I love toys and games and things. The Loot Crate is full of toys and games and things for grown ups who play like kids. So it's kind of perfect for me.
September Galactic Loot Crate
Here's what the September box included:
Captain Mal Funko Mystery Mini – A mini Mal just for me. Can I keep him?
Firefly currency – Can I just say how pretty Firefly money is? I love the money in my Firefly game, and I love this too.
Star Trek Tribble – Isn't my cute little Tribble buddy precious? I just want to snuggle it.
Han Solo Poster – Trapped forever in carbonite ON MY WALL.
Star Wars magnet – I love magnets. Especially now that I've got a house with a fridge coming soon.
Pop Rocks candy – They're going to sugar me up, too?
Funko Alien figure – If I told you I've never seen Alien, would you take away my geek card? (This is going in Brian's stocking. Hopefully, he opts not to read this post. I'm going to count on the fact that he's super busy with all the things that are work and house and not Chrissy's little ole blog.)
Loot Crate button – I love buttons. I don't know why… coughcollectorcough
Halo Escalation #1 Halo Comic Book Digital Redemption Voucher – Fancy code for more things! (Okay, I'm not a HALO person, but my I'm pretty sure this is something that would fall into the godsons would enjoy this camp.)
All in all, I would say that Loot Crate could very well be worth $19.37 (including S/H) depending on the month and your geeky preferences. In this box, there were some serious wins for me (Cap't Mal and the Tribble) and a couple meh's (Alien and Halo), but I've got some Christmas presents out of those, so it worked out well for me.
The October box (FEAR) sounds tempting what with an issue of The Walking Dead comic book, a mystery t-shirt and the promise of FEAR (we all know how much I love Halloween…).  So it looks like I may be adding another monthly subscription to my life, though I think I'd keep it at a per month subscription in order to make sure it's a theme that interests me.  A lot of the past crates look awesome (Villains, Dragons, Heroes), but there are a couple that wouldn't have interested me at all (Adventure, Transformer).
While this is not a sponsored post, I did receive a complimentary Loot Crate for honest review purposes. I was not compensated for my thoughts, and I really did want all the galactic things…and I really did get multi-exclamation excited about geeky, nerdy, surprisy goodness.  
What do you think, Blog Friends? Is this box up your alley? Would you be as excited for play money as I was? Which of these items would be highest on your yes-please list?