OK, it's everyday I'm in love…with cheese. I mean Brian. I mean…both.
Details aside. It's FRIDAY. FINALLY.
Why am I more excited that it's Friday today instead of other Fridays?
My BOSS has been galavanting in Europe for almost 2 weeks. As the girl who was recently promoted to "second in command" guess who had to pretend to be him for almost 2 weeks?
Yeah. That. So I've been busy freaking out all over the place. Because he does a lot of things that I didn't really realize he did. And now I see why he mutters curse words under his breath a lot.
BUT today…TODAY…TODAY! is the last day before his return. I'll be celebrating by bringing in cheese for my co-workers. Because that's what I do.
So I'm off to cut the cheese (stop that. Stop thinking that right now. Okay, go ahead and laugh.)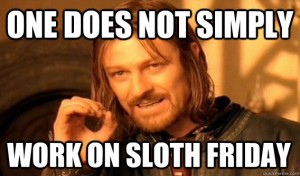 Saw that…and then I needed to post a sloth for you.
Have a GREAT Friday!