Me: Is it weird that I don't really like mac and cheese at restaurants?
Brian: No way. You make awesome mac and cheese at home.
Me: You're so right.
Brian: Can you say that again?
I love mac and cheese when it's properly crafted. It should be smooth, creamy, cheesy, and packed with flavor.
But it can be a PITA to make. All that time making the roux and cheese sauce, boiling water, cooking pasta. So much work. And I'm so lazy. So I order mac and cheese at restaurants. And my disappointment is inevitable.
So when Hamilton Beach sent me a rice cooker/steamer, and told me to look at the billions of other things I can make in this puppy, I was like WHAAAAAAT? Mac and cheese in 15ish minutes!? I'm in.
I looked at the recipe, as I tend to do…and then I said, "Okay, now how can I Chrissify this?"
And then I made my own recipe.
I even measured it for you.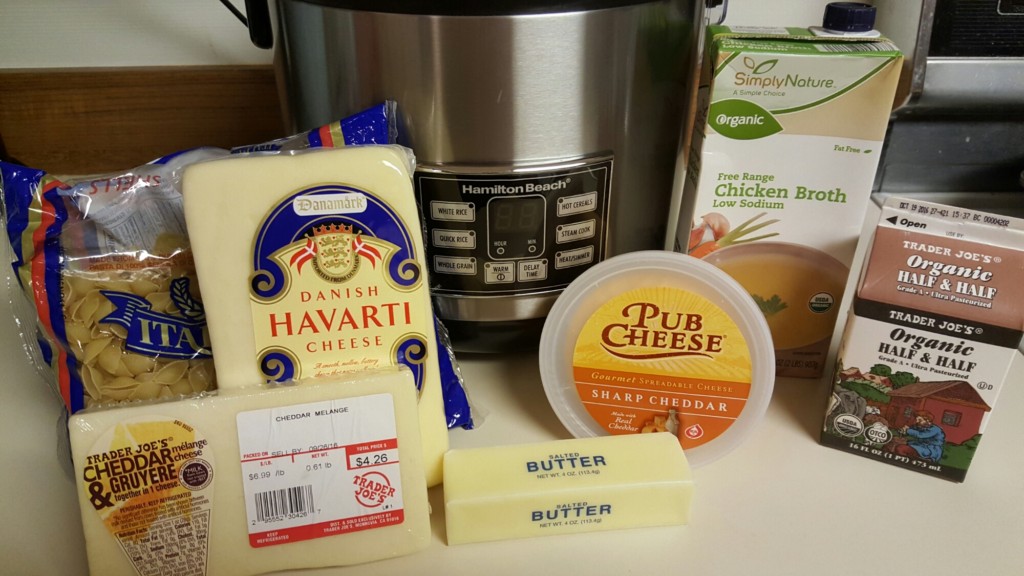 16 oz pasta shells
1 container of chicken broth (for future reference, I recommend full sodium; this needed a lot of salt to get the taste I wanted)
4.5 oz Cheddar & Gruyere(shredded) If you don't have Trader Joe's, do half cheddar and half gruyere
4.5 oz Havarti (cubed)
1 tbs salted butter
1/4 cup half & half
2/3 cup Pub Cheese
Salt to taste (this is the most important part. Also, if you have truffle salt, USE THAT)
Okay, so don't worry about shredding or xubing the cheese yet. First, pop the broth and noodles into the rice cooker. Cook on the heat simmer setting for 13 minutes.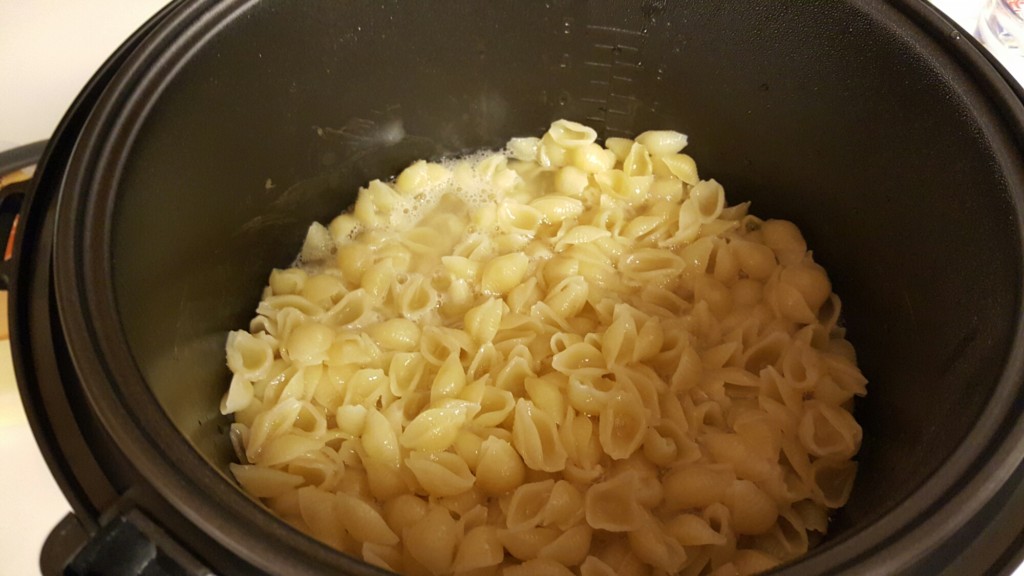 While the noodles are cooking, shred/cube/measure the cheese/butter/half&half. We're on a time crunch here. I tried to shred the Havarti, but it wasn't really working for me because it's too soft.
So I hacked it up with a knife.
While that's happening, make your husband/boyfriend/kids set the table and pour you a glass of wine. You deserve it.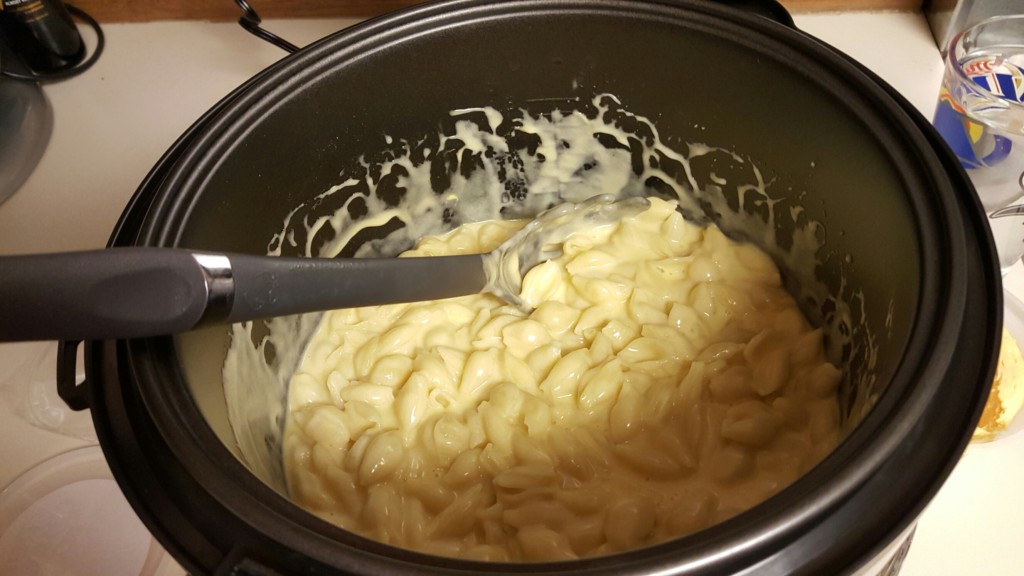 When the pasta is soft, add the rest of the ingredients to the rice cooker (no need to drain anything!). Add salt (I forgot this part and it was a little bland). Stir. Voila. Serve.
If you're like me, you'll serve it with a Sam's Club rotisserie chicken, because we're all abour convenience and class, here.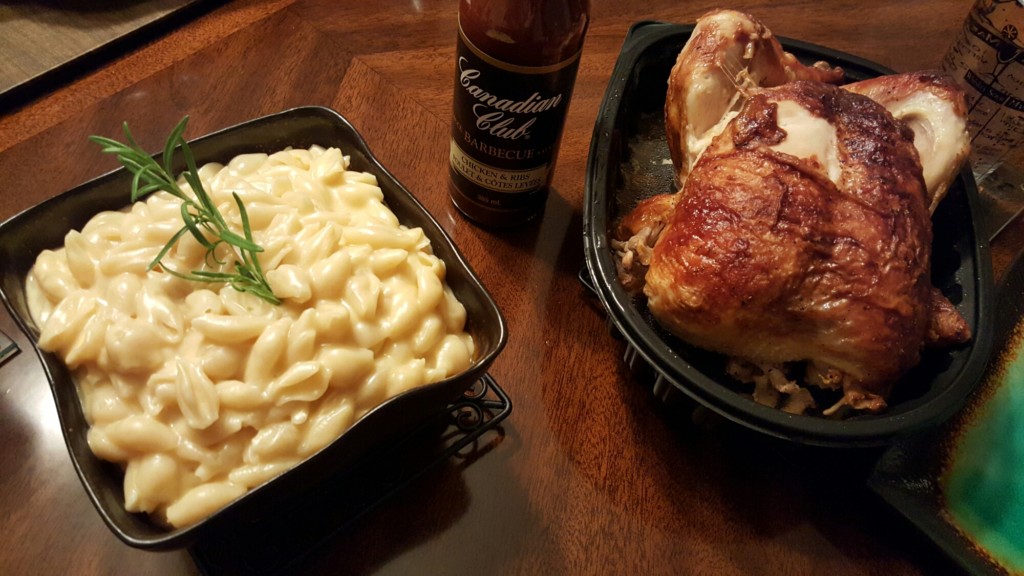 And BBQ sauce. Because mac and cheese and BBQ sauce is a flavor match made in I'm-a-12-year-old heaven. And this BBQ sauce is from Canada (my Reddit Secret Santa sent it to me)!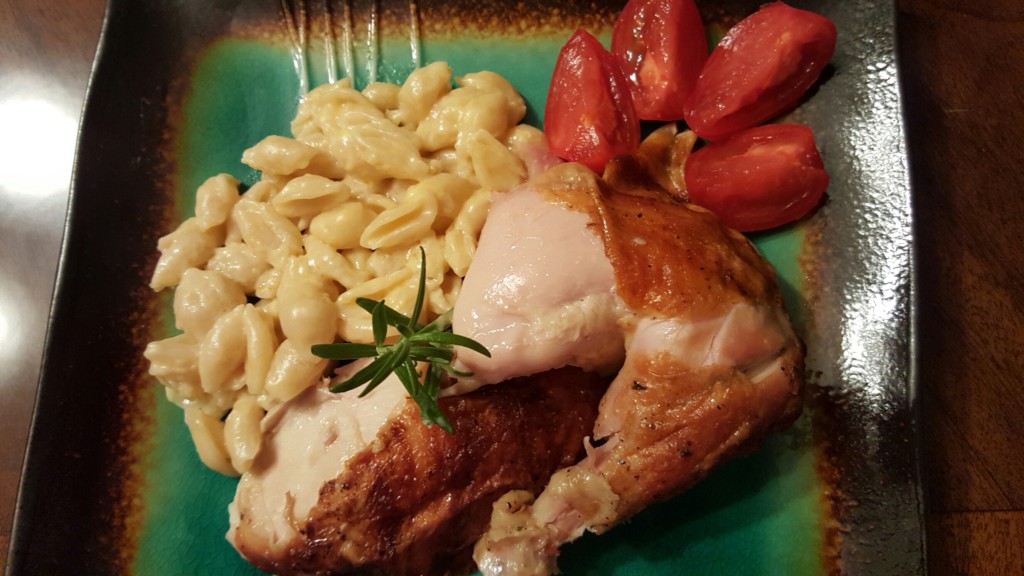 And tomatoes. Because Brian is obsessed with tomatoes in the way I am obsessed with cheese.
Overall, it wasn't my best work because of the forgotten salt fiasco, which isn't quite as bad as the one time I tried to make blueberry pancakes for Brian and Cletus for breakfast and used salt instead of sugar…but the convenience made it totes worth it.
So when you're  a few weeks out from your wedding or any other stress-inducing event, try this easy dinner on for size. And this rice cooker may just be my new favorite appliance.
Want your very own  4-20 Cup Rice and Hot Cereal Maker to make delicious mac and cheese, among other things? Take a look at some of the recipes from Hamilton Beach and leave a comment telling me what you'd make in this beast. 
This contest is now over. And my random number generator picked…Melissa!
Congrats to Melissa for winning! I'm sending an email your way.
While I was given a Hamilton Beach rice cooker and steamer in order to facilitate this post, all opinions are my own. Hamilton Beach is sponsoring the product giveaway.