It's a thing, okay. It's been a thing since I was a little kid. Sometimes I wake up in the middle of the night and have complete, albeit random and sometimes weird, conversations with people.
The following stories are hearsay. They are my memories of stories from my friends and family. I cannot confirm or deny my sleep talking.
I've gotten in fights in my sleep.
I'll never forget camping with my best friends from grade school for my I don't know – tenth birthday or something – and we were all sleeping on the top bunk of the motorhome (yeah, my family was cool enough to have a motorhome). The friend sleeping beside me heard me mumble in my sleep, "Oh no you don't!" which, on it's own, seems pretty innocent…But when her sister, who was sleeping with her feet to our heads in the middle of us, woke up with a gigantic bruise on her arm where my leg was…and I woke up with a small bruise on MY arm where HER leg was…the midnight tale seemed pretty clear.
Another time, my cousins and I were having a sleepover, and apparently I always fell asleep early. I woke up in the middle of the night while they were playing and watching TV and demanded, "WHERE'S MY PEN?!" I suppose I said this a few times before passing back the fuck out.
There've been several other instances of sleep talking in my world, especially with Brian. He always tells me the next morning, "You were talking a lot last night."
And then I tell him he needs to start remembering what I say.
So this morning. This happened.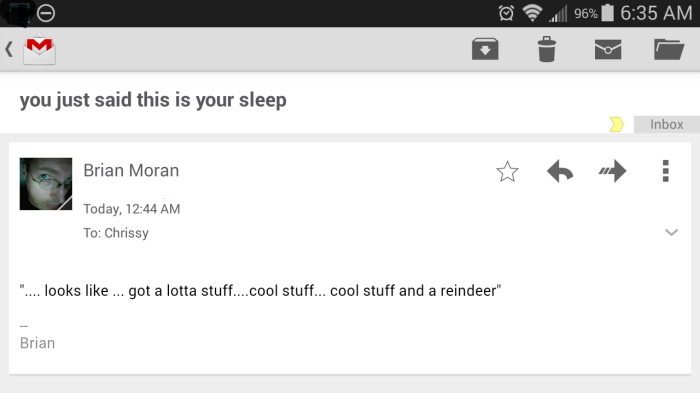 I'm pretty sure I…
Have the BEST boyfriend in the world who sends me e-mails when I'm sleeping.
and…
HAVE THE BEST FUCKING DREAMS EVER.
Blog friends, do you talk in your sleep? Sleepwalk? Do you hear stories about shit you did while you were under the influence of the sandman? Do you dream about reindeer? Because you should. What do you dream about?