I started putting up my first Christmas tree over a week ago. I just about finished it this morning. Obviously, it still needs a tree skirt — I haven't found it among all the boxes yet. There are a few ornaments remaining (I'm waiting for the glue to set on the ornaments that broke during storage — again — and the ones that broke while putting them up and subsequently dropping them on our newly hard floors — I never thought I'd miss having carpet quite so quickly).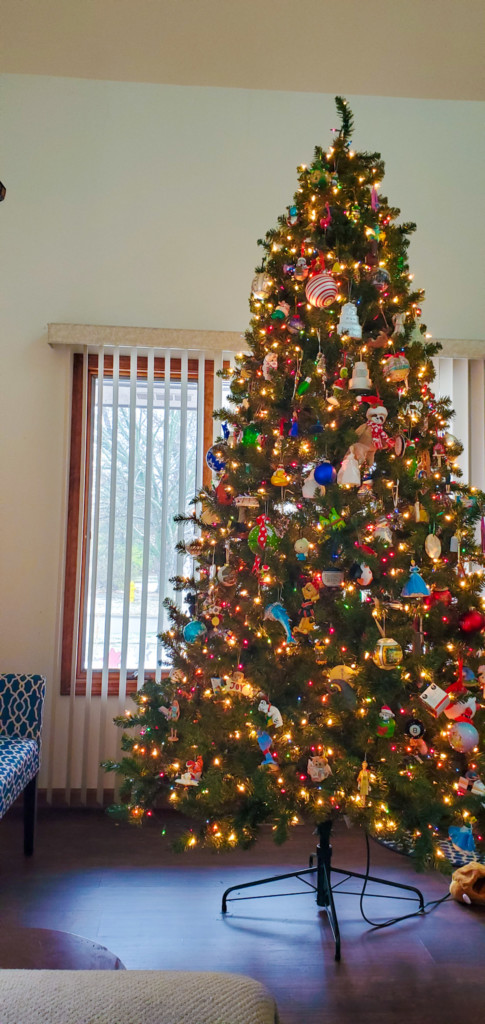 On the first night, I did just the lights. This tree has built-in white lights, but I added about 1000 colored lights for good measure. I've needed the bright and colorful warm glow of Christmas since the clocks turned back, and it started getting dark at 5 pm. I let that glow blossom over several days before I hauled up my giant box of ornaments from the basement. Hi, my name is Chrissy, and I'm a Hallmark ornament addict.
It took me three consecutive nights to unpack each individual box and wrapped ornament, taking the time to reminisce upon the purchase day or gift-giver of every ornament on our family tree before finding just the right spot for it. If you know anything about me and Christmas trees, you know there will be more than just this one, but this is the one with the MOST memories.
Some years, I have a separate tree just for travel ornaments (my preferred souvenir when we travel), and some years they join the family tree (the one with all the Hallmark ornaments, the wedding gifts that have our wedding date or names or both, the homemade ornaments, the memories from my childhood, the ornaments representing the year we got our first apartment and the year we bought our house, the ornaments for Nia, the ornaments I've yoinked from my mom's Christmas tree, and the ornaments that once belonged to Brian's mom. I love this Christmas tree because it is filled with memories of people and places and important moments in our life.
I turn the lights on every morning, and I turn them off every night. This one 9-foot beacon stands tall in our front room, and as I sit here with a gentle glisten of tears in my eyes and hope in my heart, I think about how this Christmas will be different. There's no doubt that this is going to be one of the more unusual Christmases we've ever had, but it will be filled with love and memories, just like our tree.