This post is courtesy of a partnership with Crest and One2One Network. Of course, just because I'm receiving compensation to talk about my fear and my experiences does not make it any less meaningful. It's all me…Just sponsored.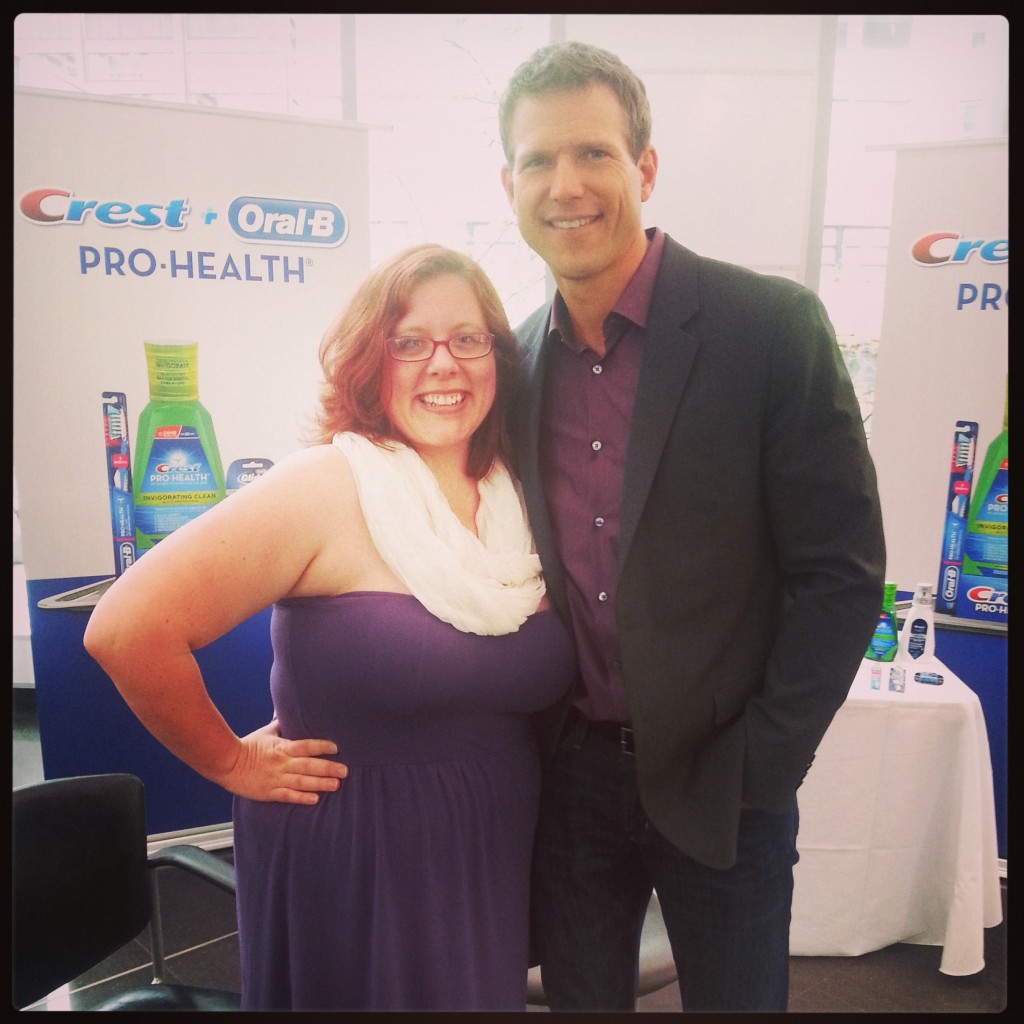 I'm afraid of the dentist.
Have I told you that?
I have this thing with metal touching teeth that drives me absolutely bonkers. When you scrape your teeth against your fork to ensure you get every last bite of food off it? I want to rip my hair out. Just THINKING about metal touching my teeth sends an uncomfortable shiver through my body and physical pain through my mouth.
So the fact that I haven't been to the dentist in 20+ years is something that I am regrettably ashamed to admit. But I'll tell you. Because this is important. This week, I'll be making a phone call to make an appointment with…wait for it…a dentist. Who will probably tell me that despite my twice-daily brushing habits, I have cavities (multiples). But I'm going to do it. (Someone confirm that I have done this by the end of the week. I am notoriously bad at remembering to do things that terrify me. I'm looking to you guys to hold me accountable!)
Because May is Women's Health Month. And something that you wouldn't normally associate with Women's Health Month can have a ginormous effect on (you guessed it) women's health. Everyone's health, really. Oral hygiene.
Let's go back to the beginning.
Last week, I received an invitation to meet the wonderfully handsome and professional Dr. Travis Stork. You remember last time, when I casually touched Dr. Stork's chest, right? If you don't, you should probably take a minute to catch yourself up. I'll wait.
You're back? Great.
So OBVIOUSLY, I said yes. I HAD to see if he remembered me. Plus I knew he would have necessary and important things to say. Because he's wickedly handsome smart.
When I told Brian about it…he was less than impressed.
OF COURSE, he was only joking, right BRIAN?
Anyways, I quickly discovered that this event was in honor of Women's Health Month (and Women's Health Week – which was last week) and the correlation between good oral care and healthy bodies. Oral care. I brush my teeth. Sometimes I use mouthwash. And I'm a Crest girl. That counts, right?
When I arrived at Walgreens (Oh yeah, you guys, this event? A BLOCK AWAY from my office. I took an early lunch. How sweet is that?), I was told to head upstairs (yes, the flagship Walgreens is a double decker store. Snacks and bevvies are downstairs and pharmacy/beauty is upstairs) and the good doctor would be there.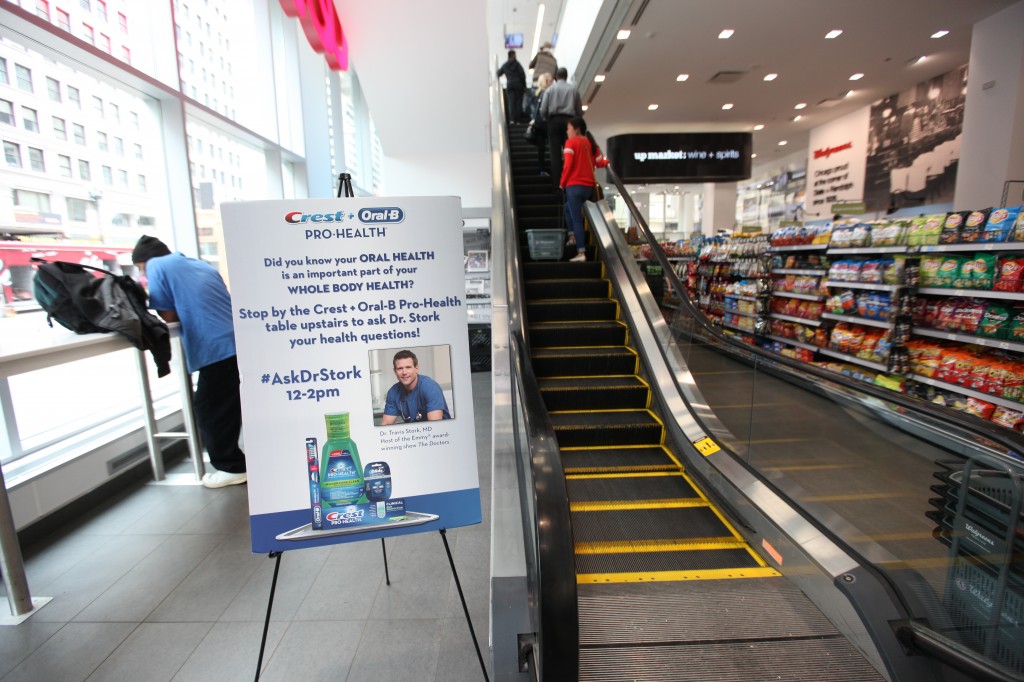 I made my way up the escalator and randomly happened upon Travis in the toothpaste aisle. Coincidence? I think not. He was in the middle of a photo shoot, and I immediately burst into the aisle with a big double take and then an obnoxious "HI!" like we're old friends. Which of course, we are.
And then I embarrassingly asked him if he remembered me. Because like…I told him if I ran into him at the grocery store, he needed to remember me. And Walgreens is LIKE a mini-grocery store. And he pretended to, "from. um. um. BlogHer right?"
Boom!
"Yep! I was the girl with the wheelie sneaks. I almost wore them! But then I didn't! HI!" Derp.
"Yeah! How are you?" He's too nice. He's like the nicest famous person  I know. He may well be the only famous person  I know.
We gabbed as he moved from one photo shoot to the other and he mentioned how it was great to be back in Chicago–as the last time he was supposed to come he couldn't. "Remember when it was negative 40 degrees?"
"Yes I remember perfectly. I was here. It was COLD. I can't believe you bailed on Chicago for a little cold."
"Planes wouldn't take off! Not my fault!"
My dialogue isn't exact. It's loose. Forgive me. But this was the first time it was fun to chat about the weather. Small talk with my favorite doctor? Yes, please.
And this was all BEFORE my one on one interview! I was the first one there. Lucky me, right?
Once he was finally ready to sit down for an interview, I was brought back behind a table, and it was SUPER claustrophobic. Dr. Stork asked nicely to move the interviews to the front side of the table, and he even carried my chair for me. What a gentleman!
So we sat down, and of COURSE, I was all discombobulated and nervous, dropping  my notepad and phone and camera all over the place, while he sat there cool as a cucumber.
I eventually got to start asking a few questions about the campaign with Crest and learned a few new things about the importance of REALLY GOOD oral care.
I thought it was kind of adorable that when I asked about the reason they were running this campaign for Women's Health Month, Dr. Stork replied that women are essentially the captains and commanders of the household (Fact. Actually his words were more like, "Women are the guiders of good health" which I giggled at, internally) but that's only part of why they were targeting the ladies.

So ladies, if you're preggers, make SURE that you're brushing, rinsing and flossing daily to protect yourself and reverse signs of this gum disease! but it's not just pregnant women!
According to the good doctor, there have been several studies that show correlation between periodontal diseases and heart disease. So your teeth health could possibly effect your overall health.
What's a girl to do? Visit with the dentist twice a year. And brush your teeth twice a day. And rinse with a mouthwash of some sort. And floss (but you only have to do that once a day.) Dr. Stork uses Crest Pro-Health (they can prevent and even REVERSE gingivitis), and I proudly told him that we were a Crest household, as well. So when Crest hooked this girl up with a goodie bag of Crest Pro-Health and Oral-B products (plus my favorite doctor's diet plan book), I was super excited!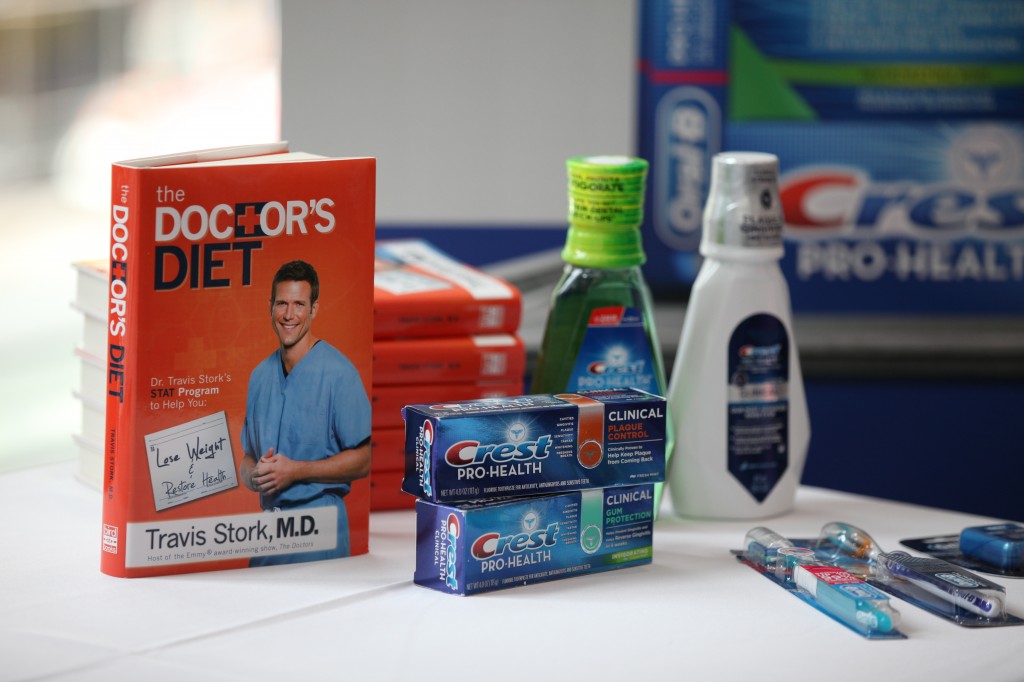 And of course, there was the obligatory photo shoot with fancy camera men who made me look slightly washed out next to handsome doctors. And I was gripping my camera because I didn't know where to put it. But look! We both wore purple!
What can you do next? Well, start by reading up on the importance of a good oral care routine with Crest Pro-Health products (paste, brush, rinse and floss) which, at Walgreens, are on sale for $2.99 each; PLUS when you buy 2 you get 1 free.  This offer is valid from 5/18-5/24. </ProductPlugging>
Feel free to be awesome like me (because I'm not obsessing over my oral hygiene routine in typical OCD fashion – no seriously, after this interview, I went and threw a bunch of money at the pharmacy and said make my teeth happy and gingivitis-free! And I've tripled the time I spend cleaning my teeth. And I started flossing.) and go spend about $20 on additional oral care products.
And make that dreaded appointment with your dentist. Conquer the fear. Oh, wait that's just me? I'm working on it.
(2021 Update: Welp, it only took about four years, but I finally did make it to the dentist…and they proceeded to mess up my jaw, and well…I'm afraid again. But after the pandemic, I promise to go back. Maybe in four more years.)
What's your oral care routine like? Are you afraid of the dentist? What do you think of my dreamy doctor friend?