I use affiliate links for some items in this post to help support my writing habit. Any purchases you make through my links might contribute to my monthly cheese budget. 
Well, there's only a few days left to get your costume situated, you guys! Might I recommend trying out a classic?
A couple years ago, I conned Brian into Beauty and the Beast costumes. He has costume restrictions:
No glitter
Lots of accessories (as evident by Captain Mal — guns! — and Jack Skellington — Zero!)
The opportunity to get creative with his look (When he was Ra's Al Ghul)
No masks that cover his mouth (This was the biggest problem with Jack Skellington)
And a Beast costume didn't necessarily break any of his restrictions, so I got to be a Disney princess!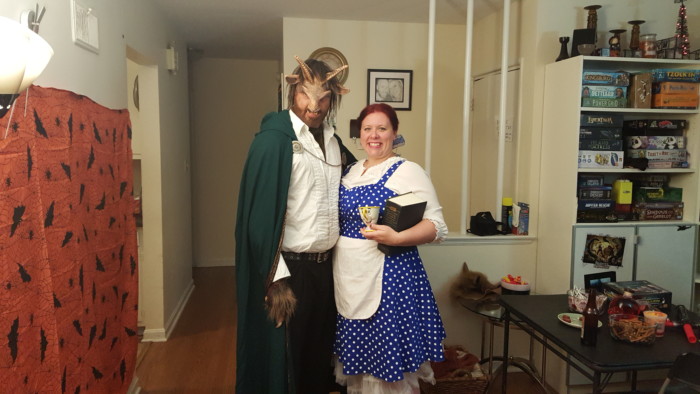 Beast costume pieces and tips
We weren't going for full-on Disney style, but a mash-up of the different versions of this tale as old as time. So we went looking for ways to create a regal beast.
He started with finding the right headpiece. He ended up with this goat head quasi-mask from Amazon (one-day shipping anyone?), and it actually was perfect for what he needed.
Then, he picked up wolf feet from Amazon and wolf arms from Walmart (you can pick-up in store to avoid a shipping delay). We created his chest with a thrift-store jacket, lined with faux brown fur ($7). He cut the sleeves and bottom of the coat off, turned it inside out and backward, and essentially wore it as a dickey.
 From there, he needed the right ensemble. For his outfit, we found a thrift-store tuxedo shirt ($3) to make him look fancy. He used the cape he bought for his Ra's Al Ghul and a pair of dress pants and a belt.
For his makeup, he just grew his beard a little scruffy and used brown make-up to give a furrier appearance than his light red-gray beard.
Ta-Da! A magnificent Beast to complement my Belle.
Belle costume pieces and tips
My costume was a million times cheaper and easier than Brian's. And I like accessories too. I was just able to pull a lot of them from my closet.
First I needed a dress. I searched on Amazon for the perfect dress, and when that didn't work, I bought a cute 1950's style polka dot number that will totally also work if I ever want to be Alice for Halloween, am I right? I had to safety pin the halter straps to the back of the dress to make them regular straps because I'm not so much a fan of halters most of the time. Of course, if they had this pretty blue dress then, I totally would have gone for it instead.
I got the white top to wear underneath the dress at a thrift store, but you may even have one in your closet! The apron came from my closet. Sure, it may say Betty Crocker on the front, but all I had to do was turn it around and kablam! Plain white apron. I finished the look by adding a plus-size white petticoat under the dress for a little poof.
I accessorized with the Chip cup I've had since I was a child at Beauty and the Beast on Ice (you can find a similar Chip cup on Amazon) and the biggest, coolest book I could find (my Norton Anthology of English Literature).
For my hair, I did a simple topsytail (Put your hair in a ponytail. Split the top section in half and loop the tail through the hole) and tied it off with a Christmas ribbon. Don't you judge me. It was available and it worked. And no one else noticed the snowflakes.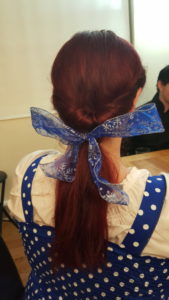 So there you have it. A relatively easy to put together Beauty and the Beast costume for your next cosplay, whether it's Halloween or just for funsies.