So, I know most of us have body issues…and if you don't, more power to you. Fat, skinny, chubby, thin…big ass, no ass, huge boobs, flat chest…there are reasons that anyone could feel a little down about their bods. And with the way humans are, other people don't really help with our body image issues.
So this is not to say that my problems as a chubby/fat/overweight girl outweigh yours or anyone else's…
But there are DEFINITELY some things that are genuinely more time-consuming, more difficult and more painful because of the way my body is.
There may also be things that are more difficult for smaller girls (or guys), but not living on that side of the scale…I can't speak for them.
Shaving your legs
We all know how I feel about shaving and how it's one of those painful grooming activities that fills me with regret and grumpiness…I'm sure that even the skinniest girl needs to be a flippin' contortionist to do all the shaving that someone decided was necessary for ladies to be pretty and sexy and delicious…
I FEAR someone walking in on me while I'm in the bathtub, ankle raised above my head or hanging out over the tub while I try to make my pale white legs "pretty" so I can wear a dress…because most pants don't fit me well enough to wear. Let's not even go into the chub rub that comes from freshly shaved thighs, but seems to disappear when I haven't shaved in a while.
Instead, let's talk about the sheer volume of my legs (and arms). As I was shaving the other day, I thought to myself, you know, Chrissy…you should shave more. It wouldn't kill you. And then I thought about the process…and how it wasn't as if it added just 5-10 minutes to my beauty regime…it added 30-35 minutes…at least. And then I asked myself, how the hell do other girls do this EVERY DAY?

And I realized that this size of my legs and arms is genuinely bigger than those of other girls. With the areas that requires shaving—the circumference of my thighs, the distance between the from of my leg and the back of my leg—it's more time consuming.
Life's a process for me. I think you knew that. Shaving is one of those processes.  The contortion. The amount of time. The wondering why the hell we do this. It's a process.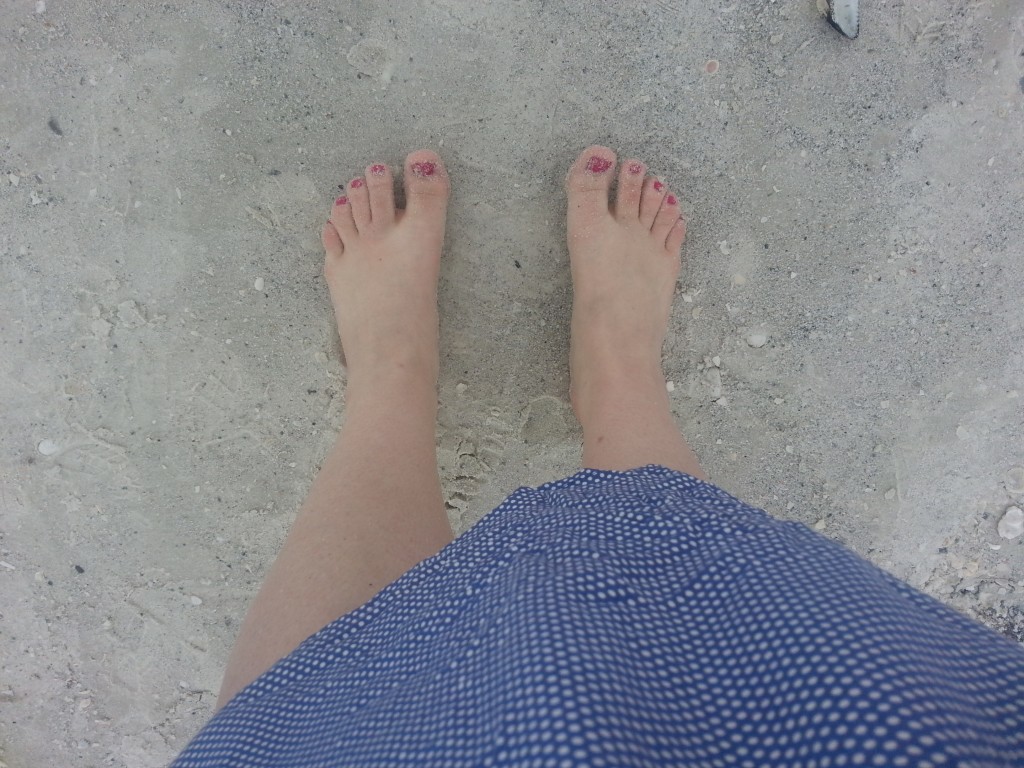 Working out
I recently lost a few pounds. I'm still pretty proud of myself even though the stress of my current life has slowed that process. What I realized, though, after losing about 10 pounds, was holy shit! That's 10 pounds I'm not carrying around anymore.
This one's harder to explain, so I'll try a demonstration. Do 10 jumping jacks or some other quick cardio activity. Feels ok, right? Now, pick up a 25 pound weight or a pair of weights or whatever. Repeat the exact same cardio activity while holding the weights. Not as easy, right?
If you weigh 130 pounds, that added 25 pounds is on someone else every. Single. Day. That 155 pound? That's the weight my driver's license said 15 years ago, when I first got my license. That's the weight my driver's license says now.
It was a lie then, and it's a lie now. It's just a bigger lie.
For the record, I am well aware of the fact that I, too, can do this exercise, and I know that there is someone 25 pounds more than me who has a more difficult time working out simply because of the added weight.
Riding rollercoasters
I LOVE me some thrill rides. Flying down a steep wooden or steel mountain at warp speeds while safely strapped in a harness makes me feel invincible. But sometimes, I don't actually FIT in the coaster. Older rides are definitely more difficult for me. The newer rides tend to be designed with bigger hips in mind.
I'll stop there.
I want to know if there are things that are genuinely more difficult for you because of your size?