Remember when you used to go hang out at Denny's until curfew? Drinking coffee with your pals, talking about everything, playing card games and other random large group games like Mafia? Or in college, when you'd go for large group late night snacks after your fraternity's chapter meeting, sipping on strawberry shakes while waiting for your loaded cheese fries with sour cream instead of ranch because you hated ranch with a fiery passion that could only be matched by your love for cheese? Or maybe that was just me.
Denny's was a staple in my high school and college life. It's a great place to reminisce. And as I more recently learned, it's a great place to celebrate change. For the better.
A few weeks ago, as I was watching Breaking Bad's Season 5.2 premier, I was excited to see that Walter White was enjoying his 52nd birthday at Denny's. And that he got it for free. (In case you're wondering, I have a Google spreadsheet with a list of places to get free food on your birthday. And yes, Denny's is TOTALLY on that list. Maybe one day I'll share my list with you.)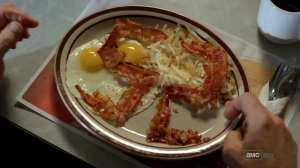 But when I made my way into Denny's this past weekend, I was all over their BYO Omelette menu. You guys, let me tell you a little about the awesome add-ins that you can use to create the biggest, tastiest omelette for a really great price.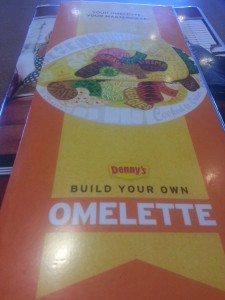 6 different cheeses (YES!)
7 different meats
7 different veggies (including some sauteed options)
I opted for cheddar cheese, chicken sausage, pico de gallo, jalapenos and avocado on an egg-white omelette (in an effort to be somewhat healthy, despite my add on of hash browns. Hey…I was proud that I opted out of the added bacon and cheese on my hashbrowns, okay?)
I was also super stoked to discover that Denny's has a meal nutritional calculator on their site, which I could even use on my fancy phone. I knew going into the hash browns that they were 6 points plus on my Weight Watchers plan and the omelette that I created was still going to be a whopping 11 points plus. But for a delicious breakfast chock full of protein, I could totally deal. Besides, breakfast IS the most important meal of the day. And quite frankly, I'd rather use my points in the morning than at night. So about that omelette…
I LOVE that they actually put all of the ingredients INSIDE a folded egg. You don't know how often I get annoyed when the ingredients are cooked into the eggy part. Because then what's the difference between that and a finely shaped scrambled egg? The best part? The avocado wasn't slimey or brown. And I could SEE that they didn't skimp on the ingredients. Happy breakfast = happy Chrissy.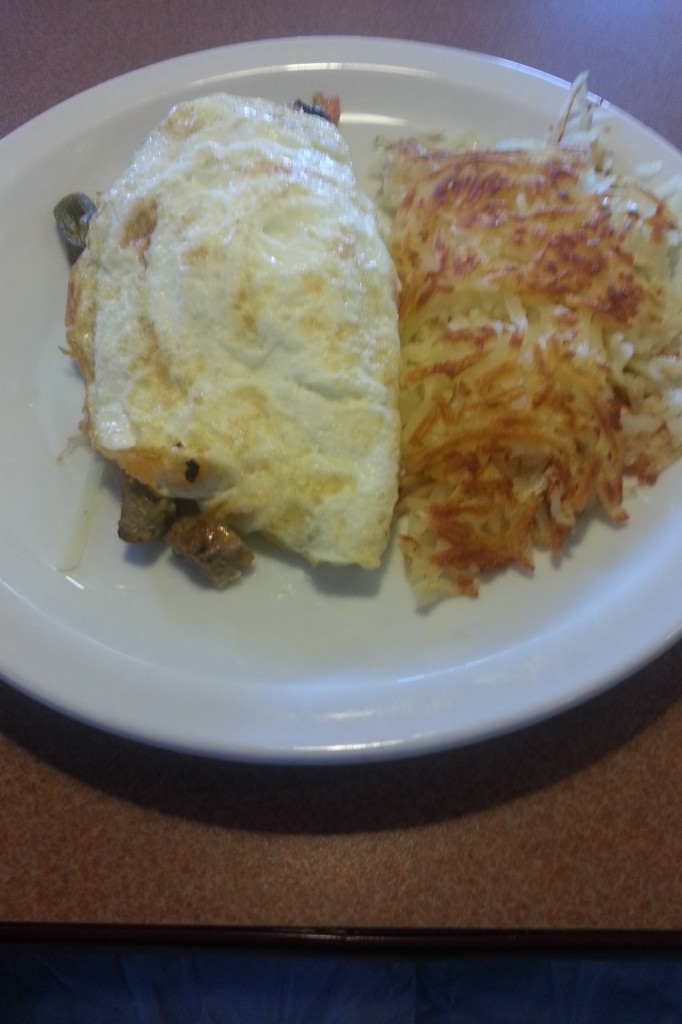 Overall, I was thoroughly impressed with my fast and delicious meal. That chicken sausage? WAY tastier than a lot of turkey sausages I've tried.
Guys, do you have any positive Denny's memories or experiences to add to the conversation? Would you go try out this tasty Build-Your-Own-Omelette menu? Do you even like breakfast?
This post was sponsored by the fine people at Denny's. I was compensated with a gift card to try out their new BYO omelette menu. I was not compensated to say nice things; those were all mine to say. You can keep this conversation going socially by connecting with @DennysDiner and using the #BYOomelette.