The other day, after my class at The Second City, I decided to head straight home instead of sticking around for bonus Second City joy like I had originally planned. We had just gotten a new water heater that afternoon, and I was pretty excited to head home for a warm shower. Also, Brian had just been destroyed by our puppy, and probably needed a bit of a reprieve. Mostly, I had a tasty Blue Apron meal with shrimp and peppers waiting for me to cook up and devour.
Leaving the class, I knew I probably should hit the bathroom before rolling out, but I had parked in a 3-hour spot and was drawing desperately close to overtime. I don't like getting tickets so I raced my ass to my car. It was only a 45-minute drive; I could make it.  (If you can't already tell, this story is about poop, so fair warning as you continue on).
As I was nearing my home suburb, I happened upon a sign for the second time in a week that reminded me. Kim Crawford Sauvignon Blanc was on sale super cheap at one of the local-ish liquor stores. I knew I'd never make it back there to buy some if I didn't stop immediately. So I pulled into the parking lot and grabbed a cart. It's important to always have a backup supply of wine.
As I filled my cart with liquid gold, the urge to poop began to increase. I'm not the kind of girl who can hold it, and I know that when I gotta go…I GOTTA go. I asked the lady at the checkout counter if they had a bathroom (they didn't), and so I quickly planned my escape. Step one: Pay for wine. Step two: Decide on emergency bathroom protocol.
My options were limitless, but time was of the essence. Could I make it home? Maybe, but there was a risk in that. Could I make it to my parents' house halfway between the liquor store and home? Tempting, but I decided to see what other choices I had.
There was a small pizza place by the liquor store. But I didn't want to walk there and chance no public restroom. I got into the car and thought about McDonald's/Burger King/Wendy's locations near me, and I knew there weren't any super close. And then like clouds parting to let the sun shine down on none other than White Castle.
Now, I have a small neurosis about using public restrooms. And it has nothing to do with pooping in public and everything to do with using a restroom while not patronizing the business. And so I always have to buy something when I use a bathroom. Brian has tried without fail to get me to sneak in, poop, and sneak out without anyone being the wiser for as long as I can remember. I almost always leave with a drink…sometimes a full meal.
I decided as I raced into the bathroom immediately next to the entrance door, that this would be the day I do it. This would be the day I opted out of a guilt purchase. Because I'm doing Weight Watchers. And White Castle just didn't seem worth it.
I hung my purse on the door and sat down on the toilet. Relief was swift, but it only lasted a moment. Until I reached for the toilet paper. Where toilet paper should have been, an empty roll hung in its place. I assessed the situation. No place for a backup roll in this single-use bathroom. No stalls to hobble to with my pants around my ankles. And I was in White Castle. In the early evening. No one was going to be knock knock knocking on this door for hours. I wished I still carried that travel roll of Charmin I bought for my trip to Europe.
As I prepared to bunker down in the White Castle ladies' room, I realized that I had a golden ticket! I had a freaking phone. I stood up, waddled over to my purse, and pulled out my phone. I waddled back, sat down, and googled White Castle for the phone number.
In seconds, I would be relieved from my public cell. I just knew it. riiiiiiiiiing riiiiiiiiiing
"Thank you for calling White Castle. No one is available to take your call right now. Please leave a message and we'll call you back as soon as we can!"
Fuuuuuuuuuuuuuuck.
I pondered leaving a message, "Hey. In the ladies room. No TP for days. Send help."
Instead, I hung up and called back. The damn store was open, someone had to be here.
"Thanks for calling White Castle. This is _______, how can I help you?"
"Hi. This is awkward, but I'm in the ladies bathroom, and there's no toilet paper. Help!"
"Oh. Sure. Be right there."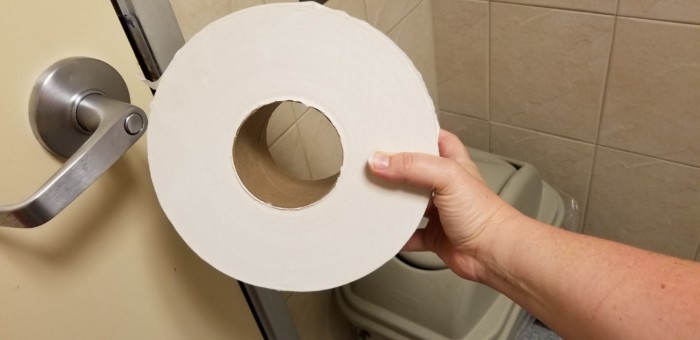 Two minutes later, a knock at the door had me waddling, penguin-style, again. I hid behind the door as I opened it just enough to allow a massive roll of toilet paper past the threshold. I thanked her, and quickly closed the door.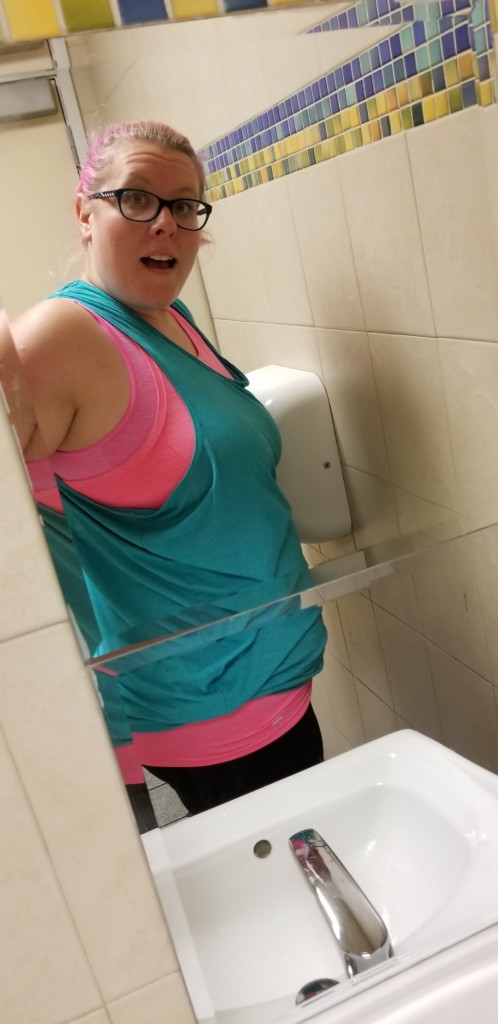 I cleaned up, took a baño selfie in the skinny mirror, and realized I definitely needed to make a purchase now. There was no escaping the employee who rescued this damsel in distress. I made my way to the front counter, and the employee was washing dishes in the back. I could escape. But I took a look at the menu and realized there were a lot of things I needed to try. You know. For research.
I ahemed a few times until I finally said, "Uhh hi!" Two full minutes after she looked at me and said hi, she set the dishes down and walked up to me, giving me a knowing glance. I should have just left. Why was I so embarrassed? Everybody poops. Right? I ordered and ran the hell out of there so fast.
I survived. And had tots hashbrowns with cheese sauce to assuage my anxieties on the 7-minute drive home.