I participated in an Influencer Activation on behalf of Mom Central Consulting for Curb. I received a promotional code to facilitate my review and a promotional item to thank me for participating.
I love it when an app makes my life easier. I love it even more when it involves me not having to walk a mile in my shoes or anyone else's.

In case you were unaware, I live in suburbia and work in downtown Chicago. The Loop. Smack dab in the middle of everything awesome. And about a mile away from the train that brings me in and out of this beautiful city.
Curb, formerly known as Taxi Magic, is a super useful app that helps you get a cab when you need it. I've been using Curb, and their network of more than 4,000 taxis in Chicago, for several weeks and I'm never looking back. The drivers are licensed, commercially insured and have all completed thorough background checks. That's a program I can stand behind.
In the past, I would hope and pray a taxi would show up where I needed it, when I needed it, and more often than not, cabs driving by were already full with people (the perks of working two blocks away from one of the biggest Chicago tourist traps – Millennium Park). When I'm in a hurry, I want to know that a cab is going to be there when I need it. Especially if I'm trying to make a train. Cue Curb, where I can order a cab to pick me up now or plan for later! The process is simple and made my life so. much. easier.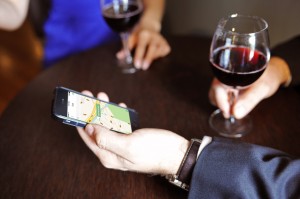 Recent occurrences when Curb has been a lifesaver or just plain convenient:
When my train was 30 minutes late getting into the city. I was only 15 minutes late for work.
When I left work just a few minutes late. (I have my walk time scheduled to a TEE. Any later, and I'm usually out of luck.)
When I met Brian for drinks in River North after work.
When Brian and I left the aforementioned bar and went to an event hosted by my website host. I love them.
I have yet to plan my next Curb adventure in advance, but I'm more of a fly-by-the-seat-of-my-pants kinda girl. As if you didn't already know. You can get started with Curb, and as an added bonus for you, my lovely readers, you can get $15 dollars off your first ride! Just use the code: CurbMom14 To use this code, download the Curb app on your Android or iOS phone. Then, follow these instructions:
Open the 

Curb

 app

Tap the gear symbol in the top right corner

Tap "Promos and Credits" on the dropdown menu

Enter your code and tap the "enter" key on your keyboard

After entering the code, $15 will appear on your "Promos and Credits" screen.

Full details on using the Curb coupon code can be found here:http://bit.ly/1CnLGVc 
Do you take cabs anywhere? When? How do you call for cabs? Have you used Curb or as its previous name, TaxiMagic? Will you? Tell me all your secrets.